Create personalized packages across multiple services
OTRAMS dynamic packaging software facilitates combining multiple travel products from a single screen, real-time. With OTRAMS advanced travel booking platform you, your guests, and your travel agents can use a single transaction to make a purchase across multiple distribution channels and suppliers.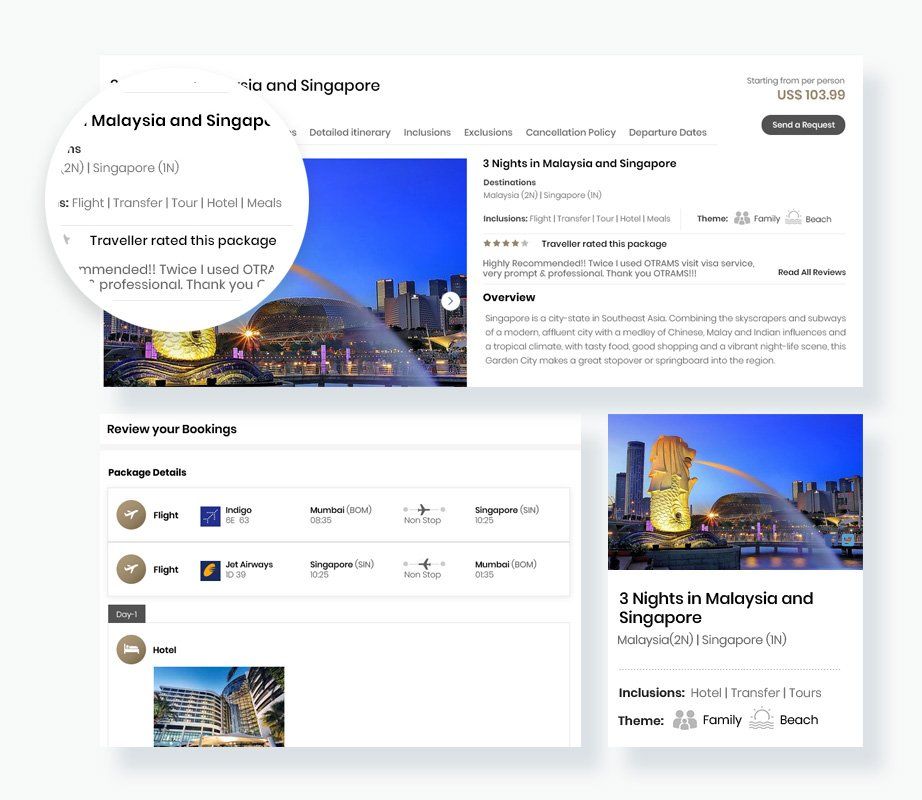 Create Immersive Packages
Create and manage packages across hotels, transfers, flights, and sightseeing sourced through your own inventory or different XML suppliers.

Create vouchers, custom itineraries, invoices, and bills from a single console.

Automate operations, reducing costs and increasing efficiency.
Flexibility Beyond Compare

Ready to Scale
190+ Third Party Suppliers to integrate
Multiple Supplier feeds integrated in single screen

Robust System
Fetch Real-time Inventory
Greater than 98% Booking Success rate

2X Customer Experience
Single Invoice for all services
Supports frequent flier programs
Book across Website & Mobile App
Multilingual & Multi-currency support

Grab New Opportunities
Add your own / local inventory
Sell across Multiple points: B2B & B2C
Powerful Extranet

Solid Business Performance
Enhanced Daily reports
Credit Allocation to Agents & Sub-Agents
Multiple Mark-up Options
Powerful Features for Easy Business Operations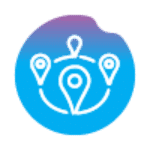 Packaging and selling multiple
travel products on a single window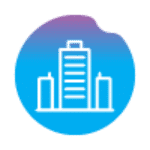 Selling at multiple points
B2B, B2C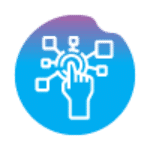 Selling packages using feeds
from multiple channels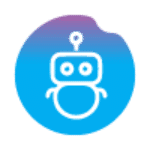 Setting your own growth pace
by automating operations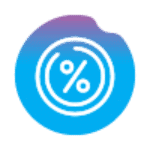 Managing markups
and commissions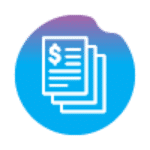 Creating itineraries,
invoices, vouchers, bills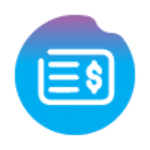 A single invoice
for all services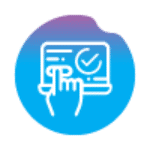 A single window
multi-service booking
Deliver personalized travel booking experience with OTRAMS Dynamic Packaging Software
OTRAMS' dynamic packaging module allows you to deliver a unique travel experience for each client. You can now create a custom itinerary that caters to your client specifications across hotels, flights, transfers, and sightseeing activities. 
It automates the logistics and paperwork in the backend leaving you free to take the reins of your business and drive scale. Our single window multi-service booking engine creates a single invoice for all services delivering a coordinated travel experience for your client. 
This is just one of the reasons why OTRAMS is the world's leading travel technology software endorsed by travel companies across industries in over 36 countries. 
With OTRAMS' dynamic packaging system you can now automate the backend to ensure predictable business growth, scalability, and most important of all an unmatched client experience.
Frequently Asked Questions on Dynamic Packaging Software
Is Dynamic Package available for B2B and B2C as well?
Yes. Dynamic packages can be made available for both B2B and B2C platforms.
How does Dynamic Packaging Software work?
Dynamic packages allows user to search for multiple services like Flight + Hotel and get results basis on search criteria additionally user has been given option to add transfers + Activities to the selected option for flight + hotel and book all the services under one booking reference, There is option to cancel any service individually.
Online Supplier Integration necessary for Dynamic Package?
Yes, online supplier integration is essential for dynamic packaging. Dynamic packaging software relies on accessing real-time availability and pricing data for flights, hotels, transfers, and activities from various online suppliers.
Will this module work with only Direct Contracts?
Dynamic packaging software can work with both direct contracts and with online suppliers.
What types of travel products can be packaged with Dynamic Packaging Software?
Flights, Accommodation, Transfers, Activities are available, more services can be added as per requirements.
What are the benefits of Dynamic Packaging Software?
There are many benefits of dynamic packaging software, including the ability to create customized packages, time efficiency, cost reduction, upselling opportunities, providing real-time pricing, and the ability to streamline processes.
Can Dynamic Packaging Software be customized for specific travel businesses?
Yes, dynamic packaging software can be customized for specific travel businesses. Dynamic packaging software is designed to be flexible and adaptable, so it can be modified to meet the specific needs of different travel businesses, such as tour operators, travel agencies, DMC's , wholesalers etc.
How does Dynamic Packaging transform the tourism industry?
Dynamic packaging is transforming the tourism industry through the following;
Customization
Increased efficiency
Cost savings
Enhanced customer experience
Increased competitiveness
Data analysis
What all services can be added for Dynamic Package?
Some of the services that can be added to a dynamic package are;
Flights
Accommodation
Transportation
Activities
Travel insurance
Restaurants services