Your Success Story, Starts Here!
We are on a mission to help travel businesses make a powerful come back from the recent pandemic. Our new pricing, opens unlimited possibilities for travel businesses to start, restart or catapult their business to new highs
You Pay, Only When You Earn!
1.5%
of Total Transaction Amount on Non-Air Services

$1
Get Started
You Pay, Only When You Earn!
1.5%
of Total Transaction Amount on Non-Air Services

₹85
Get Started
Proven Technology for your Business
0
+
Travel Partners (Hotels, Transfer, Activities, Cruises)
0
%
Uptime. Secure Hosting
0
+
Customer API Redistribution
0
$
Million transactions per year
0
+
Business Intelligence Reports - inbuilt
How does this Pricing Plan Work?
You are free to choose any number of modules, services and suppliers, you want to add to your travel portal.

You are free to monetize through all available channels. (B2B, B2C, API, B2B2B & Mobile App)

You are free to add as many agents and upto 3 GSA / White-label
We will be generating an invoice at the end of every month, with only 1.5% of your total transaction amount realized from the system and ($1 flat fee for every flight ticket)

You pay only 1.5% of your total transaction amount for Non-Air & $1 per ticket for Air, at the end of every month.
No set-up cost

No annual fees

No monthly maintenance charges

No supplier integration fees*

No upgrade charges
*Some items would be charged over and above the invoice
What are Travel Business Owners Saying?
I like the part that there is no initial cost, as the travel industry is in a bad shape, this is the best part...
Visvas Voyages
The incentive to support businesses with technology is a huge investment. The continuous support to be offered will be great too.
Continental Travel Group
It looks Very Good and I want to use it...
Solo Travelers Tour SAS
I was impressed with how Qtech and OTRAMS full-service travel ERP has evolved in terms of the technology and product offerings... The flexible, simple, easy to understand transaction based pricing is a way to go
ONEAIRCLUB
What are the Inclusions?
Here is a detail of everything you get with OTRAMS GO.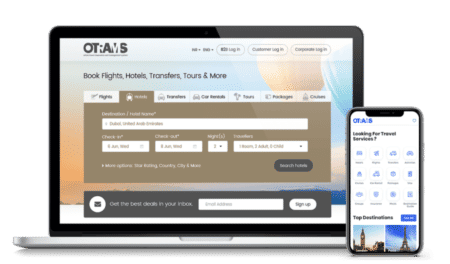 Front End Static Pages
Home Page
About Us
Contact Us / Customer Service
Services Pages
FAQs
Terms & Conditions + Privacy Policy
Blog
Site Map
Booking Engines
Search and Booking flow for Hotels
Search and Booking flow for Flights
Search and Booking flow for Transfers
Search and Booking flow for Activities
Search and Booking flow for Car Rental
Search and Booking flow for Visa
Search and Booking flow for Packages
Customer Focused Modules
Loyalty Module
Coupon Module
Direct Contracting & Extranet
Extranet Module for Hotels
Contracting Module for Transfers
Contracting Module for Activities
Monetization Opportunities
B2B Booking Portal
B2C Booking Portal
XML out for Hotels
Upto 3 White Label / Global Sales Agents (GSA)
01 Mobile App
Supplier Integrations
Unlimited 3rd Party Flight Supplier Integration
Unlimited 3rd Party Hotel Supplier Integration
Unlimited 3rd Party Transfer Supplier Integration
Unlimited 3rd Party Activities Supplier Integration
Unlimited 3rd Party Car Rental Supplier Integration
Unlimited Payment Gateway Integration
Unlimited Payment VCC integration
Choose unlimited suppliers from www.otrams.com/partners only.
Content Integration
Hotel Mapping Integration* (GIATA / Vervotech)
Currency API Integration* (XE.com)
*Integration is included. Third party / license charges to be borne by you.
Powerful Mid & Back Office
Agent Management
Pricing and Mark-up Profiles
Supplier Management
Packages Creation
Content Management System (CMS)
Business Intelligence Reports
Role Based Access
Hosting
Standard Shared Hosting
1 million searches per month
Dedicated Hosting available as Add-on
Training & Support
Training Webinars conducted regularly
Additional Videos and Support Documents available on demand
Ticket based support
Add On Services and Actuals
Dedicated Hosting
You can choose a dedicated hosting plan with AWS EC2 server.
Add on Charges @ USD 800 per month per instance.
GDS License Charges
Amadeus CAP Subscription: 450 Euro per month
Sabre Subscription Fees: 150 USD per month
Galileo Subscription Fees: 200 USD per month
Google APIs
Configured with your account and credit card
Charged on actuals
Server local Compliances
Email Server
Email Accounts
XML Out Integration Support
Additional Support
Consultation fee – USD 25 per hour
Additional Training – USD 15 per hour
Go Live!
Within 3 weeks of signing the contract and providing all supplier details.
About Shared Hosting
Shared hosting will be provided by Qtech. Qtech will be responsible for server set up, deployment
Shared Hosting may have limitations in terms of System performance and Search speed.
Invoice & Payment
Invoice will be raised on every 1st of the Month. Invoice will have line items only for the checked-in bookings
Any dispute in Invoice has to be brought to our notice by 3rd of the Month.
Payment will be billed on credit card, 5th of the Month.
On the failure of bill payment, a notification will be sent on the registered email id and the due needs to be paid latest by 8th of the Month.
System will be discontinued as a result of payment failure.
Revisions to Pricing
Qtech will charge 1.5% of total transaction amount for Non-Air and $1 Per ticket for Air, for first 03 years of using the platform.
Based on the system usage and your business success, the pricing is subject to be revised after 3 years at the sole discretion of Qtech Software.
As Easy as 1, 2, 3
Go Live with your Online Travel Business in just a few clicks!
1. Registration

Click on 'Get Started' to fill your company details and requirements.
Select all the modules, services and suppliers.

2. Set-up your Travel Portal

Share your supplier APIs.
Brand logo & Color Specifications.
Content for static pages.

3. Go Live!

Get Trained on your Online Travel Portal.
Test it out and Go live with your online business!
Start building your Travel Portal, Now!