Elevate your Hotel Booking Experience with OTRAMS
OTRAMS offers a powerful and comprehensive Hotel Booking System built into the platform. Hotel Booking is one of the most critical aspects in the travel industry. Customers expect personalized suggestions based on their preferences and rely on travel agent's advice for a delightful experience.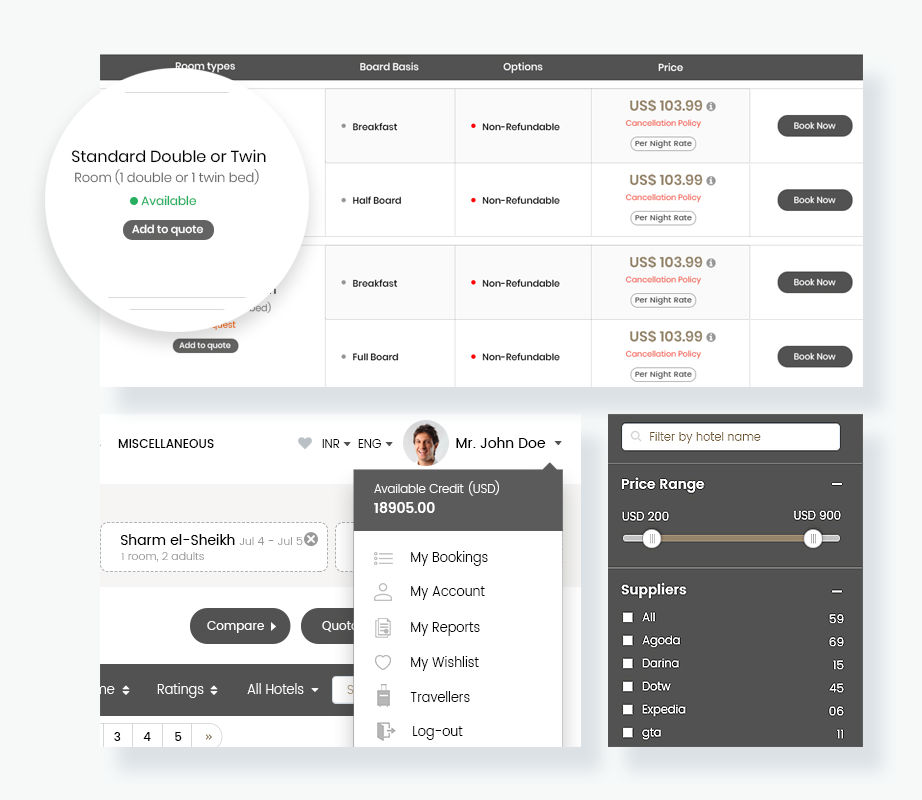 Immersive Hotel Reservation Experience
Help your customers and travel agents make an informed choice.

Filter results based on information provided by suppliers, Star rating, Amenities, Room type, No of guests etc.

Make your booking securely through integrated Payment Gateway, supported by PCI/DSS Compliance.ist
Request A Demo
Powerful Hotel Booking at your fingertips

Ready to Scale
80+ Third Party Suppliers to integrate
Multiple Supplier feeds integrated in single search

Robust System
SSL Secured hosting
PCI DSS Compliance for secure payment gateways
Fetch Real-time Inventory

2X Customer Experience
Added Services (Breakfast, Special Requests, SPA, Salon Etc)
Book across Website & Mobile App
Multilingual & Multi-currency support

Grab New Opportunities
Extensive Direct Contracting
Direct Hotel Connections through Multiple Channel Managers
Powerful Extranet

Solid Business Performance
Enhanced Daily reports
Credit Allocation to Agents & Sub-Agents
Multiple Mark-up Options
Supercharge your Hotel Booking System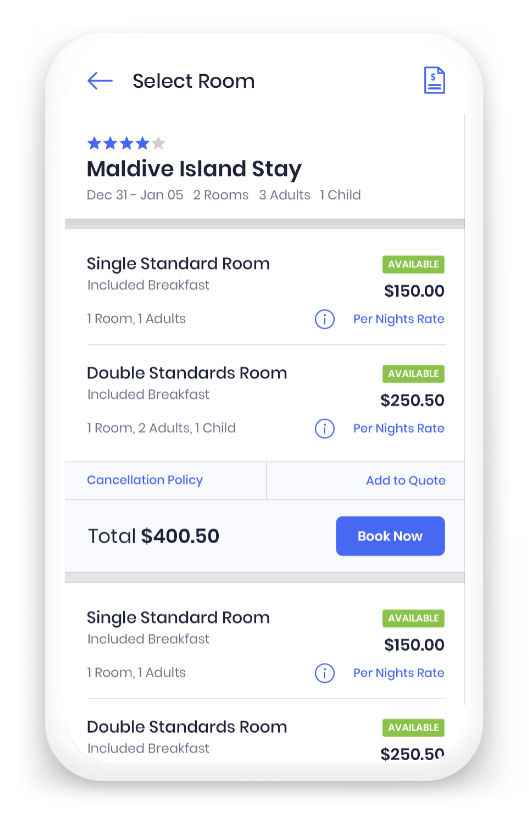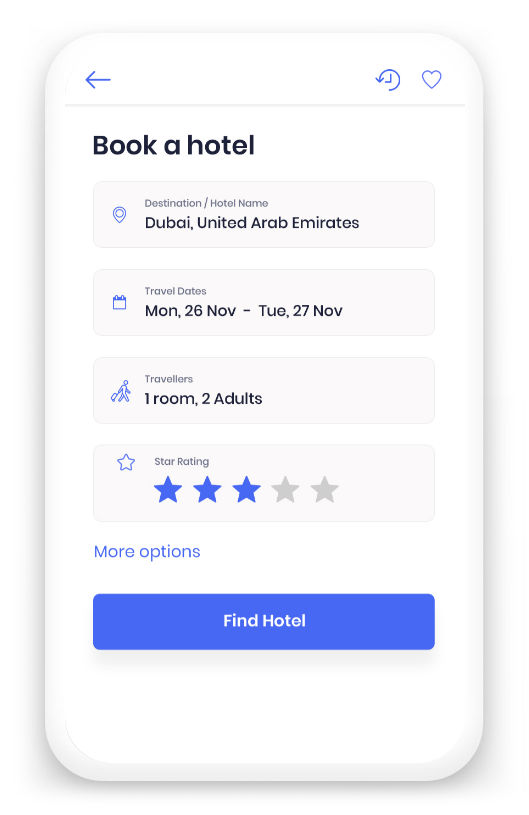 See how OTRAMS delivers a seamless Hotel Booking Software Experience
Hotel Reservation is a critical activity for any travel agency. It can elevate or downgrade your customer's travel experience. You need a power online booking system that helps you deliver a great customer experience.
OTRAMS Hotel Booking Software is one of the best in the industry, used by Destination Management companies, Travel Management Companies, Online Travel Agents and Wholesalers around the world. You are in complete control of your profits with multiple mark-up profiles, Agent Credit reports and reconciliation with suppliers, offered exclusive by our Hotel reservation system.
Our Hotel Booking Software integrates all the information provided by suppliers that is available for you to filter, search and even share with your customers. Experience speed, reliability and predictability with Hotel Booking on System on OTRAMS. . Software
A good hotel reservation system combined with a strong online booking platform may help you provide excellent results and exceed client expectations. We provides you with access to a massive inventory. You can filter, search, and share information with your consumers
Frequently Asked Questions on Hotel Booking System
What is an Online Hotel Booking platform?
An online hotel booking system is a platform that allows users to reserve and book hotel rooms online. The system enables customers to browse hotel listings, view room availability, compare prices, and make reservations directly on the website.
How does the Hotel Booking platform work?
The platform typically includes a front-end interface that customers can use to browse room availability and make reservations and a back-end/back office interface that the operational staff can use to manage the bookings, inventory, management amendments, invoices, payments etc.
What is the importance of Hotel Reservation Software?
A hotel booking engine simplifies operations while simultaneously maximizing revenue opportunities. Qtech Software is a leading travel tech solution provider. Hotel Reservation Software is one of the many products we offer. Our Hotel Reservation System is designed to make business easier for hoteliers or hotel service providers across the globe. It allows them to work more smartly, accurately, and efficiently.
What is the role of hotel APIs in an Online Hotel Booking System?
Hotel APIs are data exchange protocols that allow online travel agencies and hotel booking systems to access hotel inventory and other related data from multiple sources. Qtech Software's capability of integrating Hotels APIS, enables you to display search results and provide real-time data offering the best prices to your customers.
How does the Hotel Booking System help the travel industry to grow?
The hotel booking software has made it easier for travelers to book hotel rooms online, from anywhere, anytime. This has increased the accessibility of travel services and made it more convenient for people to plan and book their trips.
What are the major features of an Online Hotel Booking System?
Here are some hotel booking software features;
Search
Listing
Reservation Management
Hotel API Integrations
Cancelations/Amendement
Payment Gateway Integrations
Reporting and Analytics
Back Office Management
Customer Logs
Creating Quotations
Comparison tool
Multi lingual and Multi currency features
Mobile Responsive Design
Which is the best Travel Portal Development Company that offers the best Hotel Booking System?
Qtech Software is the travel tech company providing the best hotel booking engine.
What is the difference between an Online Hotel Reservation System and Offline Hotel Reservation Software?
Online Hotel booking system is easily accessible, more convenient, helps with the availability of information, is more faster and accurate, and helps in offering the lowest, best cost available as compared to the Offline system. With Qtech Software's Hotel booking system's advanced features, you can manage your bookings, online & offline suppliers, Direct Contracts etc.
What are the use of Channel Managers?
A channel manager is a software that connects an hotel property or chain of hotel properties to OTAs and synchronises availabilities, prices and details across all the online platforms with a single integration.
How do the Channel Managers works?
The channel manager acts as a central hub, where hoteliers can manage their room inventory and rates, and push updates to all their connected channels in real-time. In short channel manager streamlines the distribution process, reduces the risk of overbooking, and maximizes the hotel's revenue potential by ensuring that their room inventory is always available on all relevant channels.
Why does an OTA require Hotel Mapping API?
OTAs source hotel and room content from multiple suppliers, and this data is extremely crude. It often has numerous duplicates of the same hotel and room content, missed addresses, incorrect geolocations, and it may be missing essential amenities. Inaccuracy or absence of any important detail leads to massive losses. Hotel Mapping API helps to manage inventory, rates, availability, hotel information fetched from different online supplier into a standardised form so that an travel agency can offer best price available and information to your customers.
When should one invest in Hotel Mapping API?
When an OTA integrates more than two online Hotel aggregators or consolidators APIs, the Hotel Mapping provider becomes of utmost importance.
Which is the best Hotel Mapping API available?
GIATA is the world's leading mapping service provider. Qtech Software is the strategic partner of GIATA. This means we can provide our client with the most accurate up-to-date data available.