New Integrations on OTRAMS Enterprise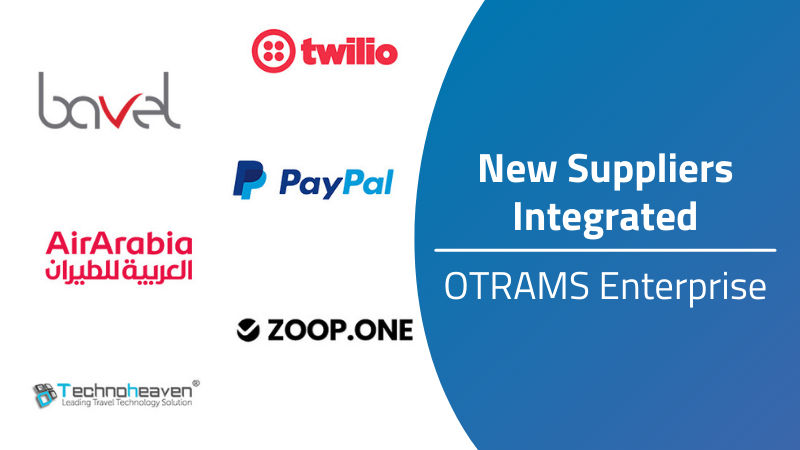 Announcing new integrations on OTRAMS Enterprise
We are excited to onboard new partners on the OTRAMS Enterprise version. Here are the all the updates:
Air Arabia – Low Cost Carrier
One of the most popular LCC, Air Arabia is now directly integrated with OTRAMS. Air Arabia has certified the integration and it is already being leveraged by our customers.
Travel businesses using OTRAMS Enterprise version can also get Air Arabia integrated in their light booking module. You will need to sign-up with Air Arabia and obtain the necessary API Keys, which can readily activate Air Arabia feed in your flight booking engine.
baVel – Virtual Credit Card
Leading B2B payments services provider baVel is now integrated with OTRAMS. baVel Pay is the first B2B payment channel to implement the groundbreaking Open Payment Alliance standard.
baVel Pay supports:
Dozens of VCC issuers
Alternative forms of payment
Currency management solutions
Electronic invoicing
Straight through processing and
Seamless end-to-end digital payment orchestration
Customers using the Enterprise version of OTRAMS can now easily leverage baVel as a Payment Solutions provider.
Pay Pal – Payment Gateway
World's most popular Payment Gateway – Pay Pal is now available to OTRAMS customers. Pay Pal enables easier, faster and secure payments across web and mobile throughout the world. Pay Pal offers:
Help increase conversion rates and lifetime customer value
Gain access to new customers and markets
Boost authorization rates and help maximize revenue
Improve operational efficiency in your payments ecosystem
Enterprise customers now have one more option to from a wide variety of Payment Gateways on OTRAMS Enterprise.
Adding to the layers of Value Added Services available on OTRAMS, We are excited to announce that Twilio SMS Services are now available for our customers. Twilio is the world's most popular SMS service, leveraged by companies across various domains. Now travel companies powered by OTRAMS can also leverage Twilio for the conversational customer support through SMS.
Twilio offers:
APIs for reliable SMS delivery
Support for high-volume, global senders
Deliver verified, trusted messages with US A2P 10DLC
Conversational messaging for customer care
Flexible and fair pricing
Get started with your conversational messaging and SMS alerts powered by Twilio on OTRAMS, today!
Zoop.One – Identity Validation Service
In India, identity validation or KYC is powered by digital initiatives of the government, which makes the complete validation process easy, fast and secure. Zoop.one is a pioneer in online identity validation services. It helps businesses to verify the authenticity of documents such as PAN Card and Aadhar Card.
Zoop.one Services are now integrated with OTRAMS Enterprise version, which is being leveraged by some of our customers based in India.
Zoop.One Offers:
Instant Results Enabling Seamless Customer Onboarding
Paperless Verification
Complete KYC processes for genuine customers faster
Identify fraudulent data in forged PAN cards
With Zoop.one, you can validate the agent registrations on your platform easily and provide a seamless experience.
Technoheaven – Hotel XML API
We have integrated the Hotels XML API of Technoheaven platform which now allows our customers to access the Hotels inventory of suppliers integrated and made available by Technoheaven.  It elaborates the options available for our customers to access and sell inventories from DMCs and hotel suppliers from all over the world.
How to integrate these suppliers?
To integrate any or all these suppliers in your existing set-up, please reach out to your key account managers from OTRAMS.