13 Travel Businesses Have Gone Live With OTRAMS GO!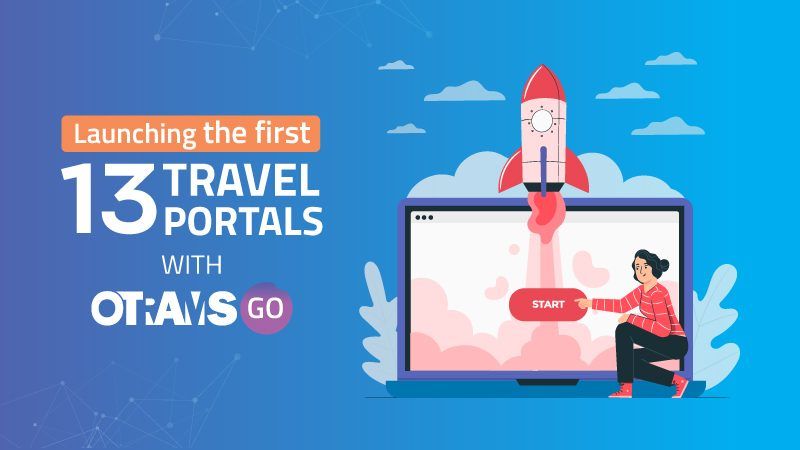 13 Travel Businesses Have Gone Live With OTRAMS GO!
Technology has a symbiotic relation with travel industry. As the technology grows, it makes the world of travel businesses smoother and more efficient.  From get-go, OTRAMS has been a key tech player that has bolstered travel companies by helping them deliver solutions that are reliable, customer-friendly and growth-driven. Evolution to a better and more powerful solution is inevitable and necessary. With everything that travel industry has been through in last two years, it is absolutely necessary for technology to help travel industry grow.  
Travel industry's transition into the new decade has been disheartening. 2020- 21 brought in multiple travel restrictions and the rules and regulations weren't in favor of travel. With 2022, the much-anticipated changes are on the horizon and travel industry as a whole awaits to adapt itself into the new way of business for travel industry. While travel industry undergoes changes to accommodate a new era, so should the technology that supports it.  
With OTRAMS Go we moved from services to self-help SaaS platform for Travel Companies. This move is not just a strategic one but also one that hold outmost value to travel businesses. OTRAMS Go was made to empower businesses, resurge and revive.  
Congratulating these businesses for starting a digital chapter with OTRAMS GO!
The product head of OTRAMS Mr. Jignesh Modi states that the response to OTRAMS's transition to a Saas based platform has been extremely encouraging "The shift to a SaaS based platform had been in work for a while. The response post the launch has been tremendous and we are excitedto grow this platform and help our customers and others in travel industry boost their business."
Mr. Paresh Parihar, MD & CEO of Qtech Software, states "Our aim as a technology company has always been to empower travel industry. With OTRAMS Go, we are in a position to help travel companies achieve sustainable growth. At Qtech our prime focus has always been using innovative technology to drive growth. Our teams have built something unique that will help travel industry move ahead with more power and less apprehension."
Technology that aids in growth is exactly what the travel industry needs. Post covid slump that travel industry has experienced is made worse by the uncertainty of the future restrictions on travel. To help business strengthen itself, one needs a tech partner such as OTRAMS Go.  
Excitement in the Customers
Echoing the same sentiments Mr. Aniket Joshi, Assistant manager of WOW holidays says "With OTRAMS we will be able to distribute our products globally.  It powers us as a one stop shop for all services like Flights, Hotels, activities, transfers, packages and many more. Integration with global suppliers increases product strength and our offering to customers."
Mr. Madhu V, COO of WAW Rooms states that OTRAMS has certainly empowered their business by focusing on key areas of their business "OTRAM Go website allows us to show inventories directly from partner channels and helps us onboard properties which is an added advantage. With the OTRAMS Go Loyalty Program we can capture and convert more of the B2B and Corporate users."
Many travel companies usually worry about pricing when it comes to technology but with not with OTRAMS Go. As said by Mr. Mohammad Ahmed of Rhalaty Travel, "It's very hard to select company for Travel technology but in OTRAMS we found the best support with good technology and good price and Services."
Mr. Tareeq Salim, the managing director of Golden Vacation Travel and Tourism mentioned that "OTRAMS helps by tackling some of their key areas that are the local language Arabic, Link to WhatsApp that vastly improves communications and back-office integration making it easy to function with ease."
OTRAMS GO is all set to help businesses take on the new challenges with technology and eliminating any hurdles that get in the way of adopting technology. These are new beginnings that we are truly excited for and are eager to welcome more customers into this fold and watch travel industry soar to greater heights with technology.