New Flight Booking Module, now priced at only $1 per sector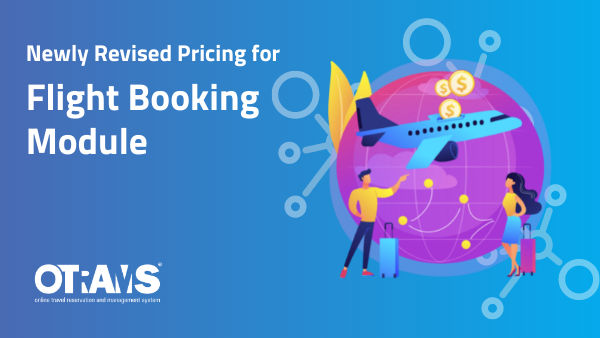 In a huge move towards enabling travel companies and agencies get the most out of their business, OTRAMS GO plan has an updated pricing for the flight booking module.
The OTRAMS GO plan offers a Pay-As-You-Go solution to all travel companies. Under this plan Travel Companies can use all the modules available on the platform to run their business successfully. There is no set-up fee, no annual fee and no maintenance fee.
Travel businesses can opt for unlimited number of suppliers available on the platform. Integrate with the best of suppliers and GDS to provide the best in class services to their customers.
OTRAMS offers flight booking module through integration with all major GDS: Amadeus, Sabre and Travelport. It is also integrated with Flight consolidators like: Mystifly,TBO Air and FlyDubai .
All this is made possible by a very attractive pricing plan of only 1.5% charge on the total transaction amount. To understand more about it, please visit our pricing page.
There are no other charges, no hidden costs in this plan. A simple and transparent charge of only 1 USD per sector.
For example, If you are booking a flight from Dubai to London and the total transaction amount is 300 USD. With the revised pricing for flight booking module, you will only pay 1 USD as compared to 4.5 USD (@1.5%).
This new pricing for flight reservation system is only applicable to OTRAMS GO plan. All customers who have already signed or who will sign with OTRAMS GO will be eligible for this pricing.
To start your success story with OTRAMS, Sign-up for OTRAMS GO Plan, here.
Visit our Knowledge Base for any queries.