How to Engage and Service the New Age Traveler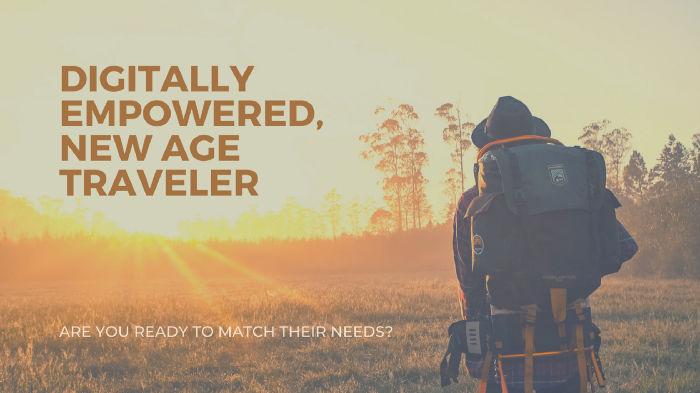 Millennials are more enthusiastic about travelling, the new age traveler wants to explore new places. Surprisingly, uncharted places are in demand. Social media has a significant impact on traveler's choice for destinations. A lot of social media users are sharing pictures of places they have visited or want to visit. People are more comfortable choosing from what they see. In other words, social media is influencing people's decisions.
Social media is just one aspect of the change that is impacting the travel industry. Another substantial part that has drastically changed the travel industry is affordable and accessible services.
Let us look at 5 ways in which, digital is empowering the new age traveler:
Online Booking:
New age travelers prefer to experience every part of their travel. It starts with an online trip booking. Nowadays, the first preference of the customer is an online portal for every activity. It can be flight tickets, hotel booking, rental cars, or complete tour package. Apart from online booking, customers love to see reviews and comments before making their decision. There is no doubt that the online booking portals are dominating the travel market.
Travel Mobile Application: 
Smartphones have become a crucial part of everyone's life. Customers mostly prefer making travel bookings through the mobile application. When it comes to travel agencies, not having a custom mobile application is a significant threat to their business. If they share their data on third party mobile applications, it means they are sharing an online information platform. It is not useful for agencies if they want to stand out in a competitive market. In short, a custom mobile application has become a vital part of the travel business.
Customer Tailored Service: 
As the competition is increasing, there are more travel agencies in the market. The customer has more options to choose from. They are looking for personalized services. Technologies like Artificial Intelligence, Data Science, and Machine learning has given tremendous power to customer preference. The customer is also willing to pay more for a personalized travel experience.
Multi-Channel Model: 
Millenia and new age traveler love to explore several digital platforms to get the required information. They feel satisfied when they read other people's travel experiences and love to share their own. It has left the travel industry with no option but to be transparent at every stage. Customers prefer those companies who run transparent business. The fact is that the travel industry's first service is to provide a pleasant travel experience but nowadays, customers expect support throughout their journey. So, the need of the hour is that travel agencies must take control of every communication channel.
Customer Satisfaction: 
The new age traveler wants everything on their fingertips. It makes it essential for travel companies to use a third-party application. The services like seamless booking process, SMS confirmation, frequent travel updates, flight information, and other travel information make the customer feel informed and improves satisfaction. It makes the CMS platform a must-have for travel companies. It helps them to provide on-demand content in no time.
Meeting the new age traveler demands: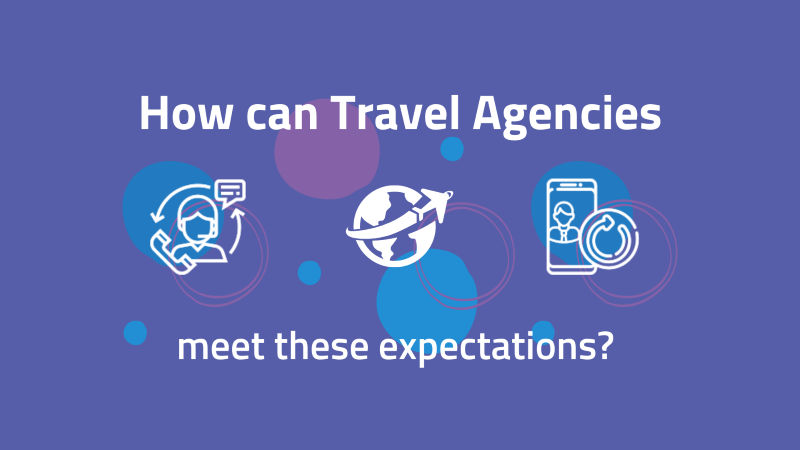 Digital transformation is empowering the travel industry. Companies are already sensing the urgency for travel technology. Let us see how travel agencies can leverage technology for business transformation.
Content Management System (CMS):
New age travelers need access to information at fingertips. Information such as flight and travel information, booking confirmation SMS, and safety updates make a traveler feel satisfied. All of this can be achieved with the implementation of an effective CMS platform.
Smart Online Booking Platform: 
Customers prefer sifting through multiple options that fit their set of preferences. They are looking for convenience of multiple services through a single provider. Adapting a smart online booking platform that can service all the demands of your customers is highly imperative. It creates a seamless booking experience and leads to customer loyalty.
Personalized Mobile Application: 
The digital lifestyle has increased the usage of the mobile application tremendously. Nowadays we have a mobile application for all our needs. The same goes for your travel business. A tailored mobile application can help travel agencies to get better control over managing their relationship with customers.
Partnering with the right technology provider:
In your goal to provide the best-in-class travel services and to become a market leader, a strong technology partner is a key aspect for your business.
OTRAMS offers an end-to-end travel ERP solution for all types of travel businesses. Destination Management Companies, Online Travel Agents, White label Service providers as well as Wholesalers are powered by the robust technology, flexibility of OTRAMS.
Based on your business priorities, you can choose a Hotel Booking System, Flight Reservation System, Transfers, Car Rental, Tour Packages, Tour Operator Software, Group Bookings, and value-added services. These solutions can also be tailored as per your requirements.
OTRAMS takes customer satisfaction to the next level. It helps in creating a beautiful itinerary with product descriptions and pictures. It provides an email marketing engine for customer communications, early bird, stay & pay offers, and discount modules. Its multilingual front end helps in personalizing the experience to any geography.
Final thoughts:
Businesses must adopt the latest technology to keep growing and stay ahead of the competition. The new generation customer is experiencing technology at every moment in life. The travel and tourism industry must be ready to provide top notch service to the customer with a digital lifestyle. Through digital transformation, travel companies would be able to service the changing demands of the new age customer and generate new revenue streams.
To learn more about OTRAMS, talk to our experts here.