Everything You Need to Know About Travel Reservation Software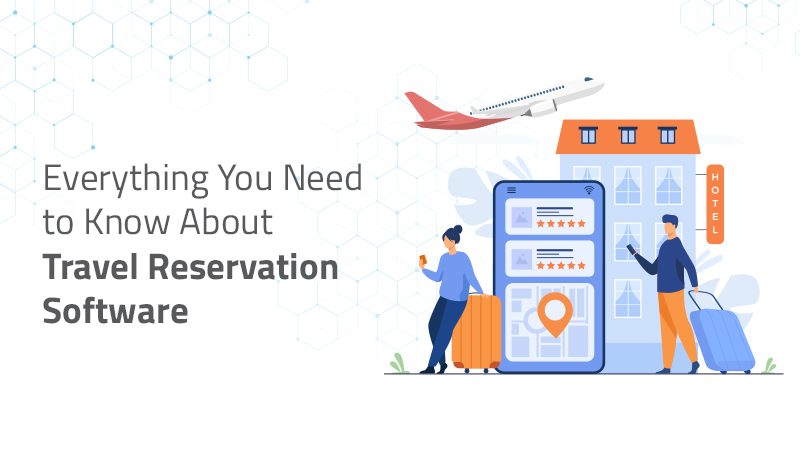 Travel reservation software allows travel agencies to offer customers travel services utilizing rapid search & response features, booking, easy payment and much more. We want to take you through multiple aspects of the travel booking system.
Here are the topics we will be covering;
What is a travel reservation system?
The Travel Reservation System is a comprehensive system created to meet the growing and changing needs of travel businesses. In addition to making travel reservations, travel reservation systems assist with a variety of travel management functions. A travel reservation system manages ticket prices, travel reservations, accommodations, and car rentals.
This software can store, retrieve, and process travel reservation information. It often includes features such as:
Inventory Management
Customer Relationship Management
Payment Processing
Travel reservation software solutions offer many benefits to businesses in the travel industry such as:
Efficient and accurate reservations and booking management
Improved customer service
Tracking bookings and availability, and modify them as needed
Ability to view and manage reservations in real-time
Software often includes marketing and sales tools that can help businesses attract and retain customers. For example, loyalty program modules, coupon modules, etc. Travel reservation software can also automate the payment process. Payments can be accepted and processed online, which reduces the risk of fraud and errors while speeding up the process.
What are the features of online travel booking software?
Integrated functionalities and features in a travel booking system must deliver a smooth and seamless booking experience to both consumers and agencies.
Payment options: Online reservation system for travel must offer customers a variety of payment options. Among them are credit cards, debit cards, net banking, and online payment gateways. It facilitates customer payments and increases booking conversions. These payment options must be secure as well as easy to use.
Inventory management: You must be able to manage your inventory in real time with travel agency software. The system should enable you to update your availability, add new products, and let you set prices dynamically. In this way, your inventory can be optimized, and your revenue can be increased.
CRM: Travel booking software platforms should include CRM tools. It should be possible to track customer interactions and preferences using this tool. This data can be used to personalize your marketing campaigns and provide better customer service.
Compatibility on mobile: The number of smartphone users keeps rising. Therefore, online travel reservation system needs to have mobile compatibility. This way users can easily book trips using their smartphone or tablet, regardless of their location.
Integration: Travel booking platforms should be able to easily integrate with other platforms, such as accounting software, CRM systems, and travel management systems. In this way, travel agencies can optimize their operations and increase efficiency.
Support multiple languages & currencies: The number of international travelers keeps increasing, therefore online travel booking software should be able to cater to a global audience. Travel reservation system must support multiple languages and currencies. People would appreciate viewing the content in their native language and paying in a currency familiar to them. The online booking system should be able to detect the customer's language and currency based on their IP address.
Robust reporting system: A customized travel booking engine should be able to generate reports that are error-free and comprehensive. With access to such information, travel companies can have a better overview of their business.

Daily, weekly, monthly, and yearly performance report.
Outstanding payments and payment report
Sales report.
Price and profit margin optimization report
Report on value-added seasons and destinations.
Marketing campaign performance.
Calculate conversion rates.
Profiling of customers.
Variations in inventory requirements.
What are the benefits of travel reservation systems?
The travel reservation system is designed to automate your booking processes. It allows technology to take control of various aspects of booking, improving the processes and allowing the user to devote time and attention to the business.
24/7 Booking: With technology at the helm, your business is always open. Reservations and bookings are handled easily by the system, without full-time supervision or manual supervision. Because your travel business is open at all times, customers can easily book a tour or travel package without having to physically come to your office. They can access your service at anytime, anywhere.
Efficiency: The use of a travel reservation system automates a number of the tasks associated with managing reservations, such as adding and updating information, adding prices, availability, and generating reports. The main benefit of this type of system is that it can save time and reduce the risk of errors. This frees up the travel company owner and their staff to focus on other aspects of the business.
Ease of use: Customers can easily browse and book travel options online with a travel reservation system. The reservation process is quick and easy. They can view available dates, rates, and amenities online and make reservations without the hassle of calling or visiting a physical location. As a result, customers will have a better overall experience.
Boosted profits: Travel reservation systems help businesses increase revenue by simplifying the booking and payment process for customers. Additionally, it is easy to create, market, and sell different types of travel packages online. You can sell dynamic or semi-dynamic travel packages to your customers easily. Along with convenience, multiple payment options, and 24/7 booking availability, it is easier to reach a wider audience and make more sales.
Stay Organized: Online booking systems store all the business information that travel agents will require. This includes details of the organization, customer information, income, disclaimers, forms, billings, inventory, staff, partners, etc. All you need to do is log in and access the system to get the information you need. You can conduct your business in a more organized manner.
How to generate multiple revenues using a travel booking system?
Travel booking system open different avenues of profits for the travel companies.
Here are a few of them;
B2B travel agency software/B2B travel booking software: B2B booking software provides you with the ability to control every aspect of your travel business. It lets you have a seamless booking process through advanced automation. It ensures that you have an efficient and cost-effective booking process that saves you time and money. B2B travel booking software has multiple sales channels across mobile, web, tablets, and XML output to increase sales.
B2C travel booking system: B2C booking engine for online travel companies that facilitates reservations from customers across all travel services. It allows customers to search and make travel bookings around the clock by themselves. With a powerful booking system coupled with a rich inventory of hotels, flights, and dynamic packages; Travel companies can maximize their profits by selling inventory directly to their customers.
Mobile Application: The number of people using their phones to browse, plan and make their travel bookings has increased exponentially. Therefore, it is vital to have a mobile app that is designed specifically for your business processes. A mobile app that allows travelers to plan their trip, book their travel and assist them during their travel is highly preferred. Your ideal app would improve sales and assist your customers on the go with travel assistance. It is possible to design an app based on the goals and requirements of your business.
White Label: Wholesalers can increase their revenue through the white label. White labeling allows wholesalers to eliminate the need to market their products. The travel agent who takes on the white label will handle marketing and sales. White labels can also significantly cut down the cost of setting up a travel company and help start a travel business on a modest budget. It can also be an effective tool for generating business. White label significantly reduces the time and effort involved in setting up a travel portal and generating revenue faster.
GSA: Travel reservation system lets you create a GSA entity within your overall set up. Travel companies can track and manage all kinds of transactions GSA does, track new customers they onboard and decide their marks up. GSA can manage their business by using the travel company's platform. They would not need a different website to make bookings or manage their backends. They will be able to manage their whole business while travel companies can control and mo0nitor the business GSA is running.
What is included in the mid/back office in a travel reservation system?
Running a travel business is easier, faster and more effective through a travel reservation system. Digitizing various aspects of your business helps boost productivity, save time, increase efficiency and reduce dependency.
Here are the different features available in the mid/back office;
Admin Panel: Admin panel lets travel companies manage suppliers, bookings, customers etc. Admin panel allows user to assign different types of roles within the company and give them relevant access. It lets the user define the suppliers that are assigned to different agents. It also let's travel companies set up their own pricing policies, add or create packages through an admin panel.
Markup profile: Travel companies can create multiple markup profiles/tiers. Depending on the potential/business needs of agents, these profiles can be used or assigned. Mark-ups are beneficial for both bringing in more business and maximizing profit. A markup profile can be used by travel companies to add a markup on their inventory or content from their suppliers or directly contracted hotels. It is possible to create a markup profile of the best-performing travel agent and offer them extra discounts. Mark up a profile by country helps you avoid pricing conflicts as cannot add a markup for both country and city together.
Agent Management: The agent management feature allows you to create agent profiles, add their log-in details, agency information, contact information, currency details, credit limit, add permissions, etc. There are various permutations and combinations of this feature.
Rule Engine: This feature allows you to define flight rules using the flight rules engine. You can add markups and discounts using the rule engine in amount and percentage. You can also define different markups for ancillary services. It is possible to create flight rules based on consultant name, branch, and agent as well. There are extensive filters available to make flight rules more specific and precise. There are options to add markups and discounts.
Coupon Module: The Coupon module allows you to create digital coupons that can be redeemed. You can offer coupons to customers for services or inventory that you wish to sell. This feature is offered by OTRAMS under the Coupon code. Users can create coupons in the back office. It is available on both the front-end and back-end platforms for B2C and B2B businesses.
Loyalty Module: All the data related to loyalty is displayed in the loyalty module. Loyalty is an additional discount agent achieves by booking, by being a valued customer. The agent earns a discount if he or she purchases a product. They can avail themselves of this with the same or different product. Points can be redeemed through bookings or rewards which are available based on the loyalty tier assigned. The tier assigned determined the calculation for each booking. The loyalty tier can be assigned to agents, operation staff, and B2C customers.
Business Reports: Business reports are crucial to any business. Business reports are the key to understanding and analyzing the performance of your business. With OTRAMS, you can generate multiple reports. Data from Sales reports, Agent sales reports, booking reports, Operations reports, Accounts reports, etc play a vital role in business. It is essential in making data-driven decisions.
How to add inventory and content for your travel booking engine?
A robust inventory and great content are the keys to offering the best to your customers. Providing your customers with a comprehensive inventory is easier when you partner with the right kind of supplier.
Here is how you can acquire the best travel booking engine;
Suppliers Integration
Travel suppliers play a crucial role in the industry. Suppliers have products, content, inventory, and prices. You can gain an edge over competitors by partnering with the right kind of supplier.
Hotel Suppliers: By partnering with hotel suppliers, travel companies can give their customers a wide selection of hotel options for them to choose from. This allows them to offer more options to their customers. By offering superior properties at competitive prices, you will be able to attract customers. Having access to premium content is one of the most effective ways to increase your success rate when booking through your website.
Flight Suppliers: Flight suppliers provide access to flight content. It includes ticket availability, prices, bookings, and confirmations. Travel companies with access to multiple suppliers can offer their customers the most attractive deals. With the intense competition that exists in the travel industry, this will help travel companies stay competitive, retain customers, and attract new customers at the same time.
Content Suppliers: Information about the hotel or property that travelers want to book is called hotel content. Travel websites need to display high-resolution images and the latest information. It is common for travel companies to have more than one supplier, and each supplier has different information. Hotel mapping services are quite handy in ensuring that websites display only accurate, high-quality, and the latest content.
Providers of mapping solutions have access to property content. Each source is mapped, and the information is collected and presented in a well-defined, up-to-date way. A unified content source can reduce ambiguity and confusion caused by conflicting information from different sources.
Direct Contracting and extranet: Direct contracting lets you onboard the properties you have direct contracting with. You can create different types of rooms, availability rules etc. Onboard activity providers through direct contract, similarly, transfers can also be onboarded, and you can sell these inventories on your platform.
Extranet is used by hotel, lets you want to give the hotels options to add the inventory, pricing, hotel details directly. Hotels can be given the login to add details directly to the platform.
CMS (Content Management System): Content management system allows users to add or remove any kind of static content on the web portal. CMS that is inbuilt in the back end lets them use add blogs, change the text on the portal, add new pages, add new content, images, videos etc.
Why do travel companies need a Travel management system?
Travel management systems help travel companies organize and manage their business processes. It simplifies and automates various tasks connected with booking and managing travel arrangements, such as flights, hotels, and car rentals.
Here is why travel companies need a Travel Management system;
Reduce operation cost: Travel software solutions automate processes and eliminate manual labor. The time and money saved can then be invested intelligently.
Access to suppliers: Software solutions with APIs and suppliers' databases are beneficial for travel businesses. Travel companies need to have access to a supplier database since it is very useful. A variety of options worldwide is one of the most beneficial things that can be provided to clients.
Hotel contracting: There will always be a need to upload hotels under direct contracts, regardless of the size or nature of your travel agency. As a result, it becomes imperative to have a hotel contracting module in place. Having a hotel contracting module within your travel agency software will allow you to utilize the reservation system to the fullest extent possible.
Integrations: Travel agency tools allow integration with large GDSs, like Amadeus and Sabre. However, it is essential that the software used by travel agencies also allows integrations with third-party suppliers such as tours, attractions, bed banks, etc. Your travel agency can take advantage of the integrations to access greater volumes of traffic.
Ticketing: Travel agencies need a ticketing module in their arsenal of tools. Travel Management software provides you with end-to-end tracking of all your confirmed, canceled, redeemed, and issued tickets, etc.
Travel is making a comeback irrespective of the state of the global economy. People are not pinching pennies; it seems people are more intent on splurging on quality travel. The fact that most people spent nearly 2 years cooped up at home has made traveling more fascinating. While business travel will continue as usual, casual and leisure travel is expected to double. According to a report by UNWTO international tourism recovered strongly in 2022, reaching 57% of pre-pandemic levels. The travel industry is expected to make a complete recovery by 2025.
Here are some trends that will define travel in 2023;
TREND- Futuristic Technology like Metaverse will influence travel decisions
Why it matters – Metaverse has become a part of the travel industry. "Metaverse" refers to a virtual 3D world that people can explore with VR goggles. People can interact with each other and the environment in immersive virtual worlds. Using VR equipment or augmented reality (AR) systems, users can see parts of the metaverse in their surroundings. Alternatively, the Metaverse can be accessed using smart devices such as mobile tablets and smartphones.
Metaverse travel is a safer and less expensive means of exploring potential travel destinations, hotels, etc. Booking experiences could be improved with metaverse travel. There is a certain level of engagement that can't be replicated on a website. It can also have an impact on booking volume as VR tours increase the likelihood of travelers booking real tours. As virtual reality technologies are still being refined, the metaverse concept is still in its early stages.
Trend- Biometric payments will be more popular
Why it matters – The use of biometric payments is becoming mainstream. Travel is likely to take biometric payments to the next level. It is possible to leverage biometrics for any payments travelers make during their journey. People will no longer have to carry cash around or whip out a debit/credit card.
Biometrics can be used by airports and travel operators to offer contactless and simple payment methods to passengers. Using biometrics, travelers can pay for everything from tickets to seat upgrades, meals, and hotel payments.
Trends - Cultural Capital will see more visitor
Why it matters – Culture capitals will be desirable travel destinations according to Expedia. Cities that offer rich cultural experiences are among the top destinations for 2023. Therefore, these destinations will be popular and high on travel lists. Travel companies can offer better packages and offer such locations to entice travelers.
Trend – Budget Savvy Travel
Why it matters – People are willing to spend money on travel but no one wants to spend an outrageous amount. Given the state of the global economy, most people are prioritizing how they would travel. The number of people will opt for three-star hotels will increase. According to a report by Hotel.com, more travelers prefer booking affordable stays over luxurious ones. There will be a rise in demand for hotels that provide add-ons like plush toiletries or free breakfast. Travel agents need to understand what the travelers will be choosing and help them make informed choices that suit their budget.
Trend- Fintech will have an important role in travel
Why it matters – Demand for travel is on the rise, but travel operations continue to be adversely affected by cancellations, delays, and shortages of staff, making travel more stressful and frustrating. As travel companies seek to regain their market share and grow, travel fintech offers innovative solutions by freezing prices, altering reservations, rebooking disrupted flights, and accepting all forms of payment. Suppliers benefit from more direct bookings and revenue streams as well. This is something travelers are willing to pay for. Fintech products will become more popular, and tourists will expect to be able to lock in prices. The travel companies that utilize fintech will have better chances of growth and increasing their sales volume.
Trend- Hotels are becoming more digital
Why it matters – The hotel sector has shifted towards digitalization, services like mobile room keys and remote check-ins and -outs, making hotel operations more efficient. To adjust staffing levels, hotels need access to real-time data. Cleaning staff can prioritize rooms to clean first based on real-time occupancy data and QR codes and digital menus make food and other orders make ordering food easy. Both customers and staff benefit from this, enabling them to focus on the most impactful interactions with guests. To eliminate friction in its service, Hotelbeds is leveraging connectivity with its suppliers to eliminate manual intervention.
What is the road ahead for travel agencies?
Growth is a common factor in all businesses. Businesses everywhere want to grow and flourish, and this is made easier with technology. Here is how a Travel management system can help travel companies in the future.
Differentiating yourself from your competitors requires is what helps you to increase your market share. It takes a lot of effort to convert customers into bookings. If you invest more in technology, you can offer more to your customers. Better packages, better offers, and an extensive inventory. All of this starts with an effective technology provider being the backbone of everything you do.
The right travel management software can give your business what it needs to attract more customers, eliminate manual labor, and cost-effectively run your business.
Travel businesses should continue to increase sales as travel increases, especially as tourism increases. Travel agencies, OTAs, and tour operators are popping up each day, so competition is fierce. There is intense competition in the travel market, and everyone is focused on boosting their revenue.
Here are a few things travel companies can do;
Upsell: To increase your revenue per customer, suggest or offer additional products or services on top of a standard package. As an example, if your customer is going on a city trip to Paris, you can offer them walking tours or lunches during their stay.
Integrating with GDS systems: The easiest way to boost the number of bookings is by offering reasonable prices in a wide range of premium transfer services, car rentals, tickets for museums and attractions, and tour packages. Using travel software, this can be simplified through the integration of XML with different hotel systems (third-party systems).
Partners: It is vital to establish relationships with partners to reach new markets, gain new customers, and plan further product development. It is easier to focus on your B2B business relationships when your work is supported by efficient travel technology.
Advanced solutions for travel management system
Travel technology plays a major role in digitizing various aspects of the travel business. All of this has a great impact on the way business functions. Here are a few features of the travel management system that can have an impact on the travel company's day-to-day function.
Basic Accounting: Basic sales ledger and balance sheets can be created and exported in the travel management system. You can carry out basic accounting functions without relying on various software.
Data Analytics: It is possible to automate several data analysis tasks with the help of travel reservation software, while simultaneously improving the accuracy of the reports. You can generate personalized reports based on the insights you get from those reports and use them to help you meet your business needs. With this information, you will be able to gain a better understanding of the market as well as formulate strategies for success.
Agent Dashboard: The dashboard is designed to show a snapshot of all the bookings made by the agent. It has a complete account of booking management along with booking activities. It shows top-selling destinations, reports, etc. It also displays view searched booking, confirmed booking, credit limits, credit usage, etc.
Realtime profitability: The system shows the cost of all the inventory that has been produced and what the gross margin made on the overall sales is on a daily, weekly or monthly basis.
Agent performance: Travel reservation software enables users to track their travel agents' performance. Travel agents are an integral part of a travel company. Tracking their performance with travel agency software is vital for improving their performance and providing better customer service. Performance management features are also utilized to minimize errors or inaccurate targeting efforts.
Supplier Performance: The system enables users to track response time, booking errors, booking cancellations etc. This is essential in boosting the performance of business, increasing efficiency and improving productivity.
Frequently Asked Questions on Travel Booking Engine
How do online travel reservation systems help travel companies?
Online travel reservation systems help travel companies by facilitating transactions essential for travel. A travel reservation system manages ticket prices, travel reservations, accommodations, car rentals, etc. Travel booking systems have features that ensure seamless and smooth travel experiences for consumers and agencies.
What are the elements of a travel reservation system?
Here are the key elements of travel booking engine
Frontend: booking engines, static page.
Mid/Back office: admin page, mark up profiles, booking management, customer management agent management, rule engines.
Payment gateway.
API connection to suppliers, direct contracting & extranet.
What is the best travel reservation system for travel agents?
OTRAMS by Qtech Software is the best travel reservation system for travel agents. OTRAMS is built with intuitive technology, robust architecture, and customizable features at the helm. It ensures business growth and smooth functions.
What is the role of travel suppliers in a travel booking system?
A supplier has products, content, inventory, and prices. Travel companies depend on these suppliers to provide their customers with great services.
What are the benefits of a travel booking reservation system?
The travel reservation system allows travel management companies to offer online solutions to their customers and sub-agents.
Major benefits of the travel booking engine;
Increased your visibility – Owning an online travel portal helps build a brand identity, resulting in global bookings
Automated bookings – Automated booking processes reduce human effort. Online travelers can easily search for flights, hotels, cars, cruises, and holiday packages. Bookings and cancellations are simplified
Faster payment- Offer various payment options that are faster
Up-sell Add-ons – Expand your hours, add more guides, or offer more activities to grow your business. Adding perks to your customers can increase revenue for your business
Business Insights – Online booking systems provide you with business analytics to grow your business.
How is the internet reservation system helping travel companies grow?
The Internet reservation system is not only useful for simplifying operations, but it can also be used to increase sales.
Here is how it helps travel companies grow;
Ensure 24/7 operation.
Reduce manual labor.
Error reduction.
Boost reservations and cut no-shows.
Upsell add-ons easily.
Secure & Fast payments.
Online visibility.
Data analysis insights.
What is the importance of online booking systems in today's era for any travel agency business?
With modernization, most customers expect faster processes, wider choices, and automated services. All of this and much more can be accomplished with an online booking system. By using technology it's possible to deliver better services and great options for the customer, which ensures repeat services and better business for the travel agency.
What is the most affordable online reservation system in the current travel technology industry?
The best and most cost-effective online booking system for your business is OTRAMS Go. All travel businesses can now go online with our brand-new Pricing Plan. This has no set-up fee, no maintenance charges, and no annual fees.