The Ultimate Guide to Hotel Reservation System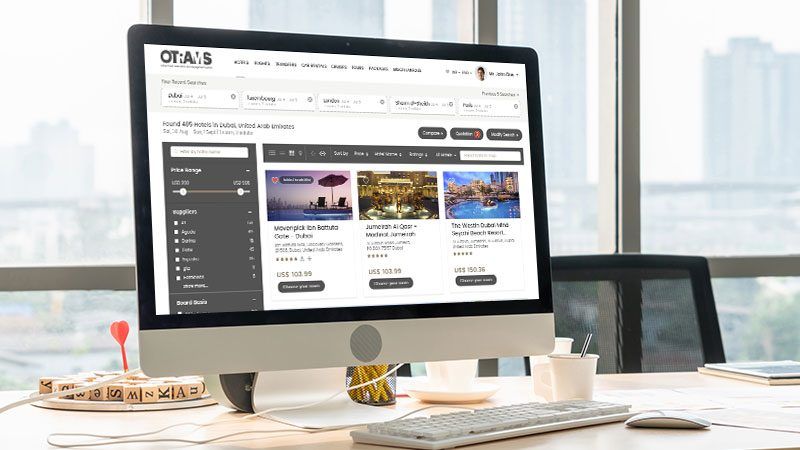 What is a hotel booking engine?
A hotel booking engine or hotel reservation system allows users/clients to make reservations directly through a website or other channels. It is also known as hotel booking software. Travel operators and agencies use hotel reservation software to display and sell the hotel inventory they have sourced from various sources.  
This way customers can easily access the listed options and choose what they want. Social media applications and websites can be integrated with the system to provide users with various services & information. By using the website, any agent or clients can check the information, book, and then pay.   
How does hotel reservation software work?
Here is how Hotel reservation software works:
Agents or customers can login to the travel companies' website. 

 

From the hotels search page, they can search for hotels in the city of their choice for the given dates. 

 

On the search page, the hotel software shows multiple options available. 

 

There are multiple filters available for the users to choose from. 

 

In the back end the travel company integrates different types of suppliers and also adds hotels through direct contracting. 

 

All of the inventory that is sourced from different suppliers and direct contracting is available here. 

 

They can add mark ups or margins and add different types of rules to sell across geographies or to sell to different types of customers.

 
What are the features of good hotel booking software?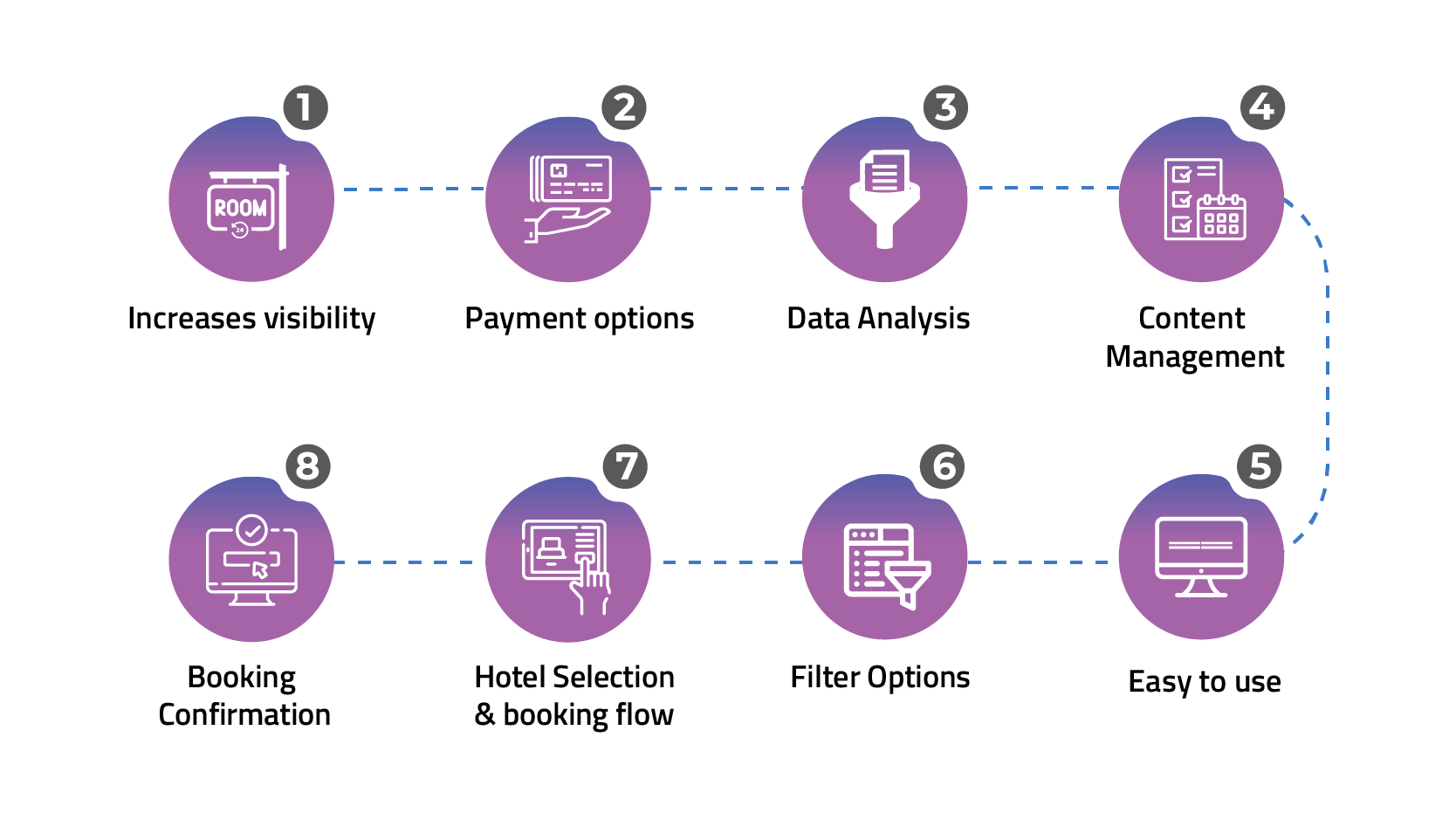 For a hotel reservation system to be successful, certain key features must be included.
Increases visibility:

It is imperative that the hotel reservation system increases your visibility. Having your website available at all times ensures maximum customer exposure. Having available rooms and their costs displayed during any time, including after working hours or at night, helps travelers make reservations quickly.  

 

Payment options:

The various payment options also contribute to the accessibility of your system. Incorporating online payment options such as credit cards, debit cards, net banking, and payment wallets allows people to choose their preferred payment method.   

 

Data Analysis:

Analyzing and segregating data helps to present the required ones when valuable insights are added. By doing this, you can increase your business and make it easier for users to find exactly what they are looking for.   

 

Content Management:

Customers and providers appreciate being able to access all the necessary information when making a reservation without needing to call. Users are able to read through all the information, gather what they need to know, and make the reservation without having to worry about any delays.  

 

Easy to use:

Reservation systems should be easy to use and understand. A website should be designed in a way that is easy to understand and navigate. There should be a language option for all users, and all information should be readily available

 

Filter Options:

Hotel Booking Software allows users to filter, sort, search and even share all the information. The user should be able to filter hotels according to star rating, locality, pricing, amenities, room type etc.

 

Hotel Selection & booking flow:

User should be able to view all the details of the hotel they select. This should include the amenities, inclusions, operation hours, and services provided by the hotel. They should be able to choose the exact room they like. Based on the choice, the user should be able to view the exact fare for the room they choose. 

 

Booking Confirmation:

Once the user has selected their choice of hotel room, they should be able to add comments or remarks and proceed with the booking. After the user confirms that they want to book a particular room, the particular room should be booked into the hotel CRS and a confirmation receipt should be provided to the user. 
In what ways can a hotel booking engine be beneficial?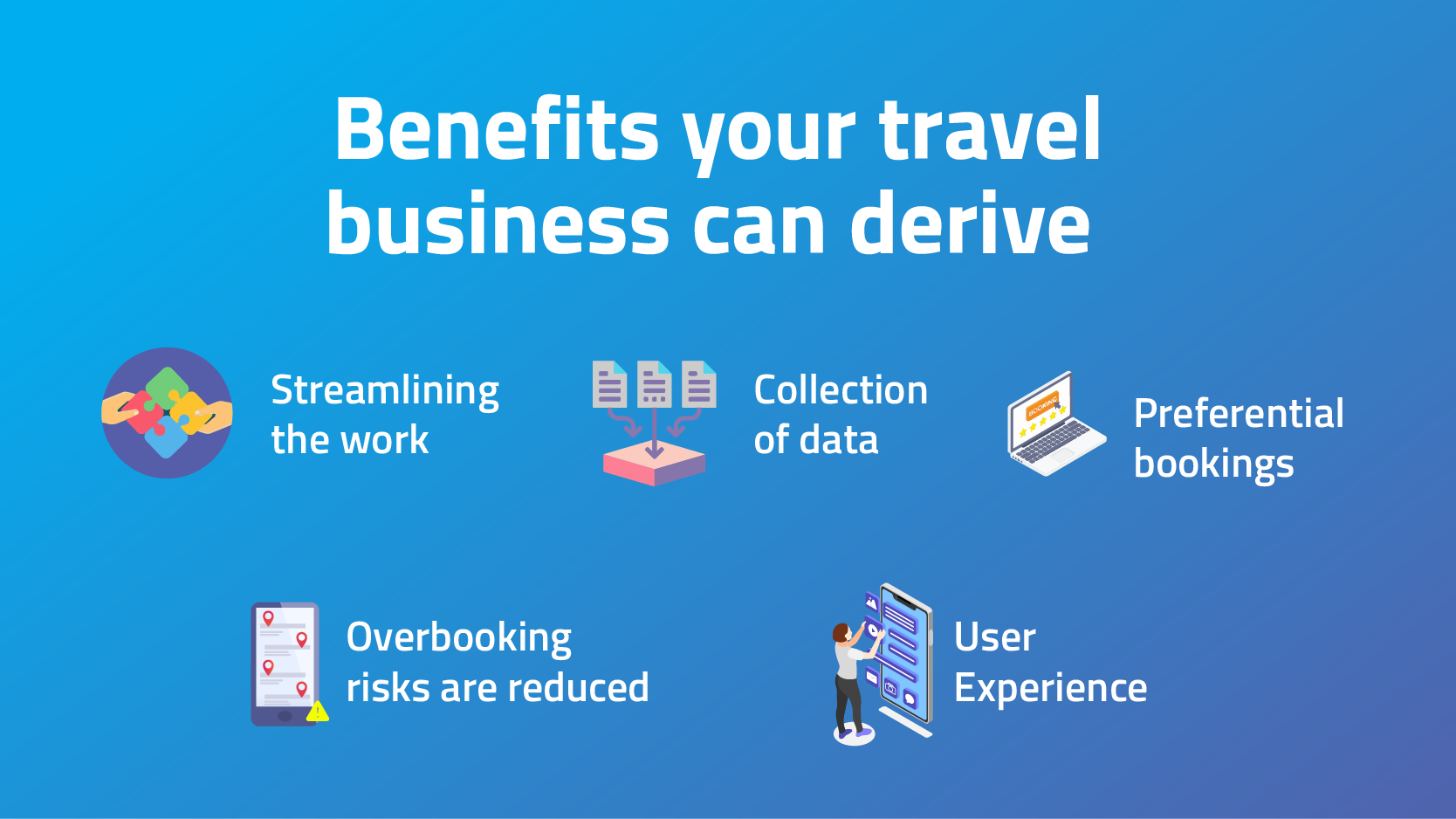 The features and necessities of a hotel reservation system have been described above, but it is vital to understand what motivates one to spend wisely on such a system.
Listed below are a few benefits to help you understand why-
Streamlining the work:

Online booking simplifies the work of admins and staff. A lot of emails are not required to be answered or confirmations are not made over the phone. Any booking can be corrected if there is an error. Bookings can be made by customers, which appear on the travel agency's server/system.   

 

Overbooking risks are reduced:

Integrated hotel reservation software helps to reduce the cluttering of options on your travel agency's website because of the wide range of hotels that provide rooms. It reduces errors and makes the website/service more user-friendly by updating the data accordingly.  

 

Collecting data:

Data collection plays a crucial role in the hotel reservation system. To offer users a personalized and great experience, it becomes important to know their credibility as well. In order for a hotel to be successful and maintain its reputation, it is important to know where the guests come from, their identification details, and their interests. 

  

 

Preferential bookings:

Hotel reservation systems provide a variety of options for customers. Rooms can be selected from the list based on their preferences. Filtering options based on affordability, grandeur, space, and other amenities is possible. Customers will praise a website if it is user-friendly. Customers are able to directly experience the property through this system.

It is imperative that an online hotel booking system includes B2B hotel booking options, blogs showing areas of interest in the destination, as well as eating options.   

 

User Experience:

Users should feel at ease with the entire system. The services should be reliable. Easy-to-understand services have a longer lasting impact. The easy navigation, speed, reliability, and approachability of your travel agency and its services are provided by a good hotel reservation system.   

 
Why should travel agencies have online hotel booking engines?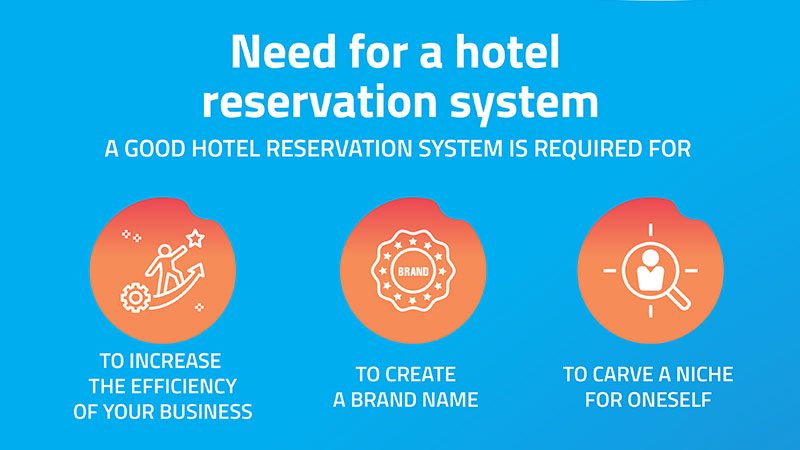 Hotel reservation systems offer a variety of direct services that make booking easier and faster for customers. Travel agencies can list all of their inventories using the integrated software for the benefit of the users and themselves amidst the competition in today's world.
There are several reasons why a good hotel reservation system is necessary:
Create a niche for oneself:

There are many competitors in the market, all seeking to attract more customers. Better hotel booking software will likely attract more customers, as the packages and options will seem more attainable. As a result, you have an edge over your competitors in the market.   

 

Boost the efficiency of your business:

Booking engines and accommodation software both aim to enhance the efficiency of your business. With a good system, you can automate many processes, reduce manual work, reduce errors and speed up the work. All of this increases business efficiency. 

 

Creating a brand name:

Hotel reservation systems help you build a brand name for yourself. In the world of business competition, being recognized and pursued is an achievement in and of itself, which is why increasing efficiency is advantageous.    

 
How to boost revenue with online hotel booking software?
The travel industry is highly competitive and crowded with multiple players. In addition to multiple choices, those who rely on travel companies also have multiple reasons to switch from one travel company to another. Become a preferred B2B travel portal by offering anything that adds value to a travel agent's business.     
In the case of B2B Travel Companies
B2B Travel Operators serve the business needs of travel agents. It's one thing to attract them to your offer, but it's another thing to keep them. The average travel agent has three to five logins from different B2B travel portals. Despite browsing through all the systems for a particular query, they frequently book from one. It means you need to improve your agent offerings if your look-to-book ratio is low (less than 10%).    
Agents continue to do business with you when you provide them with apt solutions to their challenges.    
In the case of B2C Travel Companies
B2C travel companies face a number of challenges. Different customers have different needs and different demands; no two customers are the same. Despite the global pandemic, competition remains stiff, and there are fewer solutions than challenges. B2C travel companies are challenged with boosting revenue from hotel reservations under such circumstances. How can they do this?    
If you are an online travel company, here are the key aspects to boost your revenues through hotel booking:
There are specific technology criteria that are approved by the biggest and best suppliers like Expedia, Booking.com, Agoda, etc. You will be able to access the best suppliers by partnering with a certified technology provider.   
Travel companies can gain more customers by working with good suppliers and their inventory. As a result, your profits increase. 
Any travel companies that specialize in hotels in a particular region, you can boost your profits and margins through direct contracting with hotels and providing unbeatable deals. A powerful extranet helps you create a great inventory of hotels in your region.   
You can further improve your revenues by selling this inventory through multiple channels like B2B, B2C, XML Out, and White label. A good direct contracting module allows you to apply different markups and control your margins dynamically.    
Speak to our experts!
Online Travel Operators have unlimited possibilities with API re-distribution. Multiple agencies can use a common API feed and generate extra revenue.   
Integrating hotel booking APIs is easy due to their flexibility and scalability. Through XML / JSON Out, travel companies can sell or resell inventory globally.    
Providing value-added services
Booking engines alone are no longer sufficient. Online travel providers must go beyond and offer added benefits to attract travel agents and customers.  
You can offer value-added benefits by implementing loyalty programs and coupon modules, which are examples of how you can give them added benefits and increase chances of repeat business.   
Your platform should have a customized loyalty program to ensure agents come back and book regularly. Additionally, you can use the coupons module to offer specialized promotions for specific periods or inventory types.  
The digital world offers many opportunities for your travel business to increase revenues, reduce expenses, and increase profits.   
One such booking optimization solution, Hotelmize, re-shops your hotel bookings in order to improve profitability. Your existing bookings can be converted into extra revenue with this solution.   
Watch this webinar to learn how it allows travel businesses to streamline their operations and improve their margins.
White label solution is most suitable for B2B/B2C Travel companies. In order to build your own brand and product, you might want to start your own company. It is a time-consuming and costly process. Such a project requires a lot of management as well.  
This is why white-label solutions are the best option as they can easily be integrated. Wholesalers and travel agents both benefit from it. Wholesalers can generate additional revenue through this channel. Compared to building your whole business, it's much easier to set up.  
It is an effective way for travel companies to attract new agents. Customers that use their services through them increase, thereby increasing their market share. 
Compared to starting a business on their own, travel agents will have to incur little to no costs. The system is ready and the travel company gets the complete set up. The only thing they need to do is add their branding elements and begin marketing.  
By being able to access wholesaler suppliers, travel companies gain access to an extensive inventory. With white labels, the process of setting up a travel portal is dramatically sped up. It is a great way to generate business faster. 
A mismatch between the customer receipt and the hotel entry occurs in about 30% of all online hotel bookings. Customers who reach the hotel after their journey will have a bad experience during check-in, due to booking errors or booking mismatches. 
When customers have a poor experience, they are unlikely to use your business again. In short, you will face a loss of business along with a loss of brand reputation. All of this can be avoided with smart technology  
rePUSHTI, an online travel re-verification service, can re-verify all hotel bookings for travel businesses. The solution is fully online and ready to integrate and re-verify all hotel bookings across 50+ parameters.  
It is easy to deliver a consistent booking experience, avoid any mismatches, and generate repeat business with rePUSHTI.
Learn more
Hotel bookings are a major revenue channel for online travel companies. A company that provides added value to its agents and customers will win in a competitive market. As an online travel company, if you would like to increase your revenue through hotel booking, you need to pay attention to the following:  
Good collection of hotels. 

 

Enhanced booking experience powered by technology.

 

Value-added services that increase the profitability of your travel agent as a whole. 

 
Listen to this podcast for more details.
What is the purpose of extranet and direct contracting in the hotel reservation system?
Domestic travel is growing in popularity, and customers prefer to book villas and individual properties rather than hotels, so Travel Companies need to offer more local properties at the best possible rates. In recent years, precautions and safety measures have become an integral part of travel. In terms of accommodation, private villas, resorts, service apartments, and long-term rentals have seen the greatest demand.   
With an Extranet that is highly functional, travel agencies should build their own inventory of private properties and offer suppliers easy access to list their properties on the platform. Among OTRAMS' features are direct contracts, separate logins for suppliers, API distribution of inventory, and multiple other features.   
The powerful direct contracting engine on OTRAMS, which also has an Extranet, makes this possible. Using Extranet on OTRAMS, Corporates, Destination Management Companies, and Travel Management Companies can create a booking portal for their employees and customers. Also available for direct contracting are transfers, activities, and car rental 
Travel companies can use OTRAMS direct contracting module to sell locally contracted inventories through the booking engine. Using this module, hotels can be configured and rates added so that they can be easily sold on the hotel booking engine for travel agencies.  
Hotels/Suppliers can also be accessed via an Extranet login by travel agencies. It also comes with a "Upload Rates by Excel" feature that simplifies bulk uploading.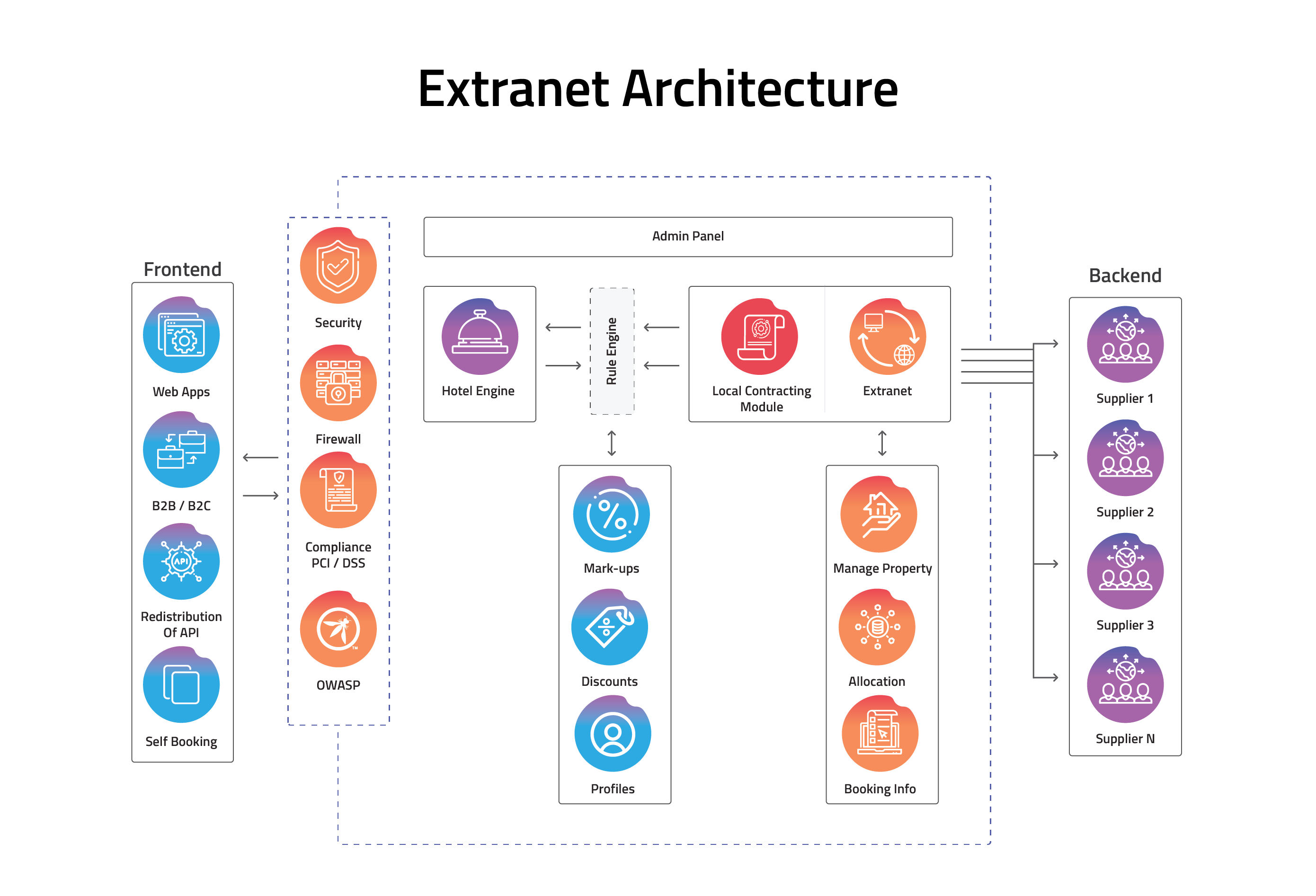 Extranet and Direct Contracting Module Features
Create hotels with complete profiles. 

 

There are options for creating markets profiles, rooms, amenities, meal/board-based accommodations, extra beds, and supplements. 

 

Adding rates, inventory allocation, release period, check in block, and minimum stay is easy with the intuitive data entry.

Management of cancellation policies, no-show policies, early checkout policies, amendment policies, etc. 

 

Set up different offers and discounts, such as Early Bird, Long Stay, Stay Pay, and others. 

 

The ability to track bookings, arrivals, expired contracts, and user activity through comprehensive reports. 

 

The management of multiple suppliers.

An exclusive login for Suppliers/Hotels/Extranets with credentials to configure Hotels, Rates, etc.

 
This module is beneficial for;  
Destination Management Companies. 

 

Travel agencies are interested in selling their offline inventory online through Booking Engine. 

 

Travel agencies interested in outsourcing local contracting.

 
Travel Agents and Companies can now distribute their hotels inventory via API redistribution on OTRAMS. In addition to Transfers, Car Rentals, and Activities, Companies can also distribute them through APIs worldwide.   
Contracts can be negotiated directly with your customers and special rates can be offered, along with inventory from other suppliers. Globally, you can resell your inventory to over 180 partners. You can seamlessly integrate with all the popular Channel Partners and Switches.   
What is the purpose of the hotel channel manager?
Hotel channel managers are platforms that allow hotels to distribute their inventory across different booking sites. Hotels can connect their CRS to a channel manager. Channel managers ensure that the inventory is distributed to all the online suppliers and travel companies around the world. Channel managers are the best option when a travel company wants to directly source content from a chain of hotels.  
Travel companies usually have a lot demand for chains of hotels. They will often want special rates from chains of hotels. They can source the whole content for these hotels through a channel manager. Channel managers are leveraged by suppliers as well as hotels to push real-time availability to all the relevant stakeholders.  
Travel companies are contracted with many hotels. Travel companies need to ensure that the availability and pricing are automatically updated on their website. Channel managers are perfect for this purpose. Every time a search for a particular hotel is made on your website, the content will be served locally but the pricing and availability will be procured from channel managers and displayed on your website.  
Do you need hotel mapping in hotel booking software?
If you have more than four suppliers there is a good chance that the same hotel, maybe be served by different suppliers. This creates a conflict of information in search results. In such cases it is a good idea to leverage a hotel mapping service to de-clutter or clean up the hotel's data and show one true information of the hotel to your customer.  
A hotel's content refers to all the information available about the property that the traveler is interested in booking. The images on your website must be in high resolution, and the room information must be up-to-date. The same hotel may have different information from different suppliers, as most travel companies have several hotel suppliers.      
For example, there are four different suppliers on your platform. Let's say there is a hotel called 'Hotel A'. The room types offered by supplier 1 are deluxe, super deluxe, and royal suites. However, it is different for supplier 2. All four sources may have different details if they don't have up-to-date information, images, etc.      
Hotel Mapping services are useful in this situation. Content sourced from the property is available to the mapping solution provider. By mapping the data and details from each source, the information is gathered together and displayed in an organized and well-defined manner. Mapping takes away ambiguity and confusion that results from conflicting information from different suppliers and gives the users one true content.     
With hotel mapping the user can view sorted, cleaned up information which is true for that particular hotel and gives the customer ease of choice.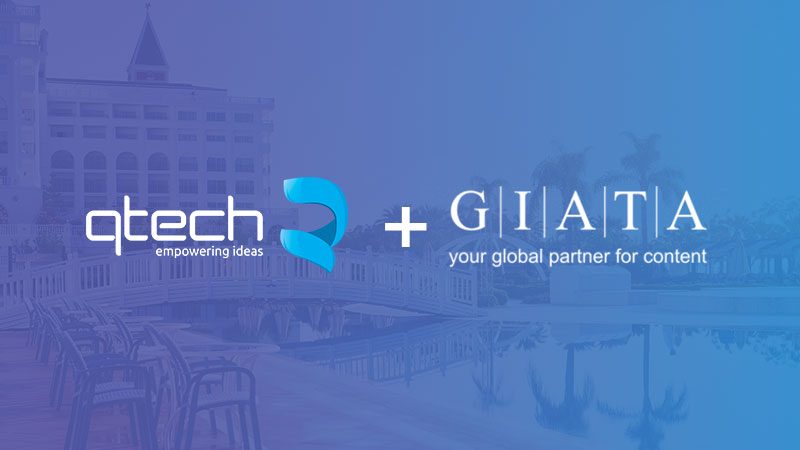 GIATA is the world's leading provider of mapping services. GIATA is a strategic partner of Qtech Software. Qtech's OTRAMS is integrated with GIATA. As a technology partner of OTRAMS, GIATA offers travel companies exclusive deals and offers. 
Why is it necessary for a travel agency to have its own hotel booking app?
It is common for travelers to use their mobile devices before and during their travels. In the modern age, mobile apps can help travelers plan their trip and execute it as well. There is no doubt that hotels play an important role in this. Travel websites and mobile applications must go hand in hand.     
Apps are beneficial for the following reasons:
Customers prefer mobile apps over mobile sites
Customers will prefer a mobile app over a mobile-optimized website for two reasons.  
The first advantage is that it makes it easier to interact, and the second is that it saves bandwidth and speeds up the booking process. It is also possible to include a lot of high-quality graphical elements in mobile apps. Due to the one-time download (when the app is installed) and just data transmission between the app and the user (like transaction data), mobile apps are easier to use in low-speed networks (especially if the download speed is low).    
A mobile-optimized site, on the other hand, requires you to download every web page that you navigate through when you are booking, which is slower and requires more data. Hotel booking apps should load quickly so customers do not have to wait longer. 
Apple's iOS and Google's Android operating systems have built-in libraries that allow customers to share trip experiences easily. It is possible to share your travel experiences without leaving the app (or even opening another app) thanks to their integration with social networking websites such as Facebook, Twitter, and Instagram.  
Your business's reach to more people increases the faster and easier a user can share his experience!  The Contacts list of a mobile app can also be accessed by apps to provide customers with information about friends and relatives who have previously visited the location they plan on visiting. 
It becomes easier and quicker for you to extend your business reach to more people the easier it is for users to share their experiences!   
It is undeniable that bookings on mobile devices are on the rise and are poised to reach new records soon. 
What role does artificial intelligence play in the hospitality industry?
The hospitality industry is turning to innovative, powerful technology that can meet the demands of any guest.   
Hospitality is one of the industries where Artificial Intelligence is making headway. It is leveraging AI to improve its overall service and to enhance its customer experience. It may sound far-fetched and unreal, but AI has undeniable potential in the hospitality industry. Guests can be served and provided with comfort and a previously unattainable service. Besides saving time, it will also save money in the long run. 
The hospitality industry spends more than half its operating budget on labor. Maintaining consistent service quality and controlling expenditure requires an efficient and cost-effective labour solution. It is possible to boost productivity and reduce manual errors significantly using artificial intelligence. It is expected that guests (especially those seeking luxury travel) would prefer personalized services if their stay is in a luxury hotel (like the ones at Holiday Inn Express). Many guests would be willing to use technology to communicate their needs and have their needs met without any hassles. 
The idea gained momentum during the Covid crisis when social distancing was crucial. Technologies rose to the occasion when people turned to them for a solution.     
Robot that performs concierge duties using artificial intelligence. 

 

Guests can ask chatbots questions. 

 

Luxurious services can be activated by voice command. 

 
How can AI help you improve your customer experience in online hotel booking?
All the bookings made through the hotel reservation system can be re-verified through an AI powered online platform.  
As a result, there will be fewer chances of manual errors, overbookings, and losses for you and your customers.
What are the challenges and opportunities in online travel and hotel booking?
There is a growing market for online travel and hotel reservations, as people rely on the internet to book their flights and hotels. Nevertheless, the travel industry also faces challenges like any other.
Find out how travel agencies and travel software development companies are tackling these challenges below. 
The challenges and opportunities in online travel and hotel booking
Connectivity: Despite the availability of good internet connection over the years, there still might be many locations that have poor connectivity. Low or slow connectivity results in people taking the traditional route to booking tickets, namely offline booking. Also, the use of complicated designs and slow websites online booking makes it difficult.  
Businesses in the travel industry are now opting for simpler websites and mobile apps. The simplicity of their designs makes their websites and apps load faster without cutting corners on design or user experience. Nearly all travel bookings are capable of going completely digital today because of smartphones, 5G connections, and lower internet connection rates. 
Search experience: Travellers have suffered poor search experience on OTA's websites or apps. They had difficulty getting the hotel they wanted. Poor search results and dearth of adequate data means most people don't get what they want when they look for information online.  
With new advancements in technology and the efforts taken by travel business owners, visitors are now getting a unique search experience. Visitors can also compare hotel prices on most travel websites. Online travel businesses are beginning to understand the value of getting more customers by improving the overall user experience. 
A hotel booking engine should be able to display the search results very swiftly and with accuracy. This way the customer won't have to wait long to see the result, which improves user experience and reduces bounce rate.  
Synchronization: Synchronization between the travel agency and the hotel or airline has caused many issues in the past. Occasionally, travelers book rooms that are unavailable or already full. The empty rooms in hotels and seats on planes were difficult to update. This resulted in outdated information being displayed to visitors. 
Technology has changed this scenario. Travel agents and agencies can now access live XML feeds from airlines and hotels provided to suppliers. The information on travel sites and apps is now more up-to-date. Additionally, businesses are investing in better software and technologies to keep their services available. 
Cancellation policies: Different travel agencies provide different cancellation policies. When tickets are canceled, some companies charge a cancellation fee. These fees can be as high as a one-night room stay fee + taxes. A few travel agencies don't allow cancellation after the stipulated time. Occasionally, companies will ask you to cancel only individual tickets. For example, if you have purchased a flight and hotel package, a travel agency might cancel only your hotel room booking but not your flight tickets. The entire package might be canceled only by some companies.
These policies have been less strict and focused more on user convenience over the years. Because customers will usually shift to a competitor if a particular business doesn't provide convenient services. Travel businesses are now coming up with new and more convenient ways to cancel or refund your bookings. 
Your hotel reservation system should be able to capture the right cancellation policy of every hotel so they can make an informed choice at the time of booking.  
Access to information: Although all the information is available online on the internet, it is still easier to know what kind of service you will get in a hotel depending on how the person who answers your call speaks to you. You can judge this based on how quickly they answer your call, how they talk to you, their mannerisms, how they listen to your requirements and if they are ready to go the extra mile to provide more convenience to their customers.  
With the availability of internet and sites like TripAdvisor and Trust You, it's easy to not just view details about the hotel but also view their review, rating, guest experience, images and videos. This is authentic and the source is the guests themselves. The access to information that technology provides is unbeatable and absolutely great for online booking. People can decide whether or not they want to proceed with their booking based on the information they gather.  
Users make their choices based on reviews, any good hotel reservation system should be able to integrate with popular review sites which increases the customer confidence and trust in your online booking engine.  
Despite the challenges that the travel industry has faced in the last few years, it has been growing steadily and recovering from every setback. Technology has made this possible by helping the travel industry improve customer experience. Technology has made planning, booking, and travel hassle-free. Technology uses every tool possible to ensure growth and profit for the travel industry and this trend will only see an upwards growth in the future. 
How has the Hotel Reservation System evolved over time?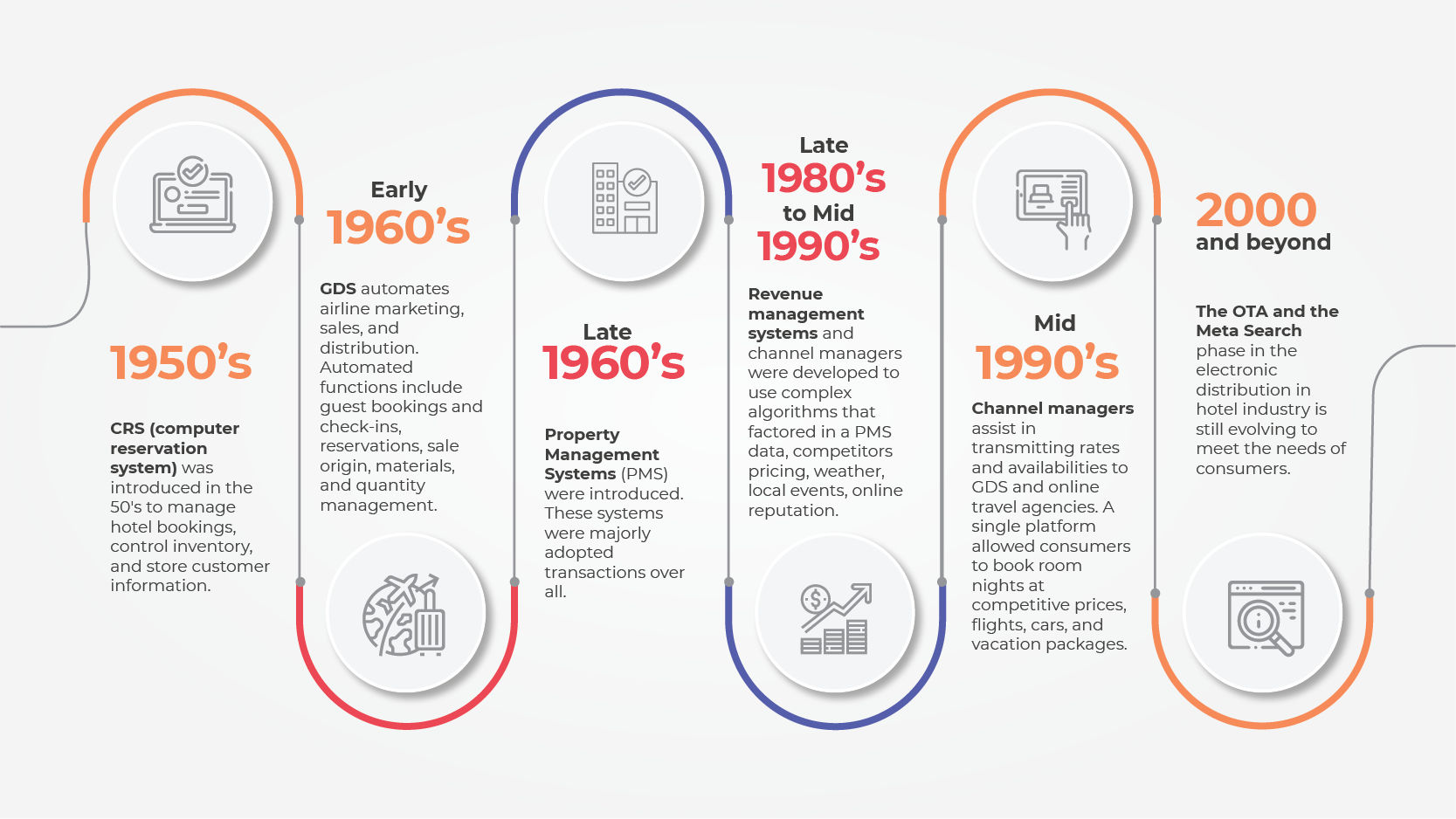 The world is within our grasp, and most of our needs can be met at the touch of a button. The travel applications on our smartphones are a great way to manage our travel needs. A couple of examples are a metasearch engine like Priceline, Travelocity, TripAdvisor, Kayak, Orbitz, and an online travel agency like Booking.com, Expedia, MakeMyTrip, etc for hotel reservations, flights, transfers, and transportation. Travel maps – Citymapper, planning and syncing a complete itinerary – Tripit, and currency – Xe Currency. Hotels are able to reach consumers around the world through electronic communication, but how did the industry get here before all of these tools were introduced?   
There was a time when hotels did not make bookings using electronic distribution. The advent of centralized reservation systems or computer reservation systems (CRS) in the 1950s gave rise to electronic distribution for hotels in order to consolidate bookings, control inventory, store and retrieve customer information, and conduct transactions. Airline companies introduced the system. Eventually, hotel reservation systems were used by travel agencies, and then used on a global platform to book and sell airline tickets, hotel rooms, and car rentals. The Global Distribution System also automated the marketing, sales, and distribution needs of the global travel industry in the 1960s. During this time, GDS was the only distribution channel available.   
Hotels began developing their own property management systems (PMS) in the late 60s after they realized the scope and opportunities of electronic distribution. The codes and frameworks of airline companies and cities were major influences on these systems. Among the functions automated by PMS systems are guest bookings and check-ins, reservations, sale origin, materials, quantity management, etc. There were still many issues on the hotels' end due to GDS being the only distribution channel. It resulted in massive inconsistency since each hotel had its own GDS distribution system. In the dot-com decade, hoteliers were well connected to global markets and were well positioned to capitalize on them. As a result, hotel brand.com sites were launched, leading to the birth of the travel web. Improvements in IT operations and system design enabled the creation of more consumer-friendly website information, direct connections from website to PMS, and GDS.  
The evolution of revenue management systems and channel managers in the late 1980's and mid 1990's involved complex algorithms that took into account PMS data, competitors' pricing, weather, local events, and online reputation. A channel manager's role was to provide rates and availability information to various distribution channels, including GDS and online travel agencies (OTAs), which were established in the mid-1990's to provide consumers with competitively priced room nights for multiple destinations via a single platform that offered hotels, flights, car rentals, and travel packages.  
In the hotel industry, the OTA and metasearch phases are still in their infancy. Consumer preferences and connectivity remain at the forefront of the focus. With the advent of smartphones, new opportunities have been created and new ways have been expanded to reach consumers, therefore, the dynamics of the hotel reservation business are continuously evolving to meet the needs of the travelers.
Frequently Asked Questions on Hotel Booking Software
What is the best hotel booking software?
OTRAMS by Qtech Software is the best Hotel Booking Software. This is used by Destination Management companies, Travel Management Companies, Online Travel Agents and Wholesalers around the world. 
What is a hotel extranet?
The hotel extranet system allows travel agents to contract with hotels in their regions. Travel agency provides access to the hotels to upload all the details about their property, amenities, inclusion, availability and pricing. The travel agency can then use this information to sell to their customers.  
What is hotel mapping?
A hotel mapping process merges content from different sources into one true content in order to avoid duplication and inconsistency. Discrepancies and replications could occur when information is sourced from more than three suppliers. 
What is room mapping?
Room mapping deals with the issue of repeated entries or inconsistent information about room type, room name, view, amenities, bed type, etc. Through Room Mapping, room data is evaluated, refined, and redundant information is eliminated to present one true content. 
Can the hotel reservation software support hotel chains?
Yes, Hotel reservation system can support hotel chains. It is usually done by integrating a channel manager that is certified with the hotel chain.  
What are the benefits of hotel mapping tools?
Hotel mapping tools remove duplications, provide standardized, up to date and well complies hotel content. It eliminates ambiguity and error leaving travel agencies with usable, trustworthy content.  
Why do you need hotel mapping tools?
Travel agencies could have multiple suppliers feeding their system information about the same hotel. Utilizing this raw data would result in inconsistent information. Hotel mapping tools compiles content from multiple sources, remove inconsistency and avoid duplication.  
Who will benefit from the hotel reservation system?
Hotel reservation system is beneficial to the travel companies, online travel agencies, destination management companies, travel management companies and travelers who can use the system to book hotels without hassles.  
How many channel managers are currently connected with OTRAMS?
OTRAMS is connected with all the popular channel managers. We are connected with DerbySoft, Siteminder, RateGain, Dhisco, Staah, Rate tiger, Digital hotelier, Hyperguest, Synxis and Hotel runner to name a few.  
Can different rates be displayed across different channels?
Using a smart markup policy, you can add different marks ups and pricing policies for different channels you sell across. For eg, you can have different rates for hotels across B2B, B2C, and API.  
Can a channel be added or removed later on?
Yes, a channel can be added or removed.  
Is the content of the hotel editable?
Yes, the hotel content is editable if you are using a manual mapping tool. If you are using an online mapping too, the content won't be editable. 
Which are the top hotel APIs for online hotel booking software?
Some of the top hotel API's are Expedia, Booking.com, Hotelbeds, Lots of Hotels, DOTW, W2M, TBO Holidays, and restel.  
How does the hotel book API work?
Hotel booking APIs are easy to integrate due to their flexibility and scalability. Hotel wholesalers provide XML/JSON out to their customers or through travel agencies. This API can be integrated with a hotel booking system by a certified technology provider like Qtech software. Every time there is a search in the front end.