White Label Solution – A Revenue Magnet for Travel Agencies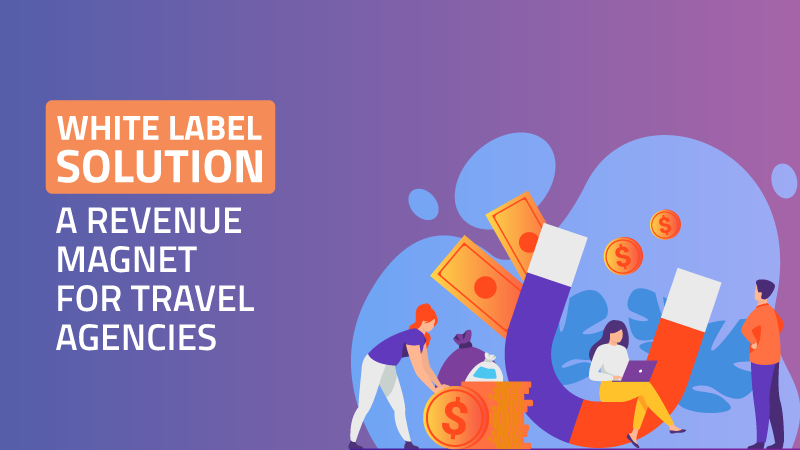 What is a White Label Solution?
In simplest terms, white label solutions refer to products and services created by one company (Company A) and sold by another (Company B). The reselling company customizes it with their own logo, brand colors and identity (Company B). When these services hit the market, customers who avail these products and service associate them with the reseller (Company B). This leaves the producer or the original manufacturer or service provider and the reseller with a cost-effective way of conducting business.  
White label solution works well with almost every product and service. This includes travel and tourism too. For eg. Wholesalers can sell their products more effectively through this. This is a mutually beneficial solution. Opting for white label solution has solid advantages. Businesses can focus more on branding and marketing than on production. Product or service development is an expensive affair, its time-consuming and there may be risks involved. White label solutions allow businesses to overcome such hurdles.  
White-Label Solution for Travel Companies
White label solution is most suitable for B2B/B2C Travel companies.  As a travel entrepreneur, you might want to set up your own brand and build your product from scratch. This is a time–consuming process and expensive as well. Managing all aspects of such a project is not easy either. Therefore, white-label solutions are best in such a scenario as they can easily be integrated. It is beneficial for both the wholesalers and the travel agents.  
Benefits of White-label solution for Wholesalers
Extra Revenue:

This is an additional

revenue

channel for the wholesalers. By providing

white

label

,

wholesalers can

exempt themselves from the marketing of the

product

or service.

The marketing and sales will be caried out by the travel agent who takes the

white

label

. 

Easy to set –up:

It's

very easy to set up

.

It's

easier and faster than

building

the whole business.

This

allow

s

you to pick and choose what you wish to market and sell. 

Increase your market share:

It allows travel companies to attract new agents. This improves the number of customers that utilize your services through them, thereby increasing your market share.
Benefits of White-label solution for Travel Agents
Cost:

Travel agents will have to incur only little to negligible cost as opposed to setting up his own business.

Travel agents can get a readymade set up of travel portal with their own branding without

incurring

huge cost. 

Ready system:

The system is ready and travel company gets the complete set up. The only thing they need to is add their brand elements and proceed with marketing activities. 

Access to best suppliers:

Travel company gets access to all the suppliers the wholesaler has, it means that they have access to an extensive inventory through these suppliers.

Business generation:

This is an excellent way to speed up the process of business generation.

Setting up a travel portal takes time and effort; with white label this timeline is reduced drastically. This means you can start generating revenue faster. 

 

Lower budget:

Setting up a travel company will be a costly affair. With white-label solution, this cost can be cut into half and you can start your business on a lower budget.

 
How to set up a white-label solution?
A technology provider is the most essential factor in setting up white-label solution. Technology provider sets up the white label which is a ready feature of a good technology platform. This is then provided to the travel agent by the wholesalers. Wholesalers who wish to offer such solutions must avail the services of a good technology provider.  
Steps involved in setting up a white-label solution  
Travel agent will approach the wholesaler with a request for a white-label solution.

 

The wholesaler will approach their travel technology provider to configure portal for the travel agent.

 

The wholesaler adds markup profile and rules for the travel agent in the back office.

 

Travel agent gets access to the white-label and tests all the functionality and starts the business.

 
White-Label solution provided by OTRAMS GO
A reliable travel technology that provides white label solutions makes it easier for travel companies utilize this service. 'OTRAMS GO' offers a white-label solutions built into the platform. You can add up to three travel agents in your white label.  
If you are looking for a travel technology provider that provides the best and most cost-effective white-label solution, look no further than OTRAMS, by Qtech. Visit our pricing page to know how you can start your online travel business.