All the Technology You will need,
to Run A Successful Travel Business
Build Your Online Travel Portal with OTRAMS
Sign-up for Free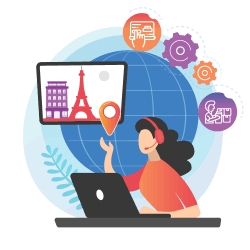 Complete SaaS Solution
Build your online travel portal at ZERO Cost. Industry's first Build Now, Pay Later plan.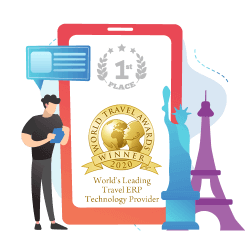 Award Winning Technology
Created by Qtech Software: World's Leading Travel ERP Technology Provider 2017 to 2020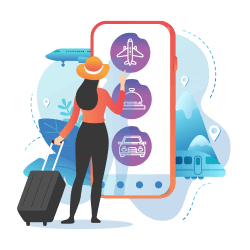 Open New Revenue Streams
Unlock the full potential of your travel business with B2B, B2C, White label, API and Mobile Apps
What makes OTRAMS the Top Travel Technology Platform?
200K+ agents registered globally
500K+ of hotels connectivity
$450 Million worth of annual transactions
450K+ no. of transactions / year
6800+ avg no. of bookings per day
Operated in 200+ countries
20+ Customer API redistribution
Get the most comprehensive travel technology partner for your business
For Travel Companies of all Types and Sizes
Successful Travel Businesses run on OTRAMS
One Stop for All Travel Solutions
OTRAMS offers the complete suite of travel ERP solutions across
Create a Full Stack Travel Business or a Specialized Agency by integrating services important to you.
OTRAMS is the best choice between the Travel Management Technology systems. They have a professional high skilled team, supportive, flexible, and working with us as partners...
CEO, Travel
One of the best brand names in the market.
Founder, B2Booking
OTRAMS is a good system, easy to use and implement. Supported by a great team.
CEO, Itrip Online
The team is very helpful and always available for our queries and concerns even in their busiest times. The OTRAMS engine is highly automated, thus helping us to reduce man power which lowered our operations costs...
Operations Manager (Travel)
Amazing Tech company to work with, Quality & Trained engineers, Very good products team.
Director, Book on Bluestar
Build Your Online Travel Business at ZERO Cost
Our brand new Pricing Plan supports all Travel Businesses to go online. No Set-up Fee. No Maintenance Charges. No Annual Fees.
The Growth Story of Tripathon Travel
Watch Mr Zahir Al Jabri talk about how he grew his travel business from an apartment to a multinational travel company.
How technology from OTRAMS and the teams at Qtech Software helped them stay competitive and add new services to consistently grow their business.
Click on the image to watch the video.
200K+ agents registered globally
500K+ of hotels connectivity
$450M worth of annual transactions
450K+ no. of transactions / year
Operated in 200+ countries
20+ Customer API redistribution
6800+ avg no. of bookings per day
The complete suite of travel ERP solutions for operators, customers, and agents everywhere!
OTRAMS is a world leading Travel Technology Platform. It is a complete travel ERP system built to drive seamless operations for destination management companies, Online travel agents, travel agencies and wholesalers. With over 190 supplier integrations and 600+ features, OTRAMS is one of the most powerful Tour Operator Software.
Services: OTRAMS can drive your agency operations with Booking Engines for Hotels, Flights, Transfers and Car Rentals. It adds layer or services like Activities booking, Group Booking, Dynamic Packages for your agency to deliver a complete travel experience.
Additional services like Visa booking, Local Contracting, Extranet, Travel Insurance booking provides you the opportunity to create a well-rounded services portfolio for your business.
Global Presence: OTRAMS is the flagship travel ERP system of Qtech Software used by over 50 travel companies in over 36 countries. It delivers a travel booking engine par excellence, features travel inventory management with multiple API integrations and back-office software.
Security & Reliability: Its security systems and comprehensive set of features make it the trusted choice of global B2B and B2C players. With strong security protocols and business intelligence features you can drive your travel business with 100% confidence. OTRAMS is the preferred travel booking software for agencies all around the world!
Industry Leading Customer Support: Our travel booking systems include access to our dedicated customer support structure. All our clients get a dedicated key account manager with 24×7 support. OTRAMS also has an inbuilt CMS for customer communication and multilingual support.
In the age of the internet, a company's growth potential is only limited by two factors- its imagination and its technology. With OTRAMS, you can unlock the next phase of growth, and bring your business goals to fruition.
About Qtech Software:
Qtech Software is a technology company you can trust. For over 15 years we have been delivering excellence through our products and services.
Our deep expertise in travel technology has enabled us to create one of the best travel software solutions in the industry.
Our customers and partners attest to the capability and performance of our travel software solutions, which is visible through our long-standing associations and continuous growth.
Qtech Software has been consistently awarded:
Middle East's Leading Travel ERP Technology Provider 2018, 2019, 2020
World's Leading Travel ERP Technology Provider 2017, 2018, 2019, 2020