Technology trends that are reshaping the world of travel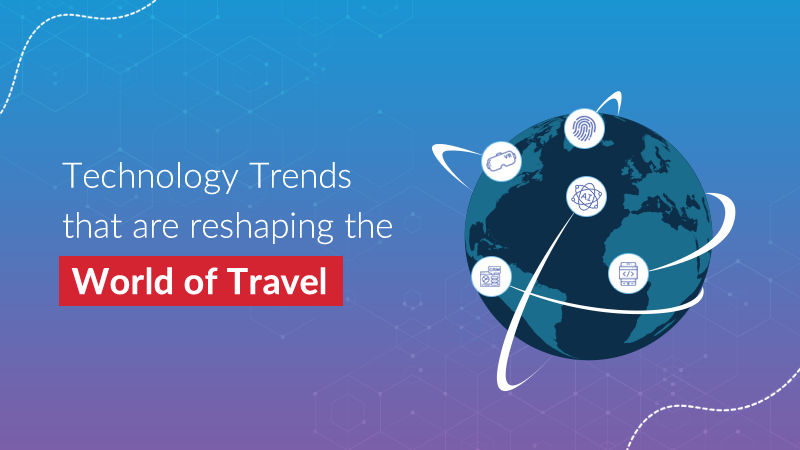 John Smith is on his annual vacation, all he had to do to head to his dream destination was log into the travel app of his choice, choose his destination, pick a package, and apply discounts that were available to him. His experience was very smooth, he was able to view his rooms and get a virtual tour before booking, and he was assured of the low carbon footprints his choices would leave. He also had AI assisting him in making informed choices, providing him with vital information and making the whole process easy for him.
Now let's say Mr Smith was your customer, wouldn't you like to give him the above experience? Customize packages to suit his needs and taste, give him the best offers, provide services that keep him happy and ensure repeat business. The question is how? The answer lies in technology. The future of travel will be dictated by how well travel companies embrace technology.
The travel industry is a competitive one, which means that travel agencies, agents, and companies must stay ahead of the game. The most effective way to do so is by offering customers the best inventory, services, offers, and rates. All of this requires the backing of intuitive, robust, and futuristic technology.
Our world is always on the edge of new inventions, propelling industry forward. This results in technological trends that reshape the travel industry.
The term technology trends refer to the latest developments, breakthroughs, and progress made in technology. They influence industries, corporations, and the community at large, affecting how we communicate, conduct business, and live our lives.
Let's examine the top technology trends that will transform the travel industry, enabling businesses to flourish in a digital world.  
Virtual and augmented reality
Augmented and virtual reality (AR and VR) technologies are enhancing travel experiences by letting travellers explore destinations or accommodations before they arrive. AR and VR offer virtual tours and immersive experiences. This enables travellers to get up close and personal with locations, sights, and tourist attractions. AR and VR can be used for live and accurate navigation, touring rooms before booking, and virtual trips to hotel rooms, restaurants, and amenities like spas, gyms etc.
Virtual tours give tourists an idea of what to expect and how visually appealing the trip would be and let them map out their plans better addition to providing directions and suggestions for places to visit, virtual guides can help tourists navigate foreign locations. Tourists can mark and pick restaurants, visit historical sites, and get information on attractions with technology.
Travel companies should offer services as they greatly help guests in setting their expectations.
Big Data
Defining big data is essential to understanding how crucial it is to businesses everywhere. Big Data is the term used to define large data sets that are too large to be processed by conventional methods. As businesses of all kinds collect large amounts of data, big data has become a top priority for many, especially in the travel industry.
The travel industry uses big data effectively to boost revenue. Players in the tourism industry can greatly benefit from knowing more about their customers. This includes their preferences, favourable rates, peak times and other vital information that can help them serve their customers better. For eg: internal data like the previous occupancy, rates, and revenues generated when combined with external data like local activities, and holiday list flights can help forecast sales.
Big data can be used for customer relationships, strategic marketing, improving customer experience, market research etc. The travel industry can benefit from big data in multiple ways, enabling them to make more evidence-based decisions. Customer experience can be improved by anticipating future demand more accurately, determining the best pricing strategy, and determining the most effective marketing strategy.
Technology that makes this possible should be something the travel industry should invest in.
Artificial intelligence
Hospitality and tourism could be revolutionized by integrating AI. According to a study by the World Travel and Tourism Council, artificial intelligence and machine learning could boost global economic activity by $1 trillion by 2025. According to the study, AI-enabled services such as smart personalization, virtual reality, voice recognition, customer service automation, and facial recognition will become increasingly common in the coming years.
AI-powered chatbots have become increasingly popular in the hospitality industry, making it easier for customers to find answers without contacting customer service. Chatbots can also provide recommendations based on past behaviour. Artificial intelligence can also ensure a smooth experience for customers before they embark on their trips. For E.g. rePUSHTI is an AI-powered booking re-verification service that re-verifies hotel booking, prevents hotel booking errors and alerts travel companies to any discrepancy before the traveller reaches the hotel.
Artificial intelligence is being used in the travel industry to help travellers navigate unfamiliar cities. Commuting routes can also be personalized using these systems. AI can ease staff workloads, automate tasks, and uncover insights about customer satisfaction quickly. Travel companies can save time and money by using AI while minimizing human error. Travel companies should invest in AI to boost business growth
Mobile applications
According to Statista, travel app revenue was likely to increase by roughly 730 million dollars between 2023 and 2027. Mobile apps rank high among travel technology trends for the future. Most travel companies have a robust and easy-to-use travel app. People use their phones to navigate, search, and generally access any information they need.
They prefer to have access to them at their fingertips and mobile apps make this possible. Travel apps have many uses and benefits. Travel apps are suitable for a myriad of travel activities that include searching, selecting, booking, payment, etc while planning trips. It is possible to display information, images, and videos through a content management system on the mobile app.
Depending upon the app and the features, during their journey, travellers can access information about their destination, access other location-based services, get notifications, etc. Overall, it improves the customer experience tremendously.
Every travel company needs a travel app. Learn more about travel apps here
Use of Biometrics
There will be a range of new-age biometric authentication technologies employed by the tourism and travel industries in the coming years. As retinal scanning and iris scanning become more common, facial recognition, fingerprint recognition, finger and palm view pattern recognition along with behavioural biometrics (voice, gait, and accent recognition) will be adopted by the industry soon, giving redefining personalization.
Furthermore, we can expect the fintech and payment companies to implement innovative biometric technologies, making travel and hospitality payment simpler and easier. There will be fewer hassles and inconveniences for travellers, especially when they revise or cancel their travel plans. This often leads to disputes between service providers and service recipients.
In other words, while touchless payment systems would simplify travel payments, non-cash financial credits like loyalty points and travel vouchers would gain traction as travel, financial and biometric technologies combine.
Internet of Things
The Internet of Things transforms travel by making hotel rooms more interactive and allowing guests to customize settings in advance. Besides the customer benefits associated with IoT, the technology provides a seamless automated experience across the entire travel supply chain.
This includes hotels, airlines, transport, and insurance. In this way, manual processes are eliminated, and the overall process becomes more fluid. The Internet of Things has several benefits for tourism worldwide. On one hand, you can improve the traveler experience through personalized guest experiences.
This is made possible by device-controlled services. Travel companies can also enhance their marketing campaigns by making them data-driven. Furthermore, IoT improves security and inventory management by utilizing smart sensors to monitor damage or unauthorized entry. If there is a security breach, it can also alert the authorities.
CRM
Travel CRM (Customer Relationship Management) software helps travel and tourism companies manage their customers. Travel CRM software covers all aspects of the industry. Hotels, activity managers, and travel agents can use and benefit from using this software.
Travel businesses can benefit significantly from travel CRM features. By tracking individual customer preferences, businesses can provide favoured perks and services to enhance their overall experience by delivering truly personalized services. Through leveraging collected data and enabling personalized interactions, travel CRMs promote customer loyalty and drive repeat business.
Travel CRMs simplify the data entry process, streamlining reservations for a seamless and hassle-free customer journey. CRM also offer a wealth of information through detailed analytics that covers sales trends and demographics of customers. Data-driven decisions boost business. Lastly, travel CRMs contribute to employee safety by actively monitoring their locations, helping businesses target the right customers at the right time.
CRMs are used in the travel industry today to optimize operations and raise customer satisfaction.
Learn more about getting a custom-built CRM for your travel company here.
Sustainability
The eco-tourism and sustainable tourism have taken a firm hold of people everywhere. Travel companies are not just encouraging others to offer eco-friendly travel, but they are also choosing technology to reduce their carbon footprint. It's not just great for their reputation but also great for their business. The sustainability agenda cannot be achieved without technology.
Travel businesses are expected to minimize their carbon footprint, water usage, and environmental impact as much as possible. To do this effectively, they must have reliable data and a system that allows them to monitor and incorporate statistics throughout their operations and supply chains.
By adopting digital solutions and reducing paper use, travel businesses have become more sustainable. The ticketing system and vouchers are now electronic, and communication and collaboration tools are digital. Analytical data helps travel businesses make better decisions about reducing their environmental impact in many ways for eg, travellers can connect with local communities and support sustainable tourism.
Digital solutions, such as eco-friendly travel apps and carbon footprint calculators help greatly. Many travel companies have embraced technology for sustainable practices.
The travel industry owes much of its remarkable growth to technology, a trend that will strengthen its prospects for many years to come. Travel applications and websites, as well as specialized software, are all a result of technological advancements in the travel industry. OTRAMS, by Qtech Software, is positioned as a technological leader in the travel technology sector.
OTRAMS offers a comprehensive travel ERP solution for businesses in the travel industry. We can help you drive your business forward by leveraging the latest technologies.
To know more, schedule a meeting with our experts.