Simple, Smooth & Scalable
OTRAMS offers an intuitive flight reservation system that is both modern and has a robust architecture. It has an intuitive user interface with real-time reservation data and a simplified check-in process.

Flexible and Intuitive Flight Booking Engine
OTRAMS' flight booking software delivers a hassle-free experience for both you and your customers.
Real Time Integration with Global Distribution System (GDS) and Direct Airline feed to Book across 900+ airlines

Undertake inventory management, agent control, bookings, and ticket reservations

Unified structure facilitates customer management, speedy service
Request a Demo

Ready to Scale
Book across 900+ Airlines
All Popular GDS: Galileo, Sabre, Amadeus
Book Ancillary Services

Robustness
Real-time availability and reservations
Import PNR
Flight Rule Engine

2X Customer Experience
Book multi stop-over/ multi-city flights
Supports frequent flier programs
Dynamic seat map
Flexible date search

Grab New Opportunities
Integrate Airline Feed directly
Upsell, Flight + Hotel Combo deals

Business Performance
Ability to save customer information for CRM
Generate financial and reservation reports
Manages service tax, markup, and supplier commissions
Proven Technology Backbone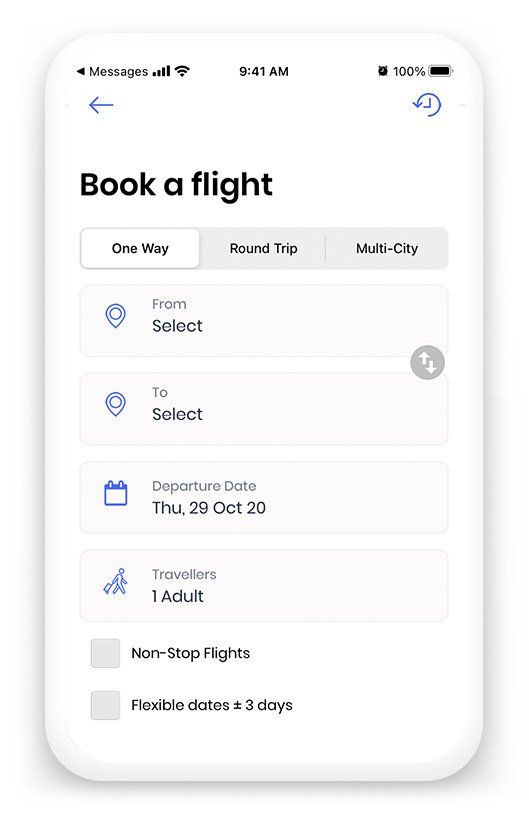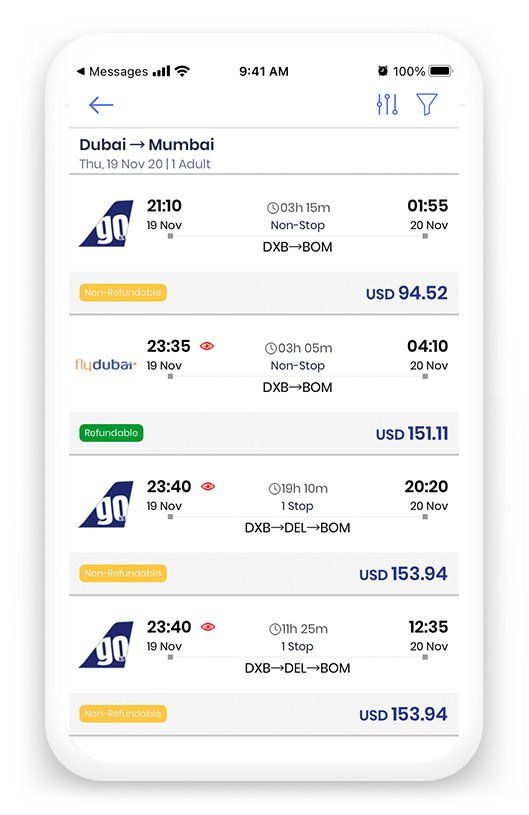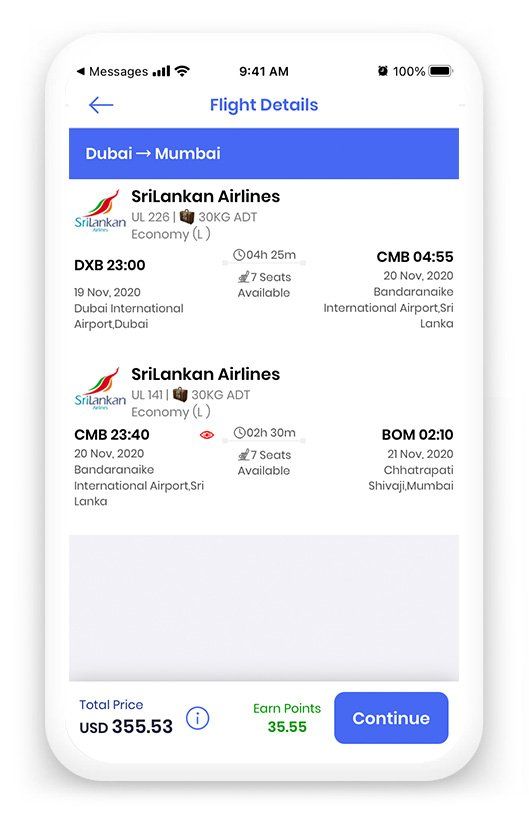 Get the powerful Flight Reservation System from OTRAMS for your travel business
Newly updated meal and baggage selection at the time of booking.
Omnichannel access, works seamlessly across web and mobile.
Faster and stable integration with all GDS.
Added benefits due to authorized partnerships.
Reach Our Experts
Flight reservation is a ubiquitous part of a travel agency's operations and can sometimes become a challenging process. But with OTRAMS' inbuilt ready-to-go flight booking system you can be assured of a delightful customer experience with a quick turnaround time.
OTRAMS flight reservation system is one of the most trusted and comprehensive software in the market today. It is used regularly across the globe by Destination Management companies, Travel Management Companies, Online Travel Agents, and wholesalers.
Our flight booking engine offers customers the option to sort and filter by almost all parameters including departure time, trip time, layover duration, refundable fares, etc. All the information on reservation and availability is shown in real-time and is integrated from all our suppliers. With the Flight booking software on OTRAMS, you can enjoy speed, robustness, and predictable business growth.
OTRAMS has a powerful airline reservation system that allows travel operators to integrate any GDS in their feed and book flights across the world. In addition to flight booking, travel agents can now also book ancillary services like meal booking, special requests etc.
The all new powerful flight booking software on OTRAMS has a very visual seat selection module which further adds to the experience. OTRAMS has partnered with AMADEUS and SABRE as a preferred technology provider which will provide a host of benefits to its customers. NDC Compliance is going to be another huge addition to this power packed flight booking engine.
Frequently Asked Questions on Flight Reservation System
What is an online Airline Booking platform?
The airline booking platform allows users to search and book tickets online. It is used by travels agents, operation staff of travels agencies or B2C customers.
How does the Flight Booking System work?
It is a platform that enables travelers to book flights, check seat availability, compare prices, and make payments for airline tickets from the comfort of their homes or offices.
What is the best API for an Online Flight Reservation System?
APIs for GDS and LCC are preferable depending upon business requirements.
What are the key features of an Airline Reservation System?
The key features of an airline reservation system include;
Flight Searches
Online Booking of Flights
Booking Management
Mobile Access
PNR Import
Hold Bookings
Add on Ancillary Services
Which company is the best Flight Reservation System solutions provider in India?
Qtech Software is a leading travel technology solution provider that offers a travel platform. The travel platform includes flight reservation services which provide an advance flight module with features like Fare family, multiple RBD, Import PNR, Mini rules, hold booking, commission module, series fare, charter flights, etc.
What is the function of GDS (global distribution system) in Airline Reservation Systems?
A global distribution system is a computerized network used by travel agents and online travel agencies to access real-time information about airline schedules, fares, availability, and bookings.
What are the advantages of Online Airline Ticketing Systems?
Online airline ticketing systems have benefits such as convenience, time-saving, cost-effectiveness, real-time availability, easy access to information, and flexibility.
Why is an Online Airline Ticketing System required?
An online airline ticketing system is required to manage online searches with real-time availability and price, see details in real-time, book tickets and make payments to get instant confirmation on bookings done via the platform. It also displays multiple options which makes it easier to choose and book tickets.
Can agent/customer can reschedule, cancel the booking online from the portal?
Yes. They can reschedule, cancel the booking online from the portal.
How much does an Airline Reservation System cost?
Cost of any platform is dependent on overall scope of the platform like modules, number of API integrations, number of payment gateways etc. It cannot be generic and it depends on demand quotation which will be given once scope is defined.