5 Ways, Online Travel Booking Software – Helps Your Business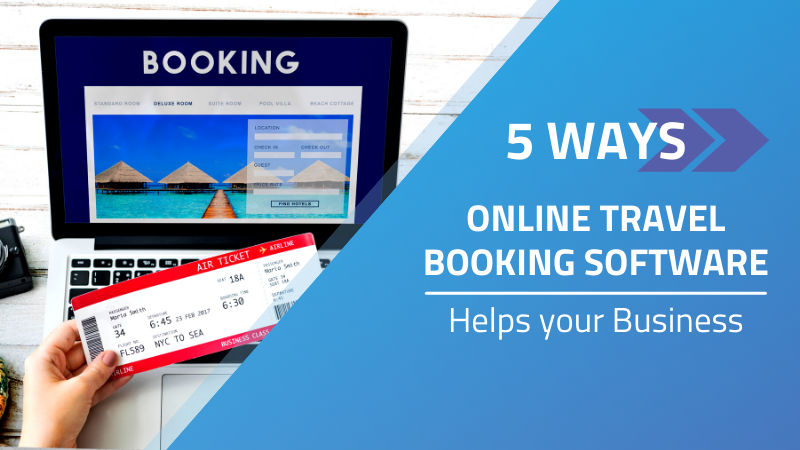 The travel and tourism industry are on a path to revival. Statistics from trade experts reveal that by 2022, the online travel industry is expected to generate a revenue of $1.7 trillion. The travel industry offers a hub of investment and business opportunities for various travel agencies. Travel businesses that are investing in online travel booking software are well equipped to utilize this rising demand. A B2C or B2B System for Travel Agency will make a lot of difference in the growth, customer acquisition, satisfaction, and profitability of your business.
In an increasingly hybrid culture, travelers today seek a convenient and seamless travel experience, from searching for a destination to booking a trip across multiple touchpoints. Hence, the need of the hour any travel agency is to integrate with the latest technology to improve efficiency, inspire new travelers, and foster deeper connections to bolster customer engagement. 
In this article, we address various aspects that will help you understand the benefits of a B2B system for travel agencies:
Reach the customer where they are, through mobile app/website
For any travel management company, it is increasingly important to enhance its customer support across various geographies. Portraying the latest UI/UX design, a good travel mobile app will enable travel agencies to reach, engage and communicate with customers. 
By leveraging the latest travel booking software, you can empower travelers with the slightest details for accommodation, food, locals, weather, shopping center, transportation, etc.
An online adoption will, therefore, aid travel companies to become a one-stop solution for checking availability, gathering information about a destination, and instant booking. This allows you to remain connected round-the-clock with their customers. 
Create higher customer engagement through Apps & CMS
Travel businesses eyeing rapid growth need to maximize their customer engagement which leads to better conversion rates. A shift to the online platform can allow travel agencies to curate communication with customers through a customized CMS.
This will enable travel companies to deliver personalized content depending on the user's behavioral pattern and increase conversion. 
Adopt a travel booking system which offers an out of the box Social API Integration that will enable mobile travel apps to leverage user data and build intuitive and creative deals to entice travelers. 
Provide better customer service through personalization
Personalization is the key to success for online travel agencies. There is no one-size-fits-all solution for travelers. 
You can leverage a good B2C & B2B system for travel agency that uses the latest technologies such as AI, Virtual and Augmented Reality, Predictive Analysis, and Machine Learning to understand customer requirements, likes and dislikes to curate services best-suited for them. 
With an online presence, you can extend personalized consultation services via email or phone 24X7. These consultations may include guided package creation, finding the right accommodation, providing extensive information about a destination, in short, it will cater to every aspect that delivers a personalized travel experience. 
Provide consistent services across all your channels, offline & online
Customers today have excess information and too many choices. Before deciding about their travel, they usually research to get a price comparison, honest reviews, and experiences, which are rarely provided by an offline travel agent. 
Adopting a complete online travel booking software will bring consistency to content across all your channels (retail and online). 
With an omnichannel presence, travel brands can direct travelers to select the right choice of trips, upsell travel experience to inspire new travelers, and promote online communication by merging both digital and social media insights with old school practices. 
Omnichannel marketing also urges travel companies to take a 360-degree marketing initiative for lead generation, customer retention, and increasing conversion rates. 
Eliminate the roadblocks in running an online travel business
Despite the robust growth of travel companies, there are various conundrums faced by online travel agencies.
Some of the significant operational challenges are:
Lesser convenience in OTA booking system.
Disparities in maintaining service standards.
Duplication of data.
Unable to cater to personalized service requirements.
Reduction in online credibility.
A powerful, online B2C and B2B System for Travel Agency can help you overcome these challenges.
OTRAMS - An omnichannel platform to boost the travel business online
Travelers are well informed and want the best of both worlds — online and offline. This opens a new spectrum for the forward-thinking travel companies to broaden their base with various customer engagement tools.
One which is widely prevalent is the shift to creating an online travel business that will be accessible from any device.   
With businesses becoming more global, Qtech Software, one of the leading technology solution providers, has garnered its flagship product OTRAMS to mitigate the challenges that the online travel agency faces.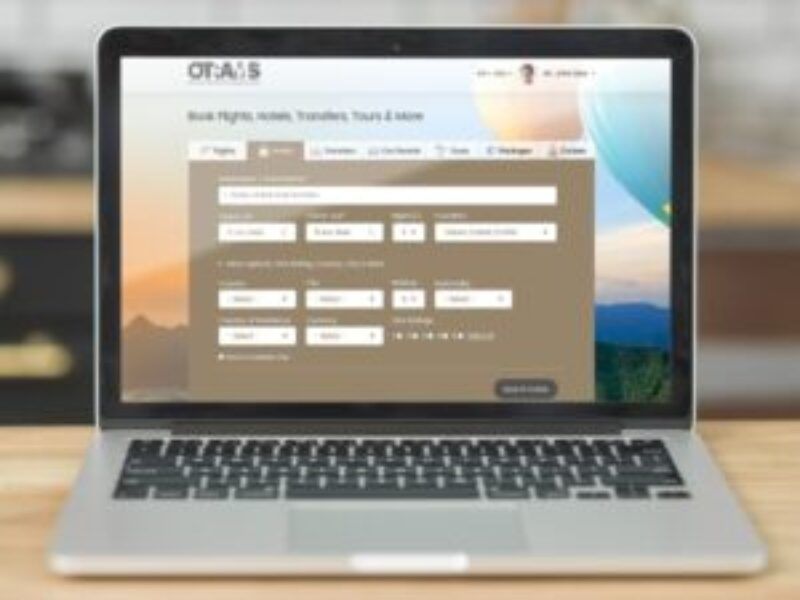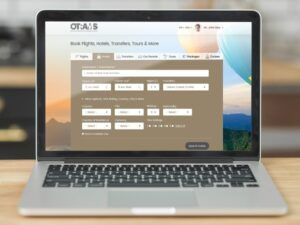 This multi-channel platform enables travel companies to reach out and engage with customers across various channels with their personalized services. The potential of OTRAMS in accelerating business growth is multifarious. 
OTRAMS is world's leading travel booking software that offers B2C and B2B systems for travel agencies, that allows travel companies to seamlessly handle their online presence through web and mobile: 
Leveraging native programming language, OTRAMS enables a one-stop solution for travelers

.

From Map View to Cluster View, OTRAMS travel mobile app allows travel companies to offer a plethora of booking choices to the customers based on their preferences.

 

It leverages the JSON form for collection and transfer of data.
All these features, combined with the secure and reliable OTRAMS engine, will offer travel organizations a feature-enriched system working seamlessly across various platforms. 
Furthermore, the OTRAMS engine corroborates with various Social API integrations that enable personalized user experiences. From offering multi-lingual and multi-currency support to creating a unique feature or customizing an existing feature, tailored for business requirements.
It has the best-in-class Content Management System that handles social media content to create brand awareness, introduce promotional deals, and help travel companies improve their marketing strategy through social media channels to increase conversion rates. OTRAMS has everything a travel business needs to grow and run successfully.
Get the Most Comprehensive Technology for Your Travel Business With OTRAMS!