How can your Travel Agency benefit from Online Travel Software?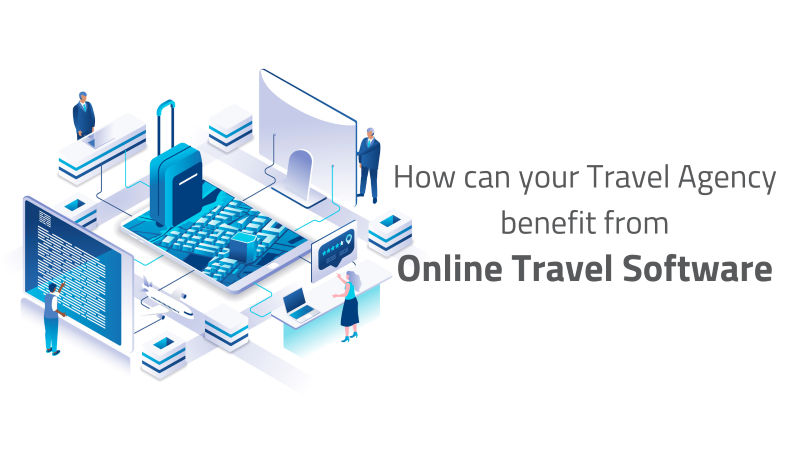 Creating a universal brand presence is very crucial to driving the advancement of the travel business. A well-designed travel portal is a smart solution that determines the future state of your travel business. Travel companies worldwide are mobilizing groundbreaking technologies to explore technological approaches to market their products or services. And thus, online travel software has created a buzz among all travel agencies.
Need for
 an Online
 Travel Portal
All services under one roof:
People are searching for an optimized travel package to fit their travel plans and budgets in the global economy. This serves as an opportunity for travel agencies to boost their online presence and provide their customers with the best possible services. To the advantage of both the agent and the traveler, an improvised travel portal works. 
Flexibility to choose and decide:
Travel agents can make a travel portal as a one-stop-shop for their clients' requirements by displaying all their services on a single platform. The travel portal would undoubtedly attract a lot of interest from prospective customers and boost business statistics with such streamlined services on the platform. The online portal allows clients to browse, check and compare tour packages, and pick a plan that fits their needs. 
Simplicity and ease of use:
An online travel portal can entice prospective clients with a visually pleasing interface, easily accessible, and advanced functionalities to plan their travel voyage. Travel portals offer tour details, bookings, and all the required information to deal with customers or booking agents. 
What is
 an Online 
Travel Software?
An online travel software automates the front and back-office operations of travel agencies. Agencies use this type of software to market their services to current and potential clientele base. Travel software covers the entire cycle of customer interaction, from reservations, to billing, to customer reviews. Accounting software integration must process bills and payments when financial tools are not included in the software.  
B2B and B2C Travel Software  aligns the customers and travel agencies to more ground-based travel options and solutions worldwide. B2B travel software improves travel agencies' capacity, allows tour operators to migrate their travel services, and products competently to other business partners or sub-agents via an online travel portal. 
B2B travel portal helps to handle and manage various facets of the travel agency at any time and from any place. Routine administrative tasks can be automated to refine and upgrade overall team efficiency and cut back on human errors.  
This software helps travel companies to organize their business operations better and expedite their company's revenue. The software creates a seamless experience with its outstanding features needed to manage the B2B and B2C activities. 
Key Features & Functions
 you can leverage
: 
An online travel software offers an easy-to-use intractable dashboard with report generation to optimize the task. The functionalities and features aim to provide both consumers and agencies with the best deal and dispense a streamlined and smooth travel booking experience. Other major features included are as below: 
Multiple inventory sources:

Online suppliers, in-house contracts and allocations, B2S portal, and hotel extranet.




Hi-technology back and mid-office tools:

Agent Commission, Cancellation Policy, and Mark-up Definitions.




Different payment options:

Internet banking, credit card, cash, bank transfer,

and third-party API/XML Integrations.

Robust accounting and reporting system.


Numerous selling channels:

B2B, B2C, B2E, XML OUT, White Label.



Reliability, extensibility, and high caliber.


Options of different languages and currencies.
Benefits Y
our Travel Business can derive:
Travel ERP system helps businesses to grow to different levels. Not only does it help to build new connections, but it also incorporates several tools. The online travel portal reduces the travel agent's workload, regardless of the scope of the activities carried out, such as booking tickets, renting vehicles, hotel reservations in advance, and paying for these services. 
Besides that, different abilities are required at different stages to thrive for success. Some of the highlighting advantages furnished are as under: 
Reduced
Operations
 Cost:
A well-maintained travel portal cuts down all the hassles involved in selecting a travel package, making itineraries, accommodation, and other bookings. This makes it easier for the customers to select a tour package after comparing every probability and every option. 
On the other hand, it gives travel agencies ample opportunity to fulfill a larger audience's needs focused on cost and quality. There are many avenues like discounts, value deals, and loyalty cards through which an agent can pass cost benefits to their clients. 
Provides Access to Data in Real-time:
Travel companies can track the number of visitors coming to their website and evaluate the website traffic behavior for better company data analysis. Travel agents can also hit on the number of bookings during peak and non-peak seasons. 
Customers can easily search for holiday packages, flights, and hotels over a travel portal from their mobile phones or websites. The information about booking rates, prices and rental services will give them a complete picture before deciding. 
Round-the-clock Customer Care Support:
Online travel system enables the travel companies to provide the customers with a chat option on their portal to interact with the agents on a real-time basis. Instant solutions to any customer query related to their travel plan can be provided via this 24*7 support system. 
Time Saving & Money Efficient:
It saves time and resources by reducing workforce and manual labour. Having all the things on the user's mobile phone makes it more accessible. The travel system has introduced cost-effective strategies.
Other Benefits:
Minimizes costs related to order handling.

Prompt and handy reservation facilities for hotels, flights, and other tour packages.
Beneficial in business prosperity and expansion.

   

Centralized

sales administration and management.

Strengthens brand image and increases the customer base.

Improved collaboration with corporate clients and partners.
Qtech Software leverages its deep expertise in travel technology to integrate an online travel software with your company's travel portal to educate customer needs and create customized tour packages. In easy words, our travel ERP software makes the necessary foundation for companies to establish and expand growth by providing an enhanced customer experience. It provides a centralized podium to structure the access to information available on the internet. 
A B2B module is a fundamental element for automating sales through partners, customers, and distribution channels. Partners can build their agent network using this module to boost the sales coverage further. 
Get the Best Travel Software for your Travel Agency with OTRAMS!