Importance Of Flight Rules Engine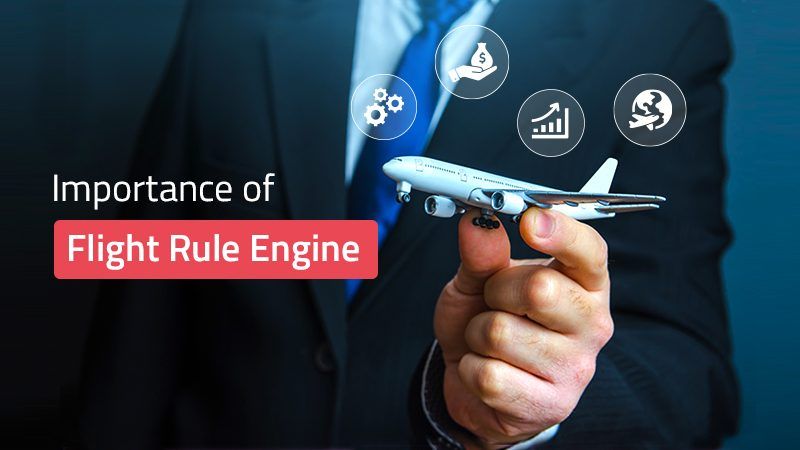 The number of searches for flights is always higher than the number of bookings made. So, what stops the conversion of these customers? Why is the look-to-book ratio so skewed? Is it possible to fix this? Yes, with a flight rules engine, it is possible to increase the number of travelers who book through you. Offering competitive rates by using various parameters of a flight rule engine is the way forward.
Selling flight services that appeal to a wider audience is how you boost the number of sales. A comprehensive flight rule engine plays a very important role in ensuring that you know the searches that are happening on your website and that you have a higher conversion rate. Many services have been monetized by the airlines. It could be anything, passengers have the option of paying extra to have more legroom, excess baggage fees, a premium on window seats, etc.
All passengers have different needs, so it all comes down to how you provide service to different types of customers. There are different options for people to choose from and given all of these factors play a very important role, it's a highly competitive and very low-margin segment for travel agents. Having a differential pricing strategy based on the needs of the passengers is what your business needs. The flight rule engine gives you complete flexibility and control to execute this.
Flight rules are a set of rules based on different conditions. A Flight Rule Engine allows users to define rules which allow the user to add mark-ups or discounts to flight ticketing. The Rules Engine allows travel companies to customize many aspects of the services they are selling.
Flight rules can be defined by the flight rules engine, this can be done by using tools within the software and adding the rule. In-flight booking there are different parameters and combinations, on which profit can be made, a separate markup engine called the flight rule engine is used. It allows you to create a flight rule based on consultants' names, branches, agents, and currency too.
The advantages of using a flight rules engine
Some different parameters and combinations allow you to manage your flight rule engine to give you complete flexibility and control of margins.
Profit – The flight rules engine primarily helps travel companies book profit through strategic markups and discounts.
Inventory – A good pricing strategy allows you substantial profit and allows you to sell more inventory.
Using flight rules engines for markup and discounts
Add markup during high volume of travel
The flight rules engine allows you to add markups to earn a bigger profit when there is a high volume of travel.
Push sales through discount
To sell a particular type of inventory that traditionally has a lower volume of sales you can use the flight rules engine to add discounts.
Markup and discounts on flight
It is possible to add markups and discounts on various airlines, classes of travel, and fare classes.
Airlines – The flight rules engine lets you add marks up and discounts for the airlines you wish to add them to.
Classes of travel – The flight rule engine lets you add markup depending on the class of air travel. E.g., it's possible to add mark-ups for business class, premium economy, etc.
Fare class – Depending upon the airline, the flight rules engine lets you add markup or discounts on fare class.
Markup and discounts on ancillary services
The flight rules engine allows you to add a separate markup to ancillary and other options in the flight booking. Within the ancillary services, you can add markups and discounts on the following.
Meals – Add markups depending on meal selection.
Baggage – Add a markup on the extra baggage rates provided by the airline. Add discounts for those traveling without baggage.
Seats – Apply markup or discounts on selected seats.
Convenience fees – Flight rules engines let you add or waive convenience fees.
You can apply to mark up on cancellation charges. Most cancellations result in a loss for both customers and the airlines, however, you can choose to add a markup or waive it off entirely from your end depending upon your business strategy.
OTRAMS allows you to calculate and add your markup, and discounts have various options and combinations that are designed to increase revenue and sales.
Multi-Currency system: The availability of a currency matrix ensures that there are multiple currencies available. This lets you add a markup or discount in the currency of the country traveler is going to.
Mark-up: OTRAMS users can add a markup on various services. You can use it on ancillary services, cancellations, etc. You can add markup based on your business needs.
Discount: OTRAMS lets you add additional discounts that let you push sales when you need them. You can add discounts on various services.
The travel world needs smart technology to boost its profit and grow a healthy and sustainable business. Your business needs technology that can handle the demands of travelers and the changing dynamics of the travel industry. OTRAMS has the technology and expertise that can help your business earn bigger profits and power your business growth.
Get OTRAMS and Increase Your Revenue With Smart Flight Rules Engine.