How Smart Mark-up Strategies Can Help You Boost Profits!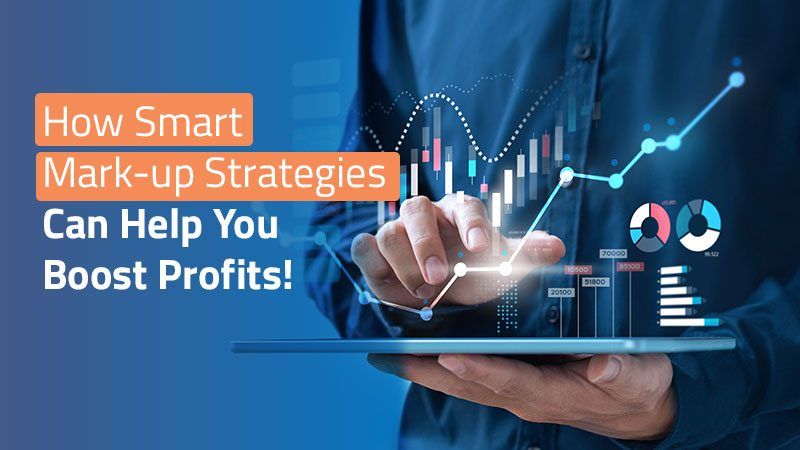 Making profit from your business venture is a clever mix of smart decisions, availability of means and opportunities. As with any travel agent, you must have plans and aim to earn greater revenue.  
As a travel services seller, you are buying content from multiple suppliers and making it available to your agents and customers to choose from. Typically, every trip is searched across multiple websites before deciding on where to book from. This is true for agents as well as consumers.  
If your agents don't find the pricing lucrative enough, you will observe that your look-to-book ratios are much higher. A smart mark-up policy helps you in keeping a tight control over your margins as well as extend smart pricing to your travel agents and customers.  
In this article, we explore the different opportunities available to you to add mark-ups on your services and how you can maintain a healthy margin and differential pricing for different types of content, destinations and agents.  
Benefits of Mark Up Pricing
Manage profits:

Once you set a rack rate you can add a markup to boost your profits. Your markup price is an additional amount added to your price that will help you gain more revenue from the transactions.  

 

Competitive pricing:

With a good markup strategy, it allows you to sell your inventory at a competitive price that allows you to maximize sales.  

 
Mark-up Strategies for Travel Agencies
Mark-ups are best used to secure greater business and boost profit. Mark-up strategies play a major role in the travel business. Build a strong inventory or content from your suppliers, directly contracted hotels, activities etc. You can add a markup on these through a markup profile.   
Pricing Strategies for Business
Mark up allows you to develop and implement pricing strategies that can benefit your business.
For Eg – During an event the number of people travelling increases. Let's say the event is happening in New York. Now if you have contracted in New York and you want to ensure that these hotels need to have maximum no of sales. In this case, your pricing strategy for these particular hotels might be slightly different. You can extend extra discounts to the agents and also to the customers so these particular hotels have maximum sales. To ensure these sales go through you can reduce your markup resulting in a price that is enticing enough for the sales to push through.   
Pricing Strategy for Agents
Among the agents you work with some may have a better success rate than others. Some travel agents can do better at sales than others. You can have different types of pricing strategies for each of these agents. You can create a markup profile for your highest performing travel agent. Based on their volume of sales you can offer them extra discounts. In the case of the travel agent that is performing well, you can add a lower mark-up and add higher on a travel agent whose performance is average, to compensate for your cost.   
Pricing Strategy for Inventory
If you wish to sell a particular type of inventory you can add a markup or markdown to push the sales and maximize your revenue through the sales.
E.g. If you are aware that the flight ticket demands for India to Dubai are going to be higher, you can reduce your mark up and bring down the price to entice more customers and push the volume of sales.   
Mark up Strategy by Currency
If you deal with different currencies, you can add a mark up to the then the conversation rate that is available through your provider.
For E.g. You deal in Dollars, AED, pounds and riyals. If your customer wants to make payment in AED, the price that is displayed will have markup added to it.   
Mark up Strategy to Avoid Conflict
Mark up a profile by country helps you to avoid the conflict of pricing. You cannot add a markup for both country and city together. Since both the city and the country can bear different mark-up rates, this is done to avoid conflict and confusion between the two.   
You can add a markup for any branch or agents that work with you. Any tickets that are booked by the branches that you have associated with, you can add a markup to any sales they make. You can also add a markup to the sales your agents have. This is based on the category of your agents.   
OTRAMS allows you to calculate and add your markup profile, boost profit, avoid errors and save time.   
Users can create multiple markup profiles/tiers with this option.

You can use or assign these profiles to agents based on their potential/ business needs.  

 
OTRAMS allows you to add multiple markups such as Supplier Level, Country & City Level, and Branch Level.  
You can add mark-up or discount to flight ticketing with OTRAMS.

You can also define management fees for Cancellation, Issuance or Re-issuance charges 

 
The currency matrix shows the list of currencies that are available in the system.

This allows you to add a mark-up in the local currency of the traveler. 

 
Boosting your profit with technology is made easier with the right technology provider. With OTRAMS you can have both the ease of doing business and a chance to earn more. OTRAMS by Qtech Software is the world's leading travel ERP platform that can help you harness the power of technology to grow your business.  
Get OTRAMS to Boost Your Profit with Smart Mark-Up Strategies!