How to Build a Travel App for Your Business?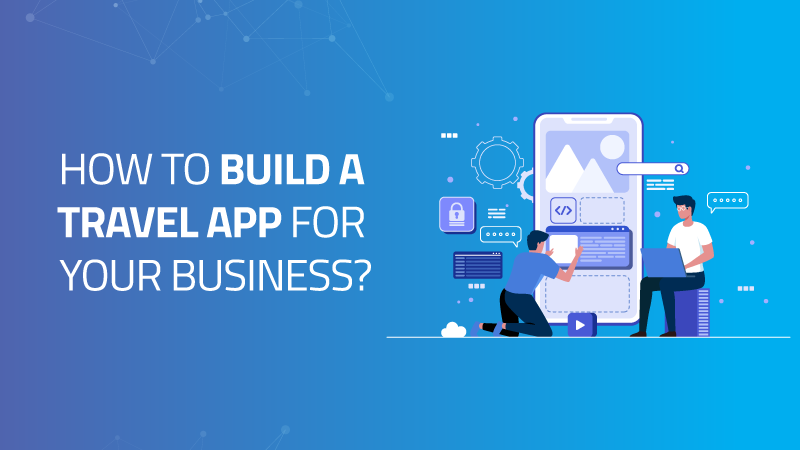 Smart phone and internet have been game changers for travel. Combined with travel technology, companies are eying at a huge profit and boost in sales. People are known to use their phone to not just seek out information on travel but also book tickets they also actively use apps while on their travels.  
It is estimated that by 2023, 700 million people will make online booking. Travel companies that have their own mobile app can provide better services based on location, send notifications, provide real-time content and provide personalized services based on gathered data. 70% of all customers use their smartphones to research, it is clear that smartphones and apps play a huge role in the travel industry. 
 Every travel company must have its own travel app. If your travel company is considering on having a travel app build, here are some things you should consider.  
Features travel app should have: 
Booking engine
A travel app absolutely needs a booking or buying feature. Customers expect travel apps to assist them with booking hotels, restaurants, tickets, transfer and tourist activities.  
This allows users to access vital information about their travel. Booking feature should also help users scope out the best prices and send them notification for great deals.  
Itinerary
Most travelers prefer not just planning their trips but also arranging it independently. They use itinerary generators for this. This feature lets the user select the location they wish to visit and the creates the travel plan accordingly.  
Location-based services 
Travel mobile apps should allow the users to have location-based services based on GPS-based location giving them access to crucial information about the place they are at. This feature will play a crucial role in helping tourists locate local areas to visit, activities to do, restaurants, local services and local specialties that tourists would enjoy.   
Content Management System
To keep up precision, utility, newness and compliance of information, the content on the app needs to be modified regularly. This applies to the offers and packages as well. A content management system enables you to manage your content effectively.  
Languages
Travel apps should be able to support text, audio, numbers, and graphics in ways relevant to the location where the app is being used.  This includes local language, so your travel app should be able to support the script of the local language.  
Search
Apps that contain many features and lots of content need a built-in search feature. It is also essential to create different filters for customized results. This will help travelers find what they need faster without sifting through a huge amount of data.  
Social media
Social media plays a huge role in promoting travel. People use social media to share their travel stories, images, videos and reviews of locations, hotels, services etc. Your app must have options for people to share information on social media. Your app also need a steady presence on social media to gauge people's opinion and keep them informed.  
Currency converter
When people travel country other than their own, one of the major concerns is currency. People will need to know currency exchange rates. Instead of making them jump through different apps, it's wise to have a currency converter feature in your travel app.  
Monetization
Travel companies can earn a tidy profit by monetizing their travel apps. There are several ways to do this. Here are some key factors that will influence the monetization of your app;  
Make your app available on multiple app stores 

 

Make it easy to be discovered by your users 

 

Provide an amazing onboarding experience

Promote App installs on your website and communications

 
Key points to consider when developing a travel app
Development team
Its best to hire services of a reputed company than hire a team. Choose a company that specializes in travel technology, has a good portfolio and uses the most advanced technology.  The company you choose should help you with conceptualization, plot project milestones, and provide viable solutions that work.   
OTRAMS offers an independent mobile application development services to all travel businesses irrespective of their technology provider or the suppliers they use. OTRAMS can consume API from almost any technology platform. You can leverage all the benefits of a mobile app irrespective of which technology or platform you are running your business on. 
Technology used
No matter which company you hire, ensure that they use the most advance technology to build the app. Most travel apps use artificial intelligence and machine learning for personalization purposes. Technology should also be able to support various forms of communication, content management and other app features  
Scaling
It is important to remember that change is constant. In the future you may need to expand the app's functionality or make it stronger. Its should also be capable of handling a huge boost in traffic.  A strong base and support to make such additions must be provided at development phase.  
Cost
The cost of building a travel app depends on factors like the number of features, utility, the software company platform you use etc. It is also important to consider the ROI of what you spend on creating a travel app. To earn a decent profit, you should spend at least  30 to 40% of your projected income from the app as a development cost.  
How to create a travel mobile app?
Finalize the services
You will have to finalize the list of services you will be providing on the app. You may desire a number of features to be added to your mobile app, but you may have to narrow it down. Choose the services that is your USP, is popular or is easier to provider.  
Types of enhancements
The travel app for your company is going to be custom build. It will must have its brand identity and unique features. These will have to be decided based on what you want your users to experience and how these enhancements will set your app apart for the competitors.  
Create a wireframe of the booking flow
Wireframing is a practice used by UX designers to define and plan the information hierarchy of the design for a website, app, or product. While building your app, you must focus on how you want your user to view the information on the screen of the app.  
Select the mobile app development company
Here are the factors you should consider while choosing a mobile app development company  
Skilled team 

 

Prior experience in creating travel apps

 

Extensive portfolio 

 

Client reviews 

 

Cost 

 

Transparency in their dealings 

 

Top notch support and maintenance

 
Test your app and remove bugs
It is essential to provide an app that is free of bugs so your users can have a hassle-free experience. An important process of app building is quality checks where in each and every feature of the developed application is thoroughly tested. This is done to ensure that is app is bug free.   
Finalize and host your app on respective App stores
Deployment is the final stage of app development process. Once it has passed all the checks and tests the app is hosted on the App Store or Play Store.  Here it is available to the end-user.  
In Conclusion
The services and utility of a mobile app is absolutely comprehensive. Hence developing one is a process that has to be carefully considered. One of the most important aspects is the technology partner that you choose.  
OTRAMS by Qtech Software, offers travel mobile application development for iOS and Android devices. You can create a customized mobile app for your travel company.  To learn more about this please visit www.otrams.com or talk to our experts.