Here is Why Your Travel Company Needs a Mobile App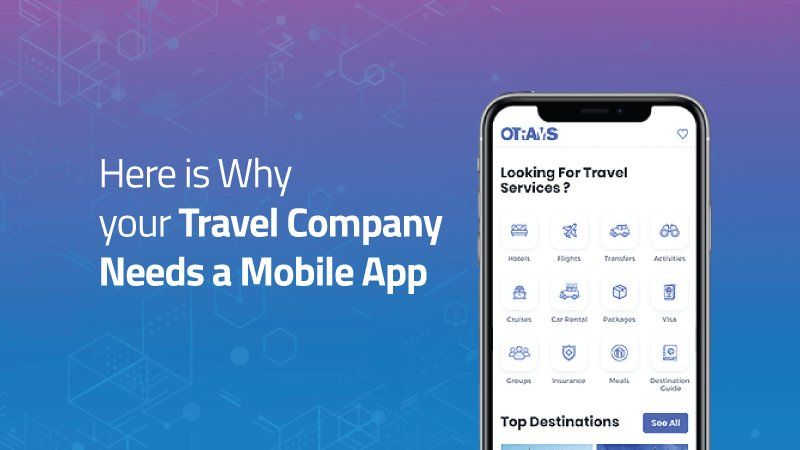 On-demand mobile apps, otherwise known as on-demand service apps are mobile-based applications that have changed the way our world functions. According to Statista as of the first quarter of 2021, Android users had access to 3.48 million apps, via Google Play the app store and Apple App Store is on the second spot with roughly 2.22 million available apps for iOS users.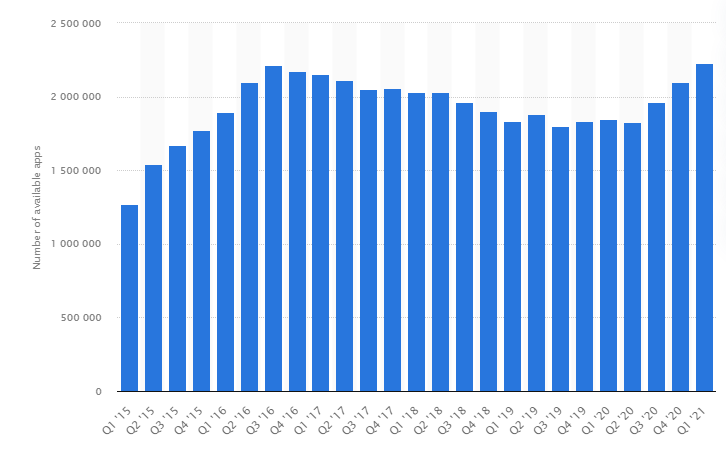 Source: Statista 
With such a staggering number of applications available, there is no dearth of travel apps on these platforms. Smartphones and devices have a huge impact on the travel and tourism industry. Users consult their travel apps right from the time they start planning a trip and use them throughout their journey. Most travel companies try to leverage this behavior by introducing travel mobile app that can more or less help travelers plan their trip and help them enjoy a hassle-free experience. With technology, travel companies have been able to integrate augmented reality, virtual reality, and many other hi-tech features that have changed the way people choose and plan their travel itineraries.  
Despite covid and travel bans, mobile travel apps are still quite popular amongst travelers and with smartphones, users and are helping transform the travel industry. The number of travel apps and what they do for the travel companies are changing the way people travel.  
Here is how mobile apps help travel companies:
1. Location-based services
Mobile apps allow the users to have location-based services based on GPS-based location. This allows the tourists to access crucial information about the destination they visit. This technology helps tourists locate nearby restaurants, places to visits, and even aids them with road maps and navigation. Offering destination-specific information enhances the user experience when they are travelling. 
2. Notification
Mobile apps can be used to notify customers of important information. Push notifications can be used to send users offers, promotions, discounts, reminders, updates, etc.  For e.g.; when used along with geolocation travelers can be offered deals or discounts for the specific location. It gets users attention and increases engagement as push notification is a direct line back to the app.  
3. Real-time content
Mobile apps can bring travelers important information they need while they travel. Weather changes in location, changes in currency rates, travel alerts, government advisory, etc. can be conveyed swiftly via mobile through mobile apps. By giving the users real-time information, travel apps cannot just aid them during their trip but also save time, money and cement consumer loyalty.  
4. Personalization and customization
Personalization is the process of delivering services by specifically displaying information, data, content, recommendations and offers based on previous browsing history, purchases, location, and other personal data gathered through the mobile app. This also allows you to customize their experience by saving their previous searches and recommending them in the future.  
How can a B2B travel company leverage a mobile app? 
1. Access to travel agents & staff
A mobile app will carry the same services as available on the company's portal.  Travel companies can give the travel agents and their staff access to their services which will be replicated on the mobile apps.  
2. Data on the move
The mobile app allows travel agents to have access to the travel portal's services anytime, anywhere even when they are not in their office. This allows them to make a booking or search for a booking, tackle any issues that may arise, and provide better service and function freely without being chained to their computer.  
How can a B2C travel company leverage a mobile app?
1. Access to critical information
Mobile apps play a vital role in providing critical information to customers. Travel companies can keep their customers informed on various details during their travels. Booking details, itinerary, hotel, transfer detail, etc. is available to the customer at a simple click through the app. Customers don't need to store all this information separately and can access all the data on the mobile app 24/7.  
2. Additional utility
Travel companies can provide their customers with additional information that they can utilize during their trip. The users can access location-based services in the area they are traveling in. For e.g., they can view the restaurants, places to visit, shopping spots, etc. on the mobile app. This is an added benefit as it is location specific and saves the users time from additional searches and they can plan well in the future. 
How to get a mobile application for your travel business?
Getting a mobile app for your travel business is simpler than you would believe. But before we go into the how, let us evaluate the different situations of travel businesses in terms of their technology setup.  
Scenario 1:

You have a travel technology provider but they do not offer a mobile app.

 

Scenario 2:

 You conduct your business across multiple tech platforms 

 

Scenario 3:

Your travel technology provider also offers a mobile application.

 
The most important aspect that can help you in leveraging the power of mobile apps is APIs. Most technology platforms and travel suppliers offer API connections in XML / JSON format.  
OTRAMS offers an independent mobile application to all travel businesses irrespective of their technology provider or the suppliers they use. Here is how you can build a sophisticated mobile app with OTRAMS:  
Re-program your API Out:

 OTRAMS is ready to consume API from almost any technology platform. All you have to do is re-program your API in the format required. You can ask your travel tech provider to help with this. 

 

Establish your API Connection:

 The API created by you can now be shared with our team to test and integrate with our mobile platform. 

 

Build your App:

 The next step is to test the booking flows in the app for iOS as well and Android platforms. You can also customize the designs, colors and logo based on your preferences. Our team of mobile developers will help you set this up. 

 

Hosting on App Stores:

 Your mobile app is ready to be hosted on iOS and Android platforms. You can register your apps on these app stores individually. 

 

Start using your Apps:

 Inform your customers and agents to download and start using the app. 

 
This is a ready-to-integrate service and will take up to 3 weeks to integrate and go live. You can leverage all the benefits of a mobile app irrespective of which technology or platform you are running your business on.  
Mobile Apps are playing multiple roles in the travel industry today. Instead of using guides, maps, and language translators, people have replaced these multiple things with app, used conveniently either on Android or iOS. Despite the setback due to the covid pandemic, travel continues to be a billion-dollar industry, thanks to technology that provides excellent services to customers. Every travel company must have a mobile app to deliver a comprehensive and unbeatable service.  
OTRAMS, one of the leading travel technology platforms offers specialized travel mobile application development for iOS and Android devices. You can create customized mobile apps for your business irrespective of your technology or platform. To learn more about this please schedule a meeting with our experts.