Ten Tips Choosing Perfect Travel Portal Development Company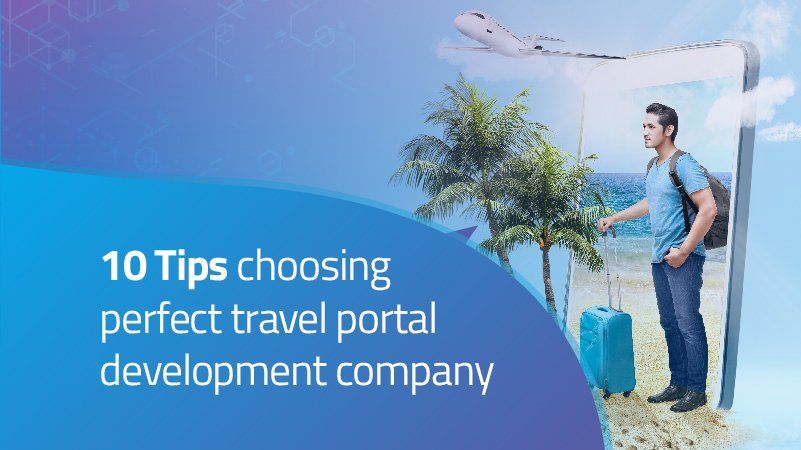 COVID-19 pandemic had a huge impact on global tourism, which has continued to 2021. According to new data from UNWTO, there has been an 87% fall in international tourist arrivals in January as compared to 2020. However,  Statista, an online business data platform states that the online travel agency sector worldwide will touch 820.18 billion dollars by 2023.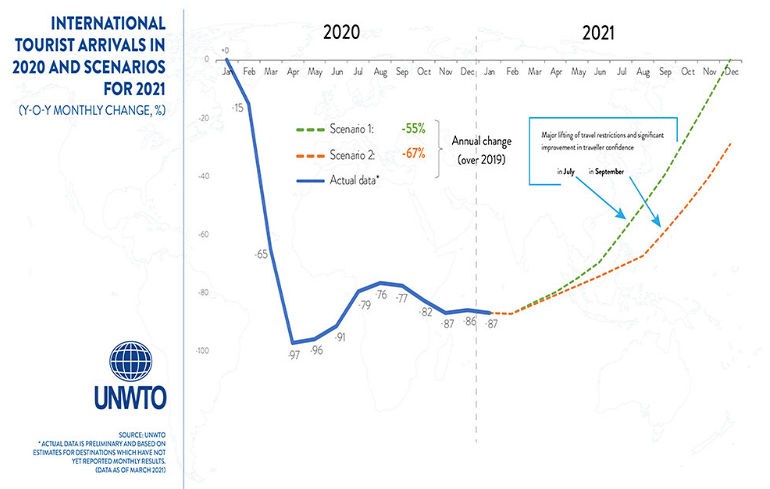 Source: UNWTO
Travel portals play a huge role in travel industry, they have mended the gap between customers and their travel needs. Intracity, intercity, intrastate, interstate, or international travel have been made easier with the usage of travel portals, bringing the world within your grasp in just a few clicks. There are many travel portal development companies available and businesses have a lot to choose from. Be prudent with your investment, to ensure you are getting the best technology and services. Don't always choose the cheapest option available.  
It is important to have a travel portal that is not just powered by advanced technology, but is also user-friendly and encompasses everything that the traveler seeks. There are many travel portal development companies that can build a good travel website, but you need to consider which one is the best for your business priorities.  
Here are a few tips on how to choose among top travel portal development companies.
1. Scalability 
The company you choose should have products that allow you to scale your business with technology by offering the widest range of partners, integration possibilities & features. The platform should offer a complete range of monetization possibilities, including B2B, B2C, API Redistribution, Mobile Apps, etc. 
Their product should give you access to suppliers, hotels, airlines, transfers, payment gateway, etc. OTRAMS, the flagship product by Qtech Software brings all of this and much more to make your website the one-stop solution that customers would need. 
2. Portfolio 
Choose an experienced travel development portal company with a portfolio showcasing their best work. Check out their industry reputation, the services they offer, and the relationship they command in the business. These factors will play a vital role in the final product that is delivered and also the operations of this product. 
Qtech Software has been awarded the World's leading Travel ERP technology provider from 2017 to 2020 at the World Travel Awards. 
3. Services offered 
 A good B2C travel portal development company will ensure that the website is designed with features that will guarantee brand loyalty. The website will not just be engaging, but also offer specific features for discount modules, coupons modules or any other loyalty programs that are designed to lure customers back.  
The user experience that your website offers will not just engage your customers but will enhance their customer experience which is an added bonus. Next-gen features like augmented reality, virtual tours, personalization, and other features will help you stand out from the rest.  
4. Supplier network
A good travel portal development company must offer you the choice of choosing from the world's best suppliers and travel wholesalers. This will help you build a good inventory pipeline that will enable you to offer the best deal to your customers. This ensures repeat customers and more sales for you.  
For example, OTRAMS offers a choice of more than 190 suppliers to choose from, across various categories ranging from accommodation, flights, transfers, car rental, activities, cruises, and more. It is also the certified partner for Expedia, Amadeus, Sabre, and some of the other biggest suppliers in the industry. 
5. Mobile app 
 Mobile apps are not just popular but also very effective. People prefer to have all the information they need or services they to access within their grasp. Mobile applications facilitate that and much more as people prefer using apps over the website in many cases. Choose a travel portal development company that will create a fully functional mobile app for your business. OTRAMS offers travel mobile apps across Android and iOS platforms for your B2B and B2C travel business. 
6. Security 
 Your data security should be of the topmost concern to any company you choose. Your travel portal needs to be secure as you will be storing your customer-sensitive data here. You will also be storing a lot of information that is highly valuable to your organization as well.  
With Qtech, you can run your business with 100% confidence on OTRAMS, which is built with comprehensive security & business continuity protocols. It is GDPR and PCI DSS compliant and OWASP rules complaint which keeps website safe from a wide range of attacks. 
7. Reliability 
A travel portal should be fully functional 24/7, free of bugs, fast and efficient. Failing at these, customers will abandon it for other options. Hence the company you choose should offer a final product that is easy to use, free of error, loads across multiple devices, and is a reliable entity of your business. 
8. Timely project delivery
Any project undertaken by a company will take a certain amount of time to be executed. An experienced B2C travel portal development company will finish the task within the assigned time. A reputable company will never go over the agreed timeline or delay project delivery. Find out how long the company will need to complete the project and compare it with others in the business before choosing the company. 
9. Pricing 
Pricing is complicated, everyone wants their money's worth but before you shell out funds, think about what the company is asking for. If a travel development company sounds too good to be true, it probably is. There are no free lunches so watch out for hidden charges, you have to be careful about pricing, don't choose the cheapest as they might not offer what you are looking for. 
Inspect the pricing and what modules you will be paying for. When you pay for a premium product, you get quality technology and services. Choose a company that can justify its charges. 
10. Customer support 
Choose a company that is your partner in every sense. The company you choose must provide you with the right resources, dedicated customer support, they should train your staff to use the platform independently. The customer support team should be available to handle your queries and see you through any crisis that may arise. 
Consider these points carefully when you evaluate the numerous aspects that various travel portal development companies offer. Weigh the options available to you and choose the one that fulfills all your needs while you make the final decision.  
If you are looking for a travel technology company that understands a customer's needs and provides the best suitable solution, look no further than Qtech. Our products and services are designed, with the customer as the focal point. Our flagship product OTRAMS is what travel portals need to boost their business globally. For more information, schedule a call with our experts.