Things to Know While Building a Successful DMC Business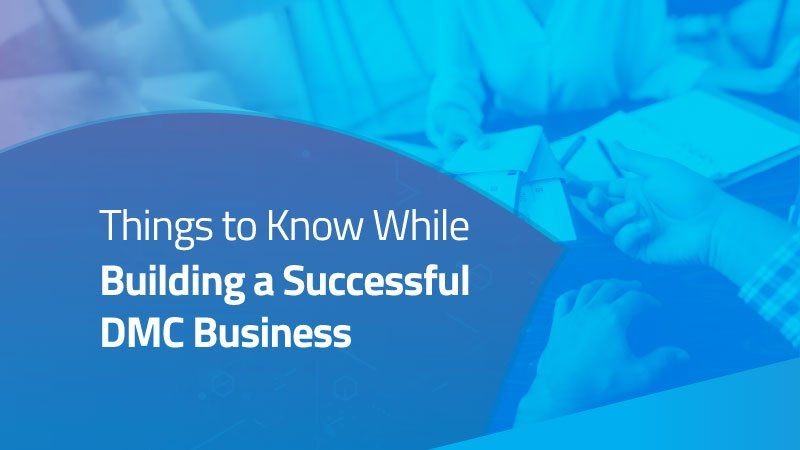 The exponential growth of the travel industry resulted in the rise of many businesses that play a vital role in helping the world of travel function with ease and excellence. One such business is DMC or a destination management company. A destination management company specializes in providing complete tour packages for a specific geography, encompassing services like accommodation, transportation, local sightseeing, and tourist activities. 
What will set your DMC apart from the rest?
A wide variety of services available to choose from

 - DMCs must offer a huge variety of services that your customers can choose from. Everything from a custom-made package to all-inclusive guided trips, you must cover all bases to ensure customers have a wide variety to the point they are spoilt for a choice.

 

Excellence in service quality

 - All of your services without expectation have to provide an excellent customer experience. Customers can and will complain about anything that doesn't meet their standards of excellence so ensure that your customers experience nothing but high-quality service.

 
Competitive prices

– The rates you provide will be the deciding factor along with the above two facts. So, ensure that you give a rate that is justifiable and reasonable.

 
The playing field for destination management changed due to the pandemic. However, before that DMCs were and to date are a formidable force in the travel industry with many DMC playing a pivotal role in the travel business. A DMC has the monopoly of knowing the location and their hold and connections in the location which leads travels and usually corporates to choose DMC over regular travel companies. This is further cemented by the number of rises in DMCs that operate across the globe.
What are the key aspects to focus, while building your DMC business?
Services provided by DMC includes largely deals with venue selection, booking, events, activities, etc. They also deal with logistics which includes transportation, to and from destination, arrivals and departures of guests, local transport etc. 
To ensure that you are on the right path to building a strong DMC here are a few key pointers that you need to focus on 
1. Build a robust inventory
Ensure that you have a massive inventory of Hotels, Transfers, Car Rental and local activities through a comprehensible and flexible direct contracting module. 
Provide direct access to hotel partners through a powerful extranet. 

 

Allow them to manage the complete inventory, availability and manage bookings, seamlessly. 

 

All of this should encourage your suppliers to send their inventory through your channel for the most beneficial results. Happy suppliers equal happy customers. 

 
OTRAMS Destination management software allows you to build an inventory through a very powerful direct contracting and extranet module.  
2. An enhanced booking experience
 Your website should provide a simple yet impressive booking experience with no room for error. It should be functional, intuitive, should load across devices, fast and compatible on mobile with pleasing images. It should be fast, easy and efficient. 
3. Focus on agents
Drive your agents by allowing them to grow their business. Allow them access to the best of your inventories that you have gathered with your direct contracts. Provide them with tools that help them directly engage with their customers. This incentive peppered with best deals, margins and mark-up options to grow their business will encourage them to work harder. OTRAMS helps you manage and track every transaction from Enquiry, Quotation, to Booking and Invoicing through an extensive mid/back-office solution. 
4. Monetization
Once you have your services lines up, it's time to sell yourself. Do not restrict yourself to one channel to grow your business. The more channels you have, the better reach you have. Increase your reach through websites to reach your customers, in the following ways: 
B2B Portal: create a fully functional B2B login portal for your agents and manage your bookings online.

 

B2C Portal: Empower end consumers to explore, select and book directly through a dedicated 

B2C portal

 

Mobile App: Leverage personalization capabilities of mobile technologies to engage your customers further

 

API Re-distribution: Re-sell your inventory through XML /JSON Out and open revenue channels across the world

 
OTRAMS DMC Software provides you with a complete range of monetization possibilities, so you can scale your business the way you want! 
Building a successful DMC business largely depends on the following facts. 
1. Dedication of the owners
As with any business, a business owner's dedication and drive to succeed is what will boost the growth of the organization. This means not just doing the regular business activities but also relying on innovation, preparing of inevitability and adapting to changes with plans to combat challenges. 
2. Ability to network with agents, locals
DMCs are lauded for their deep knowledge and connections with the local sources. This doesn't happen overnight; one needs to work on building contacts and networking heavily to build a powerful chain of agents, local activity providers suppliers and local vendors etc to power the DMC's operations. 
3. Technology that powers your business
While best working relationships are much needed, a lack of powerful technology may be the undoing of a DMC. DMC needs powerful, reliable and innovative technology to stand out amongst its competitors and offer ease of working and immediate results. If your business is not supported by the right technology, you will lose out on your customers. OTRAMS:  a premier destination management software guarantees productivity, boost in sales, growth and ease of doing business. 
So, if you are a DMC, the success of your business depends upon how well your customer's needs are met. Connect with our experts to find out how, OTRAMS can help you create a powerful, scalable and profitable DMC business.