Are You a
Travel Agency / Tour Operator
attending FITUR?
Looking for opportunities to grow your travel business?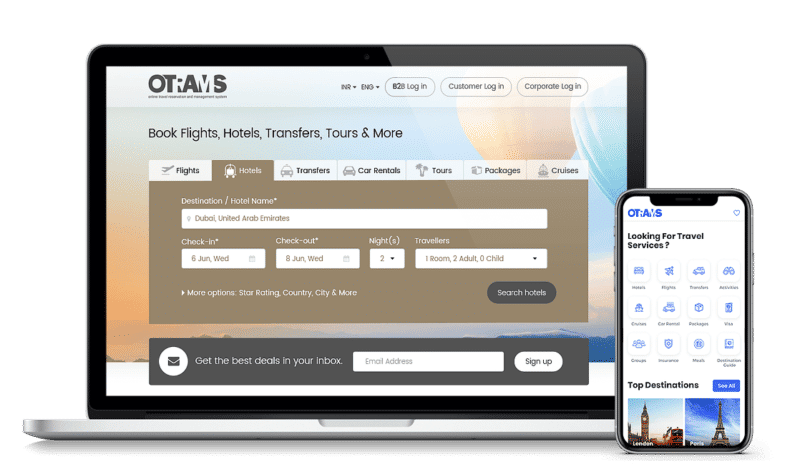 Grow Your Travel Business with an Online Travel Portal @ ZERO Cost
Keep Scrolling ⇓
Latest Technology for your Travel Agency
OTRAMS is World's Leading Travel Management Software. Used by over 200,000+ Travel Agents across 200+ Countries.
An online travel management system that is simple, secure, and completely reliable.

Unique features that work across all forms of travel businesses.

You can start your online travel portal (B2B / B2C / OTA / Wholesaler) in a matter of days!

Build Your Online Travel Portal @ ZERO Cost
Customizable for all Types of Businesses
Solutions for All Your Requirements
Create a specialized travel business or an end-to-end online travel portal, OTRAMS will fulfill all your requirements.
Start Your Online Travel Business at ZERO Cost
You Pay, Only When You Earn!
1.5%
of Total Transaction Amount on Non-Air Services
$1
Sign-Up for OTRAMS GO
Have Questions?
Reach our experts with your queries and we will get back to you!
FITUR is the first appointment of the year for the world's tourism professionals and the leading trade fair for inbound and outbound markets in Latin America. 
FITUR is Business: Five very busy days at the global tourism industry's leading business forum.
Five days that translate into hundreds of opportunities to make contacts, start projects and make agreements. We help you to make the most of your participation and reach professionals with a high level of decision-making capability in any tourism segment: 38% chairmen/general managers, 34% marketing/sales/commercial managers and 21% sales/consultant executives.
At FITUR you also meet people unexpectedly, and that leads to great new ideas and sources of business. The presence of more than 1,170 media  is evidence of the level of expectation this event creates in the industry: take advantage of media coverage to promote your destination or business.
FITUR is Knowledge: FITUR is a platform for training, debates and inspiration.
FITUR is cutting edge: FITUR encompasses technology, the future and sustainability.