The Most Efficient Software For Travel Agencies
OTRAMS offers a user-friendly travel booking platform with an easy-to-use B2C booking engine. It is complete online travel booking software that helps travel agents increase their revenue by selling merchandise directly to customers. It boosts inventory sales through its appealing and eye-catching designs, providing a smooth experience for your clients. OTRAMS software is designed to align with your business objectives and helps you grow your business with technology on your side.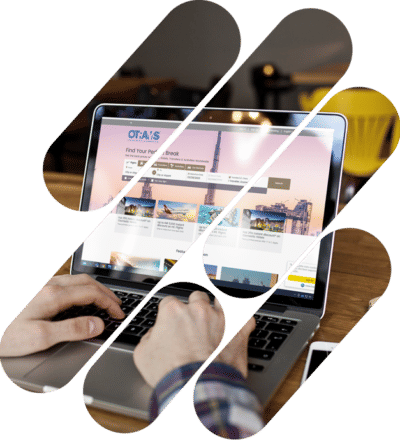 Highly effective and user friendly B2C travel ERP
OTRAMS B2C booking engine for online travel agency helps you increase your revenue
Compare and book flights, find and book hotels at best rates, and rent cars from global and local suppliers.
Get access to over 100+ travel wholesalers through our XML connection.
Enjoy absolute control over mark-ups and commissions.
Get customized layouts according to your requirements.
Connect with your customers instantly
Customers like to have more clarity, information and personalized offers. They prefer a B2C booking platform which is easy to use and navigate.
OTRAMS makes it possible, with OTRAMS you can
Contact Us
Start and run your successful travel agency with OTRAMS
Incorporate the services that are most essential to your travel company
Set and achieve your business goals
Power your business growth with digitization and futuristic technology.With OTRAMS you can access business intelligence reports,
maintain full control over margins, mark-ups, and discounts, and make data-driven decisions.
Create Your Own Mobile App
No B2C Booking Platform is complete without a Mobile App. OTRAMS offers most comprehensive Mobile Apps on Android and iOS.
Experience the all Powerful B2C Booking Engine for your OTA Business
OTRAMS for B2C is the complete online booking software for online travel agents. It does not believe in 'build once; share with all' philosophy. Each layout that we build is singular, featuring a customized design to suit your business requirements.
OTRAMS for B2C is a booking engine that leverages our years of extensive experience in building travel technology products. With our travel booking software, you can now establish a steady chain of communication and business directly with your clients.
OTRAMS is operated in over 200 +countries, has more than 600+ features, and has 190+ travel partners globally. A team of over 180+ passionate professionals work together to compose technology solutions that are individually tailored just for you.
Frequently Asked Questions on B2C Travel Portal
What is B2C Travel Software?
B2C travel software (OTAs) is a type of software used by travel agencies and online travel companies to manage bookings and reservations for individual customers. This software is specifically designed to provide an easy-to-use platform for customers to search, book, and pay for travel products such as flights, hotels, car rentals, and tours, etc.
What are the features of B2C Travel Software?
The features of B2C travel software or online travel agencies typically includes;
User-friendly interface for customers

Search and book travel products

Integration with multiple suppliers for a wide range of options

Real-time pricing and availability update

Secure payment processing

Customer management and profiling

Reporting and analytics

B2C back office management

Search booking

Customer dashboard
What are the benefits of using B2C Travel Software?
The benefits of using B2C travel portal includes; –
Improved efficiency and productivity for travel agencies and online travel companies.

Increased revenue opportunities through upselling and cross-selling.

Enhanced customer experience with easy-to-use booking processes.

Ability to offer a wide range of travel products and services from multiple suppliers.