How Inefficient Use of Social Media Can Affect Your Travel or Hotel Business?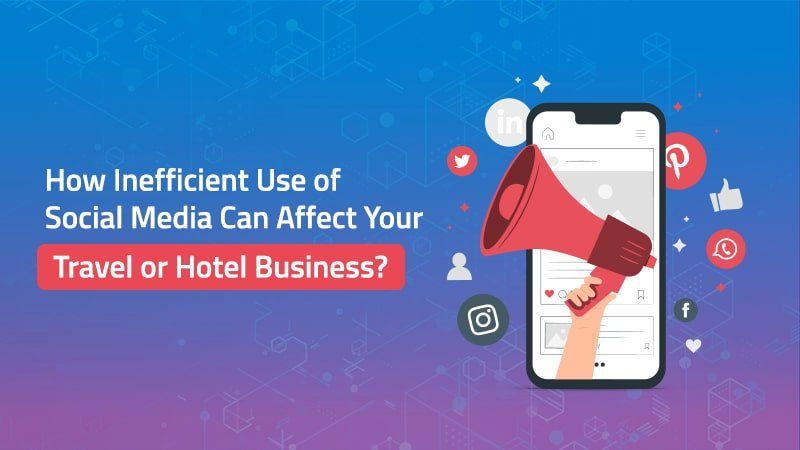 Social media is absolutely essential for business, no matter how big or small they are. Social media has come a long way. What started as a platform of communication is now absolutely necessary for business. Your social media presence validates your existence. The first thing people do when they hear about a business, any business is to google it. Your online presence adds an element of trust like nothing else. Having a strong social media presence is especially important for tours and the travel industry.  
We live in an era of travel bloggers, influencers and minor celebrities who seem to shape public opinion. Social media has made it possible to popularize activities, location, hotels and even restaurants. People flock to places that gain social media popularity. Therefore, it's essential for all businesses related to travel and hospitality to have an active presence on social media.  
Having an active presence alone doesn't work miracles for your business, social media strategy plays a huge role. Apart from having a social media strategy, the correct use of social media matters. You need to use your social media correctly to build relationships that help you achieve your business goals.  
Here is how you do it
Reviews and comments
There will always be reviews and comments left by your customers. If your customers had a great experience, you can look forward to good reviews that will draw out more customers but poor service or a bad experience might result in bad reviews. In such conditions, damage control mode is more important than defense. You should do your best to placate the aggrieved customer and turn the situation in your favour.  
Fake accounts 
There are fake accounts created by mischief mongers for a myriad of reasons. No matter what the reason is, it could be bad for your business if the intent is malicious. You may also receive comments and poor ratings from fake social media handles by internet trolls or anyone with ill intent. Under such situations, it's important to address the issue swiftly. You must take action to ensure that such accounts are banned and their comments are removed.  
Improper use of hashtags
Improper use of hashtags is basically when a post has unrelated or too many hashtags. Posting with improper hashtags not only makes the post irrelevant but also makes your brand look bad. Before jumping on trend bandwagon always checks if it is relevant to your brand. If you are creating a hashtag for yourself, ensure that it is right for your business, has no mistakes in spellings, is catchy and interesting.  Using the right hashtag gets you better exposure which is what your brand needs.  
Impressive content 
No matter how well you operate your social media account, without good content it won't work well. In the world of tours and hospitality, impressive content runs the business. On the other hand, poor content can ruin the business. For content that draws people to your brand, you must have good posts that consist of beautiful images and videos that promote your service or product. It should be shareable and accessible on multiple social media platforms.  
Collaboration 
Social media influencers enjoy celebrity status on social media and outside it. They have a wide reach and their opinions matter to those who follow them. More importantly, most social media influencers with a huge number of followers have a wide reach. So, collaboration with the right kind of influencer can help you reach a lot of people. For e.g. many travel companies often partner with travel vloggers, similarly restaurant partner with food vloggers for more exposure.  
Staying active 
Your social media handle must be active and connected with your followers. Which means having interactive posts, replying to comments and queries.  Post at least thrice a week and keep them simple, engaging and sharable.  
Social media can be a powerful weapon in your arsenal if used correctly. Social media has evolved through the last decade and with technological progress, it will keep changing. To run a successful travel and hospitable business it is important to have a healthy social media presence.  
Sign-up for OTRAMS to run your successful travel agency in Malaysia!