Desktop Travel Booking Vs Mobile Travel Booking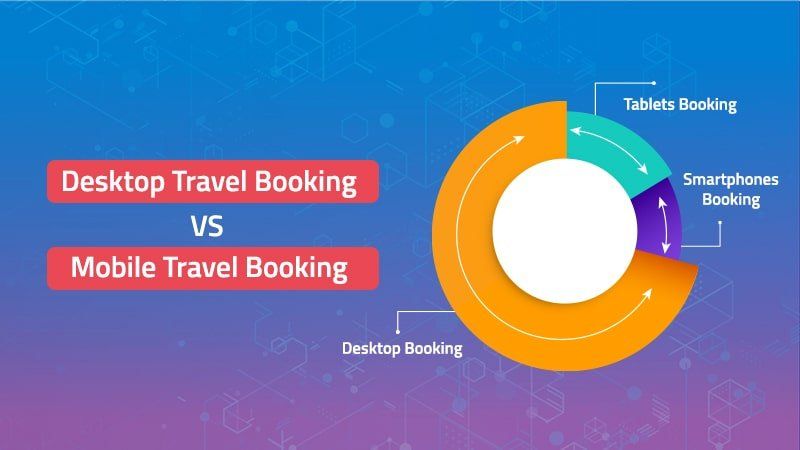 Mobile phones have become an important part of our lives. People rely on their smartphones for everything from ordering their groceries to navigating unknown locations. People use phones as an extension of their computers. Along with browsing for information, people also use their phones to make reservations and bookings. A phone equipped with the right kind of software, apps and internet connection can function just like a desktop. They can have more features and benefits that desktop may not have.   
Smartphones and tablets are slowly eroding the usage of desktops. Tech savvy customers enjoy using mobile to browse various sites to gather information and for travel booking. People find it easier to use their mobile phones while planning their trips, however many travellers tend to use their desktops while making their bookings. This also includes the travel companies, travel agents etc. Desktop is still preferred by many as a tool for booking as it's easy to browse multiple websites at a time and compare prices, information etc.   
Covid-19 changed many things, one of which was the acceptance and need for digital tools. Most travel companies have their websites. However now most have introduced apps that can perform just as well as their desktop version. The beauty of mobile apps is that phones are cheaper than desktops, they are portable and everything you need is within your grasp with a mobile. This is something a desktop can't do.   
Going forward, travel companies should focus on having a mobile app that functions just as well as their websites. Travel mobile apps improve user experiences, make sharing content easier and are generally easy to use. They also have bonus features like push notification which makes sharing information easier.   
Get a Mobile App for Your Travel Business With OTRAMS!