Using Standards to Solve the Challenges of the Online Travel Industry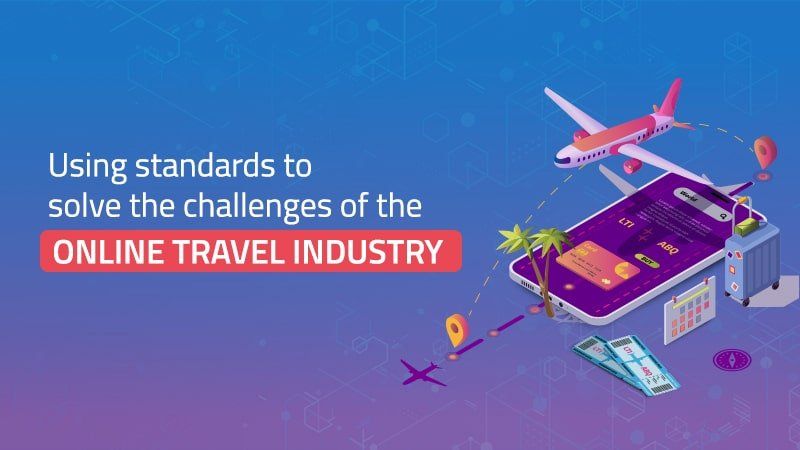 The online travel industry is one of the largest growing industries but with the current setup, it is hard to believe that we have actually taken longer to reach where we are today. Taking into account the advancements in technology, we are indeed left back while the other industries with comparatively fewer resources have evolved faster and are much more open to all.
Let's have a look at the biggest problems the online travel industry is facing today followed by what can be done to minimize or curb them. 
Challenges of the Online Travel Industry
Huge fees: 

This is perhaps the most painful problem for hotels and airlines. The fees charged by the online travel industry and global distribution systems are going through the roof.

 
Outdated technology:

 Despite the huge growth in technology, the systems and technologies used by the travel industry are outdated and lack standards. This results in information having to make 5-10 hops before it reaches the travel agent. The result is an extensive lag, which is in minutes, rather than milliseconds, increasing the cost of transmitting this information from suppliers to end users dramatically.

 
No master plan:

 The travel tech ecosystem is incredibly complicated. This makes it very difficult for new companies to enter it. Since there is no master plan, there are few established standards and the market leaders are just maintaining their status quo.

 
Difficult to understand:

 The travel data is difficult to understand because of many reasons, a few of them are –

 

The way it has evolved.

 

The legacy structure of underlying databases.

 

The way it has worked for this long.

 
Due to too many inputs, some regulations, some supplier-mandated, some intermediary-mandated and some technically-mandated, the travel data structures have become labyrinth and complex. 
Huge access fee and unavailability of data:

 There is no freely available aggregated data and it is necessary to have a commercial agreement to get access to any travel industry information. To get this commercial access, a huge access fee is required which becomes a big hurdle to clear for many startups.

 
No perfect structure:

 There is a great deal of information available in the travel industry but no clear way to get it. The large travel companies are siloed, bureaucratic and hierarchical making it difficult to get information from one fixed source.

 
Actions we can take to curb these problems
Make it possible to have a universal app connecting multiple carriers and airports. End-users must not require to install tens of apps for hotels, flights and transfers differently. One app must solve all the problems in one place and that is exactly what our travel mobile booking app is designed to offer. For end users, it brings all their necessities in one place and for businesses it brings the power of their entire travel business at their fingertips. 
Hotels must provide an API endpoint to third party developers facilitating easy access to their prices and itinerary availability.

 

There must be multiple market places for hotel rooms, where companies can buy individual rooms and room blocks as well.

 

The APIs and Standards must be organized in one place making them open for use, improvement and contribution.

 

There must be modern and usable methods of interoperability.

 
We have indeed come a long way and surprisingly there is a lot remaining to achieve. With established leaders giving easy and open access to their APIs and allowing other companies and organizations to contribute and improve them, true innovation will not remain far away. 
Get Innovative Solutions for Your Travel Business Needs With OTRAMS!