The Evolution of the Online Booking Engines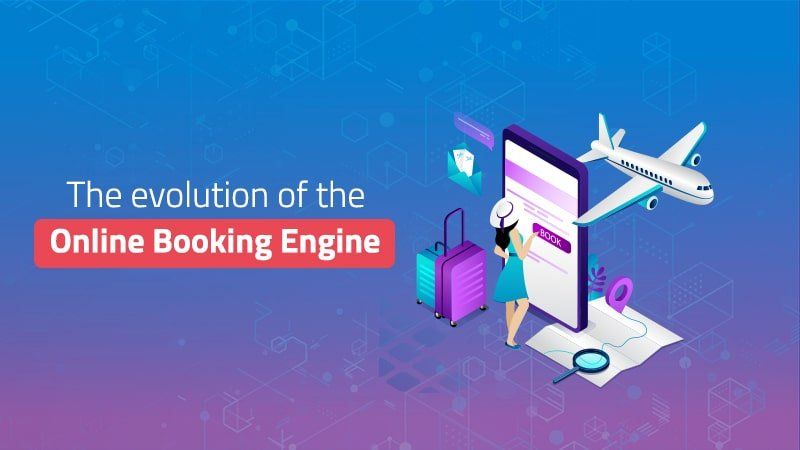 To understand the evolution of the online booking engine, we have to look at the history of reservations software first. The first Airline Reservation System called the Electromechanical Reservisor was developed in 1946 as a result of a discussion between the CEO of an Airline and the CEO of IBM. This first system comprised of magnetic drums and was extremely complicated to operate, as a result of which only the Airline's trained staff were able to use it.  
This drawback led to the birth of SABRE (Semi-Automatic Business Research Environment) in 1953, followed by DATAS by Delta and PARS by Trans World Airlines. These systems were still used by Airlines themselves, however they were comparatively easy to operate. The first Central Reservation System (CRS) marked the beginning of complex yet easy to operate systems that enabled travel agents to make bookings on them.  
There was still a catch though, these CRSs could handle bookings for only one airline, meaning every airline had their own CRS. This drawback was soon resolved by GDSs (Global Distribution Systems). The first kind of system that allowed integration with multiple airlines as well as allowed the travel agents to book from them. They were also very advanced systems with greater information searching and booking capabilities.  
With the kind of reach and complexity that these Global Distribution System offered travel companies on their fingertips, there was only one important step remaining to be achieved, and that was the ability to allow customers to book their travel themselves without any intervention from airline and hotels companies or travel agents. This necessity gave birth to online booking engines which not only allowed passengers to book directly but also cut down on extra expenses and support instant booking and payment! 
Evolution of the Online Booking Engine
The online booking engines evolved and made the booking process simpler and simpler. They started facilitating customers to specify their booking requirements like destination or hotel name, date of travel, a number of rooms, star ratings and reviews of hotels, specific city to city flights, flights according to airlines, and much more. This provided the most flexibility to customers and the real value of an Online Booking Engine is in the business rules and processes that package the content and provide the capability to shop and purchase. 
Users' location:

The online booking engines grew to be capable of determining users' locations to offer more personalized and targeted deals. This increased the conversion rates quickly as travel providers could now send push notifications to customers about nearby hotels at great rates as well as nearby sightseeing spots. Customers are more likely to book or change their booking at the last minute if they get the right deal. Travel companies realized this impulsive nature of customers and took this opportunity to deliver an even greater experience acquiring more loyal customers.

 
Personalization:

Personalization remains the single most lucrative strategy for all travel companies. While many travel businesses have realized their potential, a significant number of companies have not yet exploited this opportunity which puts them a lot behind their competitors. Personalization allows travel companies to learn a traveller's behaviour and travelling patterns and send highly customized deals and offers that increase the chance of a potential customer booking from you by tenfold.

 
Reviews:

Online booking engines also learned new ways to keep customers glued to their websites. They started allowing customers to post reviews on their website itself thereby maintaining control over the purchase journey.

 
Peer-to-peer travelling:

Peer-to-peer travelling is a new business model online booking engines have inculcated in their business plan that allows them to give customers the ability to explore destinations more thriftily. OBEs have understood the advances in marketing, such as social media marketing and email marketing that are bound to bring in more customers than any other form of marketing.

 
Lifestyle changes:

Perhaps the newest benefit of the internet for travellers is not only to plan and book their travel but also to get inspiration. Apart from families and friends where most travellers get their inspiration from, travellers have also started exploring new destinations on their own motivating others to do the same. This creates another opportunity for travel companies to keep track of such travellers with a significantly large number of followers and partner with them to promote their services. Posting new and exciting travel ideas not only allows travel companies to get more business but also appear as lifestyle changers.

 
Travel meta search engines:

Perhaps the most noteworthy advancement after the birth of online booking engine itself was the birth of travel meta search engines that aggregate data from multiple online travel providers and offer the best rates all in one place. A customer no longer has to search tens of other sites before he makes his final purchase. He can simply visit a travel meta search engine and key in his requirements and he will be presented with all the available options to choose and make bookings from.

 
If you are a travel company, selecting software and systems that suit your needs can be a tough task. But we can make it easier for you. OTRAMS is the world's leading travel technology provider and has marked its presence across the globe. With OTRAMS, you can ensure that your business has the best technology running for growth and profit. 
Get the Best Online Booking Engine for Your Business With OTRAMS!