Wish to Sell Semi Dynamic Packages? Learn All About It Here!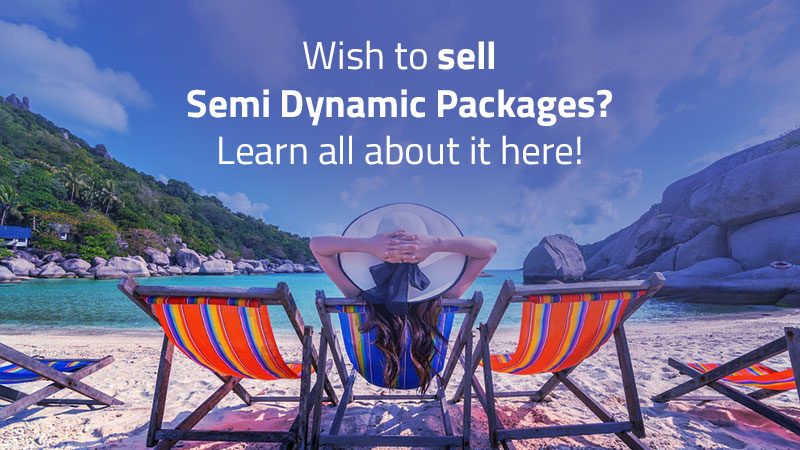 People love traveling, always have, and always will. Those who wish to travel don't always have a clear idea of how to go about the trip. While they certainly invest in travelling, they don't have all the information and resources they need to execute their ideas. This is when they turn to travel companies for the best advice, plans and execution.   
As a travel company, you must help your customers choose the best option. Your customers on their own would have to go through too many hassles trying to get the best deals, the best hotels, and planning their itinerary. Especially in a location that is not known to them.
Such trips involve a lot of research, it is time-consuming and they don't always have all the information or sources needed. You as a travel agent can make it easier for them with the travel packages that you create and offer. You can offer them a bouquet of services that gives them exactly what they need.   
Travel agents can make the whole experience delightful for the customer with the right kind of travel package and offers. You can leverage semi-dynamic packages to provide flexible yet handpicked choices of hotels, transfers, and activities. Technology can help you seamlessly do this.   
Understanding Travel Packages
Travel technology constantly changes and improves travelling. Innovation has always been at the heart of the travel industry's growth. Online configuration and assembling of packed travel products are possible due to such technology. There are different travel packages available that cater to the needs of the travel industry.   
You need powerful technology that can align your inventory and create a package that you can sell. There are different types of packages namely static, semi-dynamic and dynamic. We shall be taking a closer look into semi-dynamic packages.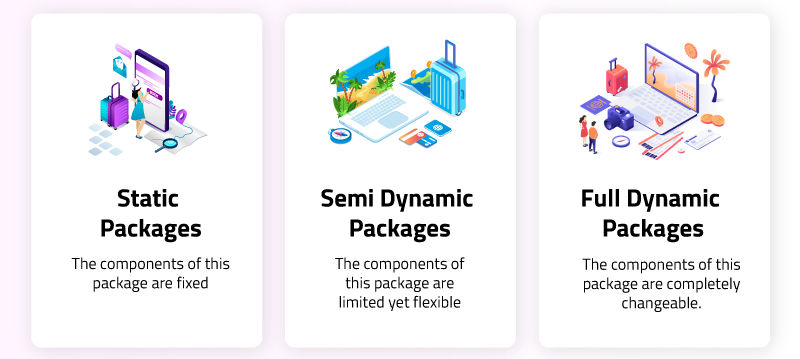 Static Packages
The components of this package are fixed. No changes are made to accommodate the needs of travelers. The itinerary remains fixed, travelers cannot change anything. The tour operator sells the package as it is. The dates have many changes but the components will stay fixed.   
Semi-Dynamic Packaging
The components of this package are limited yet can be swapped with alternatives. The itinerary will have options, travelers can choose within the limited options available. The price might differ based on the changes that are added or altered.   
Full Dynamic Packaging
The components of this package are completely changeable. It is possible to build the whole package based on the preference of the customer. The total price of the package will depend on what has been added to form a complete package.  
Semi Dynamic Packages and Direct Contracting Module 

You can create semi-dynamic packages with your directly contracted inventory. As a travel business you can create travel packages with inventory that have steady prices. Leveraging your directly contracted inventory and creating a package makes it easy to attract customers who wish to have choices laid out for them.   
You can offer good rates to your customers, and create a handpicked selection of the best activities, accommodation, etc. This gives them the best experience and ensures business growth for you.   
How Do Semi-Dynamic Packages Work?

As a travel agent, you get to design the packages based on the inventory you choose to sell. You can create a single destination or multi-destination package with pre-defined rates for hotels, transfers, and activities for several days. You can allow the user the choice among the multiple options. You have the choice of offering them limited flexibility. They can pick and choose the activities from the package you have created.   
You can design each day with options for the customer. For e.g. You are creating a 4 nights and 5 days package for Dubai. It would involve providing transfer on day 1 and transfer to the airport on the last day. A section of hotels for the customer to choose from, a selection of activities for the customer to pick from. From the moment the customer lands, they have a planned trip awaiting them.  
For Example: Dubai Travel Package for 4 Nights and 5 Days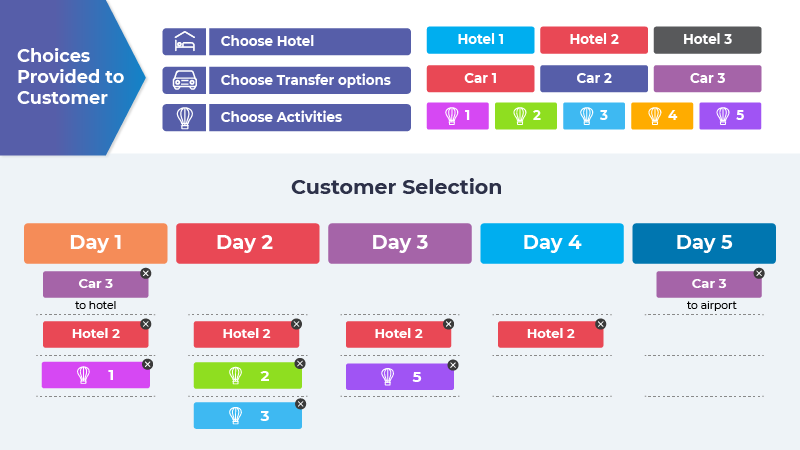 Why are Semi-Dynamic Packages Good for Your Business?

Semi dynamic packages will get you customers who wish to travel but are unsure about how to plan and execute the trip.

 

They will prefer a holiday that is pre-planned for them with flexible choices.

 

Semi dynamic package helps the customer have some semblance of control over their travel which they like, on the other hand, they will prefer not to worry about things like transfer, activities, etc. 

 

You can use semi dynamic packaging to create and sell packages during the season of high tourist footfall.

 

You can provide attractive and competitive prices using the rule engine to attract customers. For eg. the booking dates are from June to Oct, you can provide a discount for the inventory you want to sell. Or you can also add attractive offers to the inventory you wish to sell. 

 
OTRAMS by Qtech Software is the world's leading travel technology platform. OTRAMS offers a sophisticated package creation tool in-built into the software that you can leverage to create semi dynamic packages which you can sell via B2B and B2C portal.  
To Know How You Can Leverage the Power of Technology to Boost Your Business!