Vocal for Local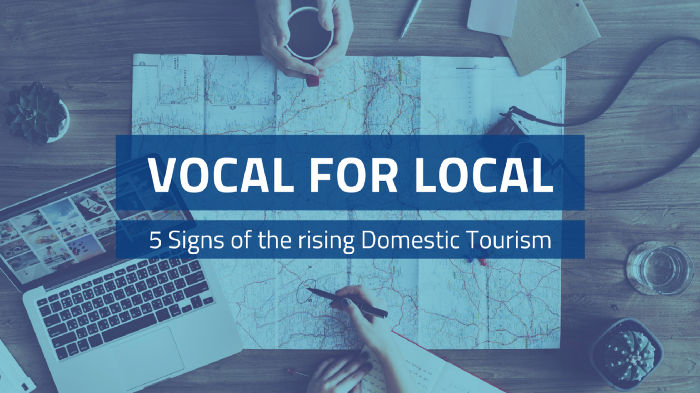 5 Signs of the rising Domestic Tourism
For months now, the world has been fighting one of the biggest pandemics that it has ever seen — COVID-19. As if the virus itself hasn't created enough mayhem in everybody's lives, the paranoia that it carries with itself has turned the world upside down.
In Southeast Asia, this pandemic has resulted in an enormous loss of $1 trillion GDP-wise and over 63 million people losing their jobs. Whereas, Europe, North America, and the Middle East, the GDP losses are a whopping $708, $680, and $96 trillion.
One of the worst-hit industries, both in terms of loss of jobs and revenue, has been the Travel Industry. So, how would the world cope with the aftermath of COVID-19 and get back on its feet?
Here are a few trends that are emerging:
1. Go Domestic, Explore Local
For a few months now, international travel service is unlikely to see many takers except those returning to their home countries, those seeking medical assistance in other countries, or the business flyers deputed for critical tasks.
Safety concerns continue to loom high. Research shows that about 90% of those who intend to fly wish to only do so within domestic geographic limits. Locals consider their home countries to be a haven, with travelers preferring road travel over air travel and outdoors camping over leisure vacation overseas. Another major deterrent is the need to quarantine oneself upon entry in a new place. Domestic travel is hence considered a safe choice or many.
To boost the travel sales of their country, several Southeast Asian governments have launched special schemes. For instance, Thailand has come up with a "We Travel Together" campaign worth $641 million to attract more local travelers with the help of subsidized tariffs on transport, accommodation, and even vouchers for food and other services.
Japan has not left any stone unturned either to revive its economy with its "Go-To" and "Go Local" campaigns. Under this scheme, the government has partnered with several firms that offer subsidies up to 35% (25% for the "Go Local" campaign) on food and accommodation through registrations on their DMC software.
Along similar lines, the Singapore Government has offered a $32.4 million campaign to boost its tourism, and Vietnam has been offering special-priced tourism plans to its nationals.
2. Traveler Demographics undergoes a change.
As per popular research budget travelers and travelers in the 24–35 age group are the first to show an intent to travel. Owing to safety concerns, families and the elderly are expected to travel only in 2021. This demographic is also expected to invest more in travel insurance as compared to the millennials.
Price, COVID-19 safety precautions followed by airlines and hotels, and flexibility of booking are the biggest factors affecting people's travel decisions.
3. Changing Travel dynamics
Among the many trends that are seeing an onset in the wake of COVID-19 is that of travelers' changing mindset. The preference to travel with core or immediate family and last-minute bookings are ruling the roost.
Outdoor and culture trips are taking precedence over shopping. Rental accommodations are preferred over hotels (especially the non-luxury ones). Self-guided tours are preferred over guided ones.
It is practically a haven for last-minute travelers, with several airlines slashing down domestic travel tariffs and reconsidering their cancellation and re-booking charges. A big reason attributing to this trend is also the changing graph of COVID-19 numbers across the globe.
Subscribe to our Newsletter
Receive fresh updates from Qtech Software, right in your inbox. Twice a month. No Spam!
4. Region-specific tourism to boom
Following the fastest recovery rate from this pandemic, several Southeast Asian countries were reopened earlier than most others worldwide (some continue to observe a lockdown of all or some of their services).
Hence, the tourism industry was able to recover some of its (if not all) losses sooner with more people opting to travel within the geographical limits, at least. In the near future, experts foresee a growing number of travelers within "travel bubbles," i.e., within a cluster of destinations authorized by individual governments. A good example of this would be the travel relaxation between China and Singapore.
5. Automation in the travel industry
With social distancing having become not only a necessity but a norm globally, the travel industry is slated to go automated. This would not only help minimize physical contact between guests and staff but also be an end-to-end solution for the whole booking process.
Imagine an era of contactless registration at the reception via a "Face Recognition" software (E-Visitor Authentication) or the Tour Operator Software handling all travel bookings virtually. This is the new face of the Travel Industry worldwide.
Take, for instance, the self-cleaning technique — "ACT Clean Coat" that is slowly being adopted by hotels across the globe to sanitize the premises from viruses, bacteria, and other microbes. It is true, necessity is the mother of invention, and COVID-19 has brought an array of automation opportunities in the travel world and other verticals.
An Aid for your Travel Business
OTRAMS has been transforming the way Travel Companies, infuse the latest technological trends and advancements in their Online Booking Software for years now. We offer top-of-the-class, customizable Tour Operator Software used and validated by Destination Management Companies (DMC), Travel Companies (TMC) & OTA Worldwide.
With OTRAMS, you can leverage our destination management suite to create attractive local tour packages, negotiate and offer unbeatable rates with local contracts and provide group bookings.
Be it booking for one or booking for many? We have got you covered. There are several reasons why you should switch to our tailor-made Group booking software for any-purpose (leisure, business, alumni group, and whatnot), any-size, room and transfer facility preference, quotation-based booking, blocking the booking, and even MICE bookings. All this one under one umbrella!
Let your customers create amazing travel itineraries with Dynamic Packaging Software, which lets you club multiple services/bookings in one place like transfers, accommodation, sightseeing, and flight bookings. Imagine no hassles creating vouchers and bills for different services.
COVID-19 may have brought the entire world to its knees, but it has not dampened the spirit of "traveling." It sure looks like these trends are here to stay for some time now but what's good is that you have someone to help you traverse the journey and provide that necessary boost to your travel business.
Receive fresh updates from Qtech Software, right in your inbox. Twice a month. No Spam!