A Complete Guide to Setting Up a Successful B2C Travel Portal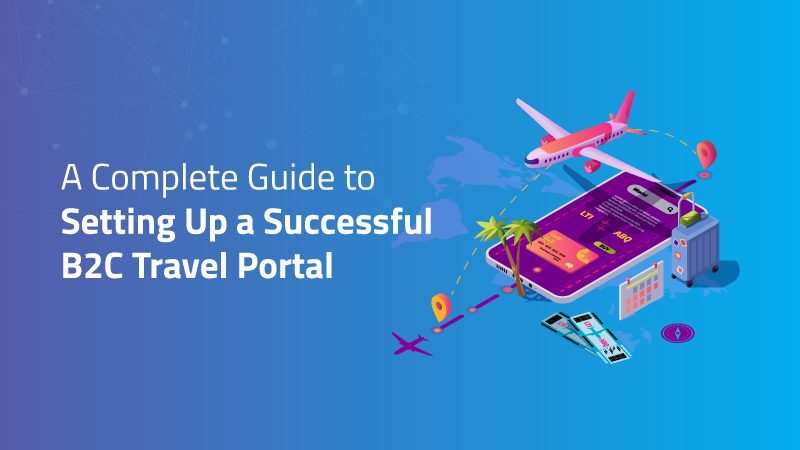 Did you know that there are over 148 million travel bookings made annually? It is estimated that 700 million people will make a booking online by 2023. Travel and tourism are a sector with many players. Running a B2C travel portal successfully in such a competitive sphere is a trial all by itself.  The easiest way to stand out is by using technology.  
Getting more customers is going to be tough, especially post covid pandemic. So, facing these challenges head-on and armed with technology is the way forward. Let's take a look at what the key challenges are;  
What are the key challenges faced by B2C travel companies? 

1. Cost of Technology
A B2C portal needs robust technology to function well. If you want to set up a B2C Travel Portal there are multiple costs involved. 
SupplierLicenses

– Bank guarantees, CAP licenses.  

 

Payment Gateways

– Initial sign-up costs.

 

Travel Technology Provider

– Platform license fee, initial set-up cost, maintenance fees.

 

Hosting –

Dedicated hosting, server licenses, security protocols, certifications, etc. 
All these factors constitute a huge cost for any travel company to start an online travel agency. High cost of tech is a challenge for many companies. 
2. Engaging Customers
Getting customers is only half the battle won, the other half is making them stay and getting their repeat business. Keeping customers engaged is easy when you have:  
A website that loads across various devices, is fast, efficient, and provides information, content, and pleasing imagery.

 

Value-added programs

like loyalty modules, coupons, discounts, and offers which help customers get the most out of their travel expenses.

 

Data Security & Safety

 is a huge concern and people will stop using your online service if they feel you are reusing their data in any manner. 

 
All of this needs good technology to power it. Without anything to keep customers glued to your portal, you will lose their interest. 
3. Providing the best deals
It takes only 30 seconds to check the price of a hotel on a competitive website. In such a competitive world, your pricing and discount strategy needs to beat your competition.  
As a B2C travel company, you can provide the best deals to your customers only when you have the best deals from your suppliers. It's important to have the best inventory and the best coupons modules to ensure that your customers have no reasons to stray.  
4. Stand out from the competition
Travel and tourism are one of the most competitive sectors. There are many travel portals vying for your customer's attention. It is important to stand out from the mundane and retain customer loyalty. Give them a reason to never choose your competitor over you.  
What are the challenges in post-pandemic travel?

Covid pandemic brought the almost trillion-dollar industry to a grinding halt. Adapting to the new way of life is the way to move forward. Now that vaccination is here, people are traveling again. Here are a few concerns that the travel industry must address.  
Hygiene and safety will remain the topmost priority.  

 

Transfer services must be clean, have socially distanced seating, sanitizers, and masks during travel.

 

Hotels must inform about their hygiene and safety rules. 

 

Follow rules and laws of the local government. 

 

Customers want to know exactly what they are paying for.

 

Preferences of type of hotels and stays is changing.

Duration of stay and search windows are changing.

 
How can you build a strong B2C travel business?

Budling a strong B2C travel portal that is successful depends on many factors. While building a B2C Travel Business, you need to answer the following questions:  
What is the core objective of your business?
What are you offering to your customers?
What are the key differentiators from your competition?
Why should customers come back to you?
Once you have answers to these questions, it helps your make very informed decisions in building your business and choosing the right partners and suppliers.  
For example, if your B2C Travel Agency is going to offer a handpicked range of villas, private properties, and choicest activities to your customers, the overall set-up of your B2C Travel Portal will be completely different as compared to a full-service agency.  
Let us look at the factors that will help you build a successful online travel portal: 
1. Understanding your customer
Know who your target audience are. Understand your travel audience, their needs, and goals to offer the best possible service.  
Create a complete profile of your target audience and their preferences.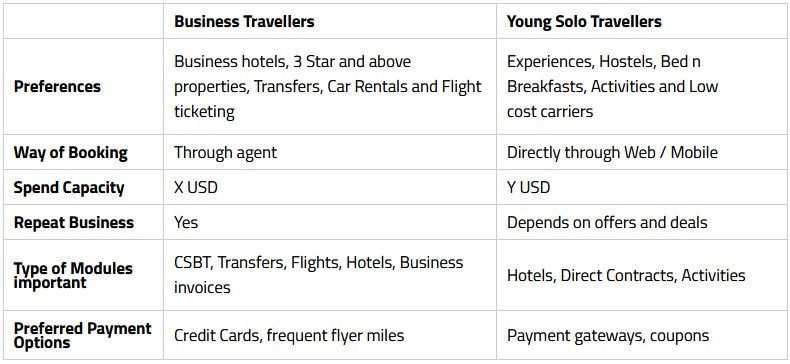 Creating this kind of profile helps in understanding your customers well and choosing what's right for your business.  
2. Services
Once you have created your customer profile, all you need to do is to ensure you pick the services and modules most important to them.  
It's important to have a robust inventory built with the help of the best suppliers. This way you can offer your customer a variety of options to choose from.  
For example: Having a Transfer and Car Rental Module in addition to hotels, will help you serve business travellers in the best possible way.  
3. Choosing the right travel technology partner
Technology can make or break your dream B2C travel portal. Find a technology partner that can help you scale your business.  
Look for a travel technology supplier that offers the widest range of partners, integration possibilities & features. A great travel technology provider will have:  
A wide array of customers in their portfolio.

 

Comprehensive set of features and services that help you build all your services.

 

Strong supplier network across all categories.

 

Excellent reputation in the market with a long history of good technology innovation.

 

Superior after-sales service and support structure.

 

Most importantly continuously innovating to provide you with next-gen technology solutions.

 
4. The X factor
The X factor is something unique to your portal. This could be very helpful in attracting new customers and retaining old ones. It could be a loyalty program, price comparison availability, guided booking, etc.  
For example, You can have a live video call-based guided booking process where customers can be guided by one of your agents live. Or You can have an spend analytics on your platform, which helps customers to track their planned vs actual spends for a particular trip. The X factor helps you stand out from the competition.  
5. Go Live and Promotions   
Once you have set up your Online Travel Portal, you need to ensure it is discovered and seen by your audiences. For which you need to leverage practices like:  
Excellent content and documentation on your platform.

 

Leverage SEO and digital marketing tools to make it more search-friendly.

 

Market your B2C Travel booking system platform through organic and paid social media.

 

Create and share content that is relevant and shareable for your customers.

 
6. Mobile App for B2C Travel Agency
Any B2C Travel Business is incomplete without a Mobile App. Build a mobile app that allows you to:  
Provide personalized services and offers to your customers.

 

Gives them access to exclusive deals and content.

 

Provide localized information and alerts.

 

Gives access to their travel history and booking details on the go.

 
Having a powerful travel mobile app that offers all the services like the web can add critical revenues to your business and generate high customer loyalty.  
How does OTRAMS Power your B2C Travel Portal?

OTRAMS is a complete platform for creating your online B2C Travel Agency Portal. With its comprehensive features, it provides you with the right tools that impact the 5 most critical objectives of your business. 
Here is the OTRAMS Value Promise:   
1. Scalability
Growing your business is important and you need a platform that is ready to scale without any limitations. OTRAMS offers:  
Access to over 500,000+ hotels, 900+ Airlines, and much more. 

It has over 600+ in-built features for all your business needs.

 

You can quickly ramp up your services and hosting in a matter of clicks. 

 
2. Reliability
You need a reliable entity to store your data securely. Your company and portal will have access to information that is sensitive. This data is important to both your organization and your customers. With OTRAMS you have:  
SSL security and PCI DSS compliant website. 

Along with cloud hosting, your data is secured by a daily backup. 

Your data is completely secure with OTRAMS. 

 
3. Customer Experience
One of the most important business objectives is to provide an excellent customer experience, with OTRAMS you get:  
Multi-lingual capabilities to services across different languages.

Online currency converter, you can service the country in its local currency. 

In-built content management system to create your own blogs, SEO-friendly content.

Itinerary builder and export to PDF.

Value-added solutions like loyalty programs and coupons, discounts to get repeat business.

 
4. New Opportunities
Your online travel portal can incorporate new geographical locations easily making it possible for you to provide travel solutions to new locations. 

 

Add new service verticals based on their preference, appoint a GSA or a white label agent easily

 

Provide your API through XML/JSON out to another travel entity.

 
OTRAMS readily provides these opportunities that can boost your revenue stream.  
5. Business Performance
Drive predictable business performance with 100% control over operations, margins, and best-performing channels. OTRAMS is built for insights-driven decision-making. It Provides:  
Business Intelligence Reports.

 

End-to-End Agent Management.

 

Loyalty Programs for Agents.

 

Accounting System integration.

Powerful Mid and Back Office.
Offer more to your customers
With OTRAMS, get access to the best of suppliers. OTRAMS offers a choice of more than 190 suppliers to choose from, across various categories ranging from accommodation, flights, transfers, car rental, activities, cruises, and more. We are also the certified partner for Expedia, Amadeus, Sabre, and some of the other biggest suppliers in the industry. OTRAMS can help you build a good inventory that will help you offer the best deal to your customers and keep them engaged 
Rise above competition 
Use technology to be better than your competition. OTRAMS gives you the opportunity to Leverage new technologies. Offer your customers coupon modules, loyalty modules, booking optimization, services like re-Pushti with OTRAMS. 
Conclusion
OTRAMS is the world's leading travel ERP platform which helps travel companies boost their revenue with the best of technology. Our technology solutions for your travel portal can open up new avenues for your business. To know more schedule a meeting with our experts.